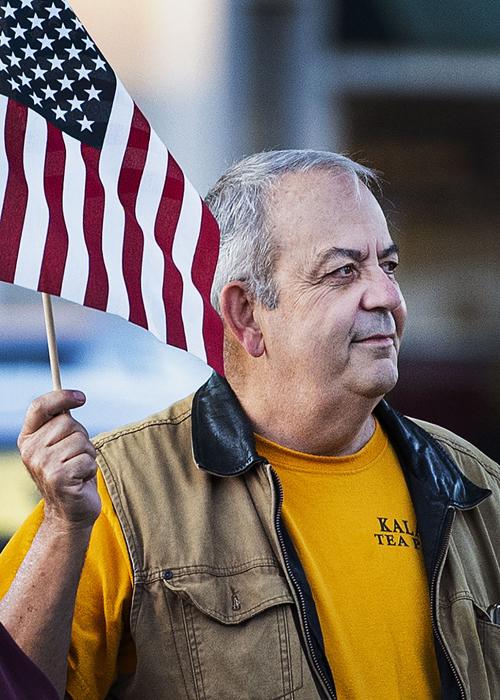 Cowlitz County commissioners Tuesday approved a resolution declaring that the board won't interfere with "customary business and social activities" limited by the state's pandemic restrictions, but cautioned that citizens assume all liability for their actions.
Commissioner Arne Mortensen proposed the resolution "recognizing that the people of Cowlitz County are being destroyed economically and spiritually by the unlawful enforcement of executive actions under color of law, the Board of County Commissioners declares that the BOCC will not interfere with customary business and social activities."
Mortensen said the measure was intended to make clear that people who go against the governor's mandate can expect no support from the board but that the board has no part in creating and enforcing the mandates.
"The public knows a righteous law should never demand personal economic suicide," he said.
Mortensen has previously proposed similar resolutions that the other commissioners edited more significantly before approving because of concerns of their legality and that the public would misinterpret them as giving protection against state enforcement.
The resolution passed Tuesday clarified the board's position and did not try to "deny binding directions of the mandate," as previous resolutions attempted to do, Mortensen said.
Mortensen said he ran the text of the resolution by Sheriff Brad Thurman and the county prosecuting attorney before submitting it to a commission vote.
The board doesn't have the power to alter mandates but has "the bully pulpit and the opportunity to express and put in context what's going on," he said.
Several members of the public commented, most in favor of the resolution.
"It's time to be accountable to the people you represent," Christy Tseu said. "Defend our rights. Allow us to decide what's best for us, our families and our businesses."
Speaking against the resolution, Tom, who did not give his last name, said federal judges have upheld that Inslee is within his purview to enact the mandates and that they're not unconstitutional.
Commissioner Dennis Weber said the county has reasons to express concerns, including children losing schooling opportunities and that the restrictions have been arbitrarily imposed.
The governor's restrictions on businesses and social gatherings do not include schools, which follow a separate set of guidelines for opening to in-person education.
Weber suggested changing some wording to make the resolution more specific and improve the language. Mortensen and Commissioner Joe Gardner approved some minor changes but mostly left it as is.
Gardner said this resolution makes it clear the board cannot protect people who go against state enforcement action.
"I think everybody has to make a decision, and I just want people to be as informed as possible," he said. "We see that happening more and more with Spiffy's and Stuffy's ... Those individuals are making decisions for themselves based on information they have. They're going to have to battle that out with state agencies."
Gardner urged people to reach out to their local state representatives who may be discussing the COVID-19 restrictions in the session that began this week.