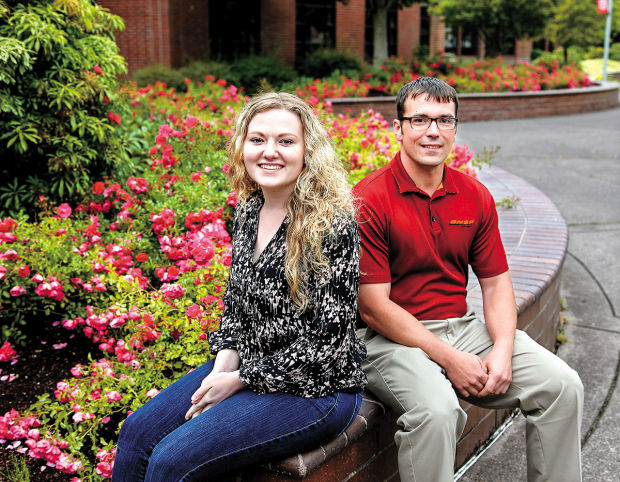 Holly and Derrick Lemmons grew up a decade — and for a while an ocean — apart, but on Friday they'll be on the same page, if just for an afternoon.
The Kelso cousins will be among the 711 graduates at Lower Columbia College's 78th commencement ceremony.
Holly, 18, took the quick route, participating in the Running Start program part-time during her junior year at Kelso High School and finishing this year with a business administration transfer degree and $19,000 in renewable scholarships waiting for her at Pacific Lutheran University in Seattle.
"We're excited for her, and proud," said her mother, Nadine Lemmons, who is an LCC graduate and teaches business technology there. "Holly we've never had to push. She's like Derrick: meticulous, self-driven."
"Let's just say anal retentive," Derrick said with a laugh as the three sat together in the LCC library last week. "I say that jokingly, but what attracted me to being a machinist was the fact that not only is being a perfectionist encouraged, it's rewarded."
Derrick, 32, took a longer route to the cap and gown with highest honors in machine trades, joining the Army after Kelso High School graduation and taking on the family business, Interstate Wood Products, after more than six years as an intelligence analyst.
"I knew in all honesty if I went to college right after high school I would have partied and dropped out and went to work somewhere," he said. "I think that, despite the fact that I was irresponsible as far as school goes, I was a pretty disciplined person. It fit my personality well to be in the military."
He'll be looking for work this summer as a machinist or in another trade that keeps him away from a desk while Holly gets ready for her wedding in August.
"It'll be three years this month that we've been together," Holly said of her fiance, Robbie Peterson, who is two years older and stationed with the Air Force at Joint Base Lewis-McChord near Tacoma. "We decided to get married before I move and transfer; it makes sense to get married before that."
She'll be transferring jobs as well, to a Starbucks in Tacoma from the one she's worked at since she was 16. Holly already is looking forward to a marketing or public relations internship within Starbucks and moving up in the world from there.
"We've had to hold her back from taking on too much," said her mother.
Holly said it was her time with Dan Schabot's winning debate team at LCC that gave her the writing skills and confidence to win her scholarships and to decide to pursue a career in business rather than nursing.
"If I had to do it all over again I would," Holly said.
Derrick, a married father of three, decided it was time to use his GI Bill benefits before time ran out on him. He had already come into his own as the vice president of his father's business for a few years and helped with his wife's business, Lemon Drops Photography, but he knew a trade was the way to go.
"I guess for me it's amazing to actually have something I created at the end of the day," he said. "It's not like, 'Did I actually do something this week?' or 'Did I earn the company money?'"
Brooks Johnson covers Longview city government, Cowlitz PUD and Lower Columbia College for The Daily News. Reach him at 360-577-7828 or bjohnson@tdn.com.