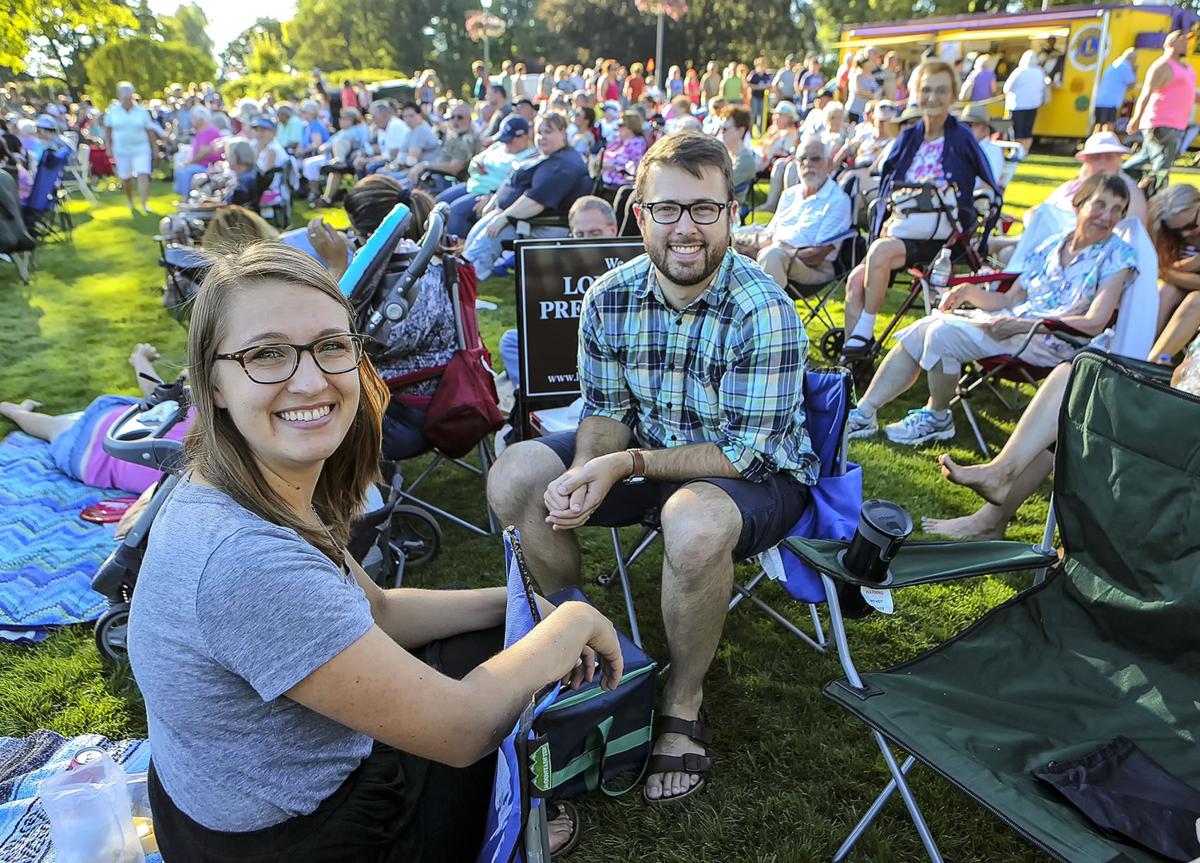 Dexter and Liz Kearny are husband and wife. They're also the new co-pastors at Longview Presbyterian Church.
Dexter, 27, is the organized one. He makes things happen, Liz says. He has dark-rimmed glasses and a sarcastic sense of humor. Of the two, he's the more tech-savvy. He navigates social media apps Snapchat and Twitter with ease — skills he plans to use to attract younger faces to the church.
He's "into all the millennial things in ways that I'm not," Liz joked.
Liz, on the other hand, relates to people on a more personal level. The 28-year-old is a natural preacher, Dexter said, and engages people through exposing her own vulnerabilities.
"She has a way of drawing people in through stories, through images," Dexter said.
The couple was hired to share the pastoral role at Longview Presbyterian Church — each working part-time every week. Barbara Berger, a local optometrist who was chairwoman of the church's pastor nominating committee, said the couple has overlapping strengths that will benefit the church.
"I think they have a real heart and passion for getting out in the community," she said.
Nancy Lundquist, a retired PeaceHealth nurse practitioner who also served on the committee, said the Kearnys will bring a fresh perspective to the church. She said the 55-member congregation, like many others throughout the country, has had problems attracting new members. She hopes the Kearnys bring in new members.
"We just have to look at how we can spread the word in the current generation," she said.
Berger said the board spent about six months rifling through more than 50 applications before offering the role to the Kearnys. Berger, noting that she and her husband both are optometrists, said she was immediately attracted to the couple's desire to serve together.
"That just kind of piqued my interest initially. The more I followed up with them, I just sensed something special about them," she said. "They have a great energy. During the time we spent with them, we laughed a lot."
The Kearnys met at the University of Washington. Liz earned a degree in international studies; Dexter earned a history degree. Neither initially considered becoming pastors. Liz wanted to attend law school, and Dexter planned to become a teacher.
Dexter's father was a pastor, and when he was young people often asked if he would continue in his dad's footsteps.
"I said 'No.' I very definitively knew that I would not be a pastor."
But Dexter joined a college ministry at the University Presbyterian Church, where he met Liz. There, he discovered a group of people that made him feel at home.
"It was a community that just shared love freely," he said. "It wasn't built on pretences or how good you were at sports or school. College can be a very competitive environment, and everybody is sort of jockeying for a position, but in this group people were sharing their problems, their issues … but nobody was using that as a stepping stone to get above them."
He said it was freeing to experience that change in perception.
"It was there that I first felt a call, a desire in my life to share this with other people," he said. "That was when I first felt that I wanted to be a pastor."
Liz found the same acceptance at the ministry, where she said she strengthened her relationship with Jesus, she said. She was raised Christian, but her religious experience before joining the ministry had largely been dictated by rules.
"I grew up in a pretty legalistic Christian environment," she said. "There were a lot of rules, and so my faith journey was more about following the rules and pleasing other people than it was about knowing how loved I was by God."
Liz got more involved in the ministry by working with students, especially college women, and working in service ministries focused on social justice. Eventually, she decided to intern at the college ministry. When she graduated college, she said it was clear that working with a ministry was what she wanted.
"I didn't want to go to law school. I wanted to do this," she said.
The Kearnys graduated from Princeton Theological Seminary in Princton, N.J., in May. They were ordained about a week ago. They said they will pull from their own faith journey as pastors in Longview, focusing less on strict guidelines and more on spreading love.
"That's the only message that I ever want to preach — that God's grace is always free, and it's for everyone," Liz said. "It's for you now. I think that's the Gospel message that we know."
Dexter added: "The one rule that I know is that God wants us to love God and love neighbors, and that's the 'rule' that I follow."
The couple said they are particularly attracted to Longview because of its social and economic troubles. They said they've learned about the prevalence of drugs and homelessness, and they want to become a helping hand in the community.
Liz said she wants the Longview Presbyterian Church to become a family.
"We really long to foster a community between the generations," she said. "Sometimes people come from a place where the family they grew up has not been a great experience for them or it has been really hard or abusive, so being able to come to a church where you have representatives from every season of life, I think that's a value that we both have in our ministry."
Liz and Dexter said the church is the perfect fit for them, and they're impressed to see the many volunteers that work with the church. Everyone is very compassionate, she said.
"The church had our heart from day one," Liz said.
Dexter added: "It was love at first sight."
"That's the only message that I ever want to preach — that God's grace is always free, and it's for everyone. It's for you now. I think that's the Gospel message that we know." Liz Kearny, Longview Presbyterian Church co-pastor.
Contact Daily News reporter Sarah Grothjan at 360-577-2541; on Twitter at @SarahGrothjan.
"That's the only message that I ever want to preach — that God's grace is always free, and it's for everyone. It's for you now. I think that's the Gospel message that we know."

Liz Kearny, Longview Presbyterian Church co-pastor.
Get local news delivered to your inbox!
Subscribe to our Daily Headlines newsletter.