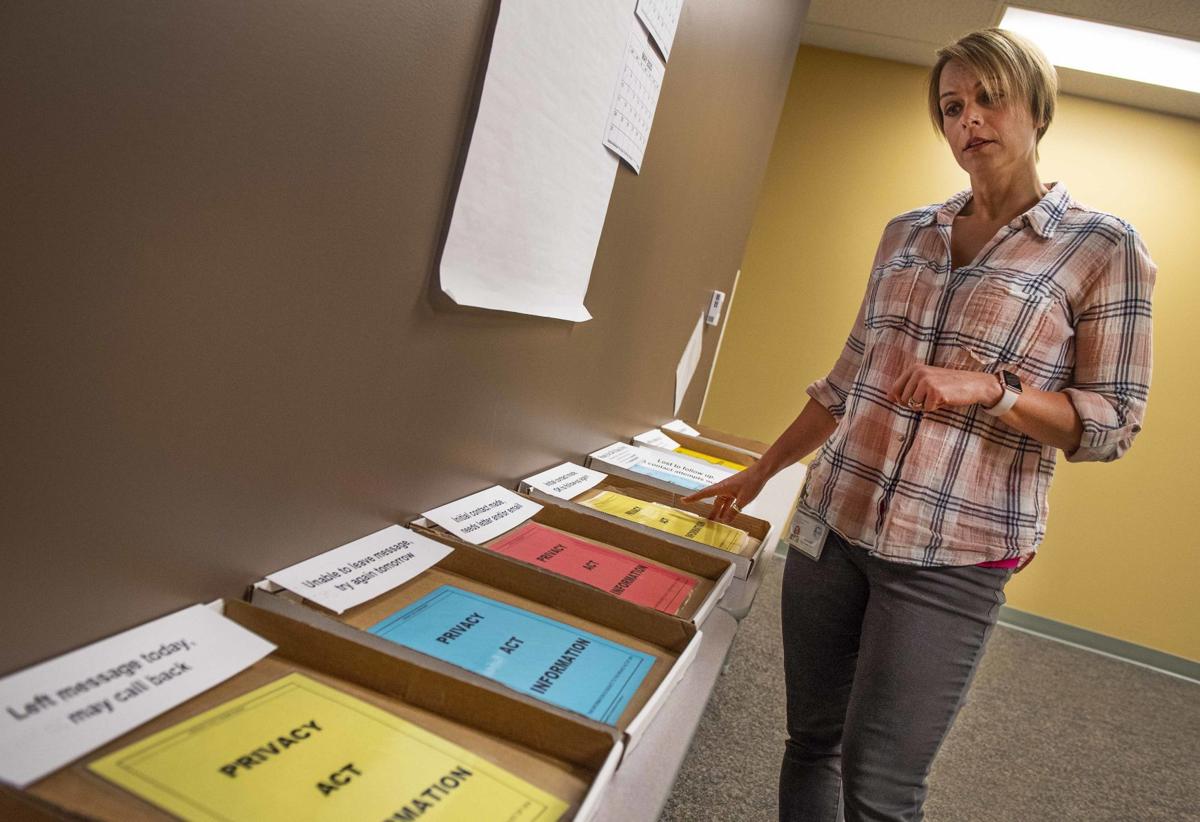 Cowlitz County health officials say they continue to face some resistance to their COVID-19 contact tracing efforts, which they say are vital to controlling the pandemic locally.
They are urging people who are called by contact tracers — because of recent contact with someone who tested positive for COVID-19 — to cooperate with case investigations.
Contact tracing helps public health staff track and prevent the spread of the disease by identifying people who may have been exposed. Recently, some people identified as close contacts of COVID-19 patients have not responded to phone calls from the county health department, said Ralph Herrera, Cowlitz COVID-19 Incident Management Team spokesperson.
The county health department is notified when a Cowlitz resident tests positive for COVID-19. Staff then reach out to the patient within 24 hours and ask demographic questions and who the patient has been in contact with while infectious.
Interviewers operate under strict confidentiality rules, and information collected during interviews is used only by public health agencies, according to the state Department of Health.
Public health staff will reach out to close contacts and ask them to quarantine, or stay at home for 14 days. Household members can leave, but if the contact gets sick, they will have to stay home.
The state Department of Health recommends close contacts get tested for COVID-19 even if they don't have symptoms. Close contacts who don't test positive for COVID-19 still need to quarantine for 14 days after the last exposure because it's possible for people who test positive to be incubating the virus, according to the department.
According to the Department of Health, testing too soon after an exposure may give a negative result even if the patient has been infected. Patients who were exposed and develop symptoms should be tested that day or the next. For those who don't develop symptoms, the department recommends waiting five to six days to be tested.
Cowlitz County is successfully reaching state's goals of reaching 90% of cases within 24 hours and 80% of contacts within 48 hours, but sometimes people are difficult to reach after the initial contact, Herrera said.
The state as a whole is falling short of those goals, only reaching 49% of cases within one day and 70% of contacts within two days, for the week of Aug. 30 to Sept. 5.
The most common barriers to reaching cases and contacts quickly include missing phone numbers or other contact information, as well as people who require additional follow-up due to an unanswered first call, according to Department of Health.
Along with case investigation and contact tracing, the state also emphasized the importance of getting tested for COVID-19 if symptoms develop.
"Right now, this is not happening enough, and we need it to drastically increase if we are going to stop COVID-19 from spreading rapidly, especially in disproportionately impacted communities and among our essential workers." said Dr. Charissa Fotinos, deputy chief medical officer for Health Care Authority, in a statement.
Most doctors' offices in Cowlitz County offer COVID-19 testing, and people who have symptoms should contact their primary care provider to get tested, according to the county health department. Patients who are uninsured or don't have a health care provider can contact the Cowlitz Family Health Center to request testing.
Insurance companies are not allowed to charge copays, facility fees or require prior authorization when someone is being evaluated for and tested for COVID-19.
Cowlitz County reported four new COVID-19 cases Wednesday, bringing the total to 652. As of Friday, 511 cases were considered recovered. Four virus patients are currently hospitalized outside the county.
Koelsch Communities confirmed Wednesday its facility Canterbury Park Independent Living Community in Longview is the independent living facility where 12 COVID-19 cases have been identified. Three staff members and nine residents have tested positive as of Wednesday.
Chase Salyers, director of operational support, said Koelsch facilitated testing of close contacts and anyone with symptoms, and is following the county health department's guidance. Unlike at an assisted living facility or nursing home, Koelsch can't provide medical care to residents of the independent living community, Salyers said.
Salyers said all Koelsch Communities locations have been following all Centers for Disease Control and Prevention guidelines since early March, and have grown the safety procedures since then to ensure safety of staff and residents. All staff, residents and visitors are screened before entering each building and fill out a questionnaire for contact tracing, he said.
Concerned about COVID-19?
Sign up now to get the most recent coronavirus headlines and other important local and national news sent to your email inbox daily.