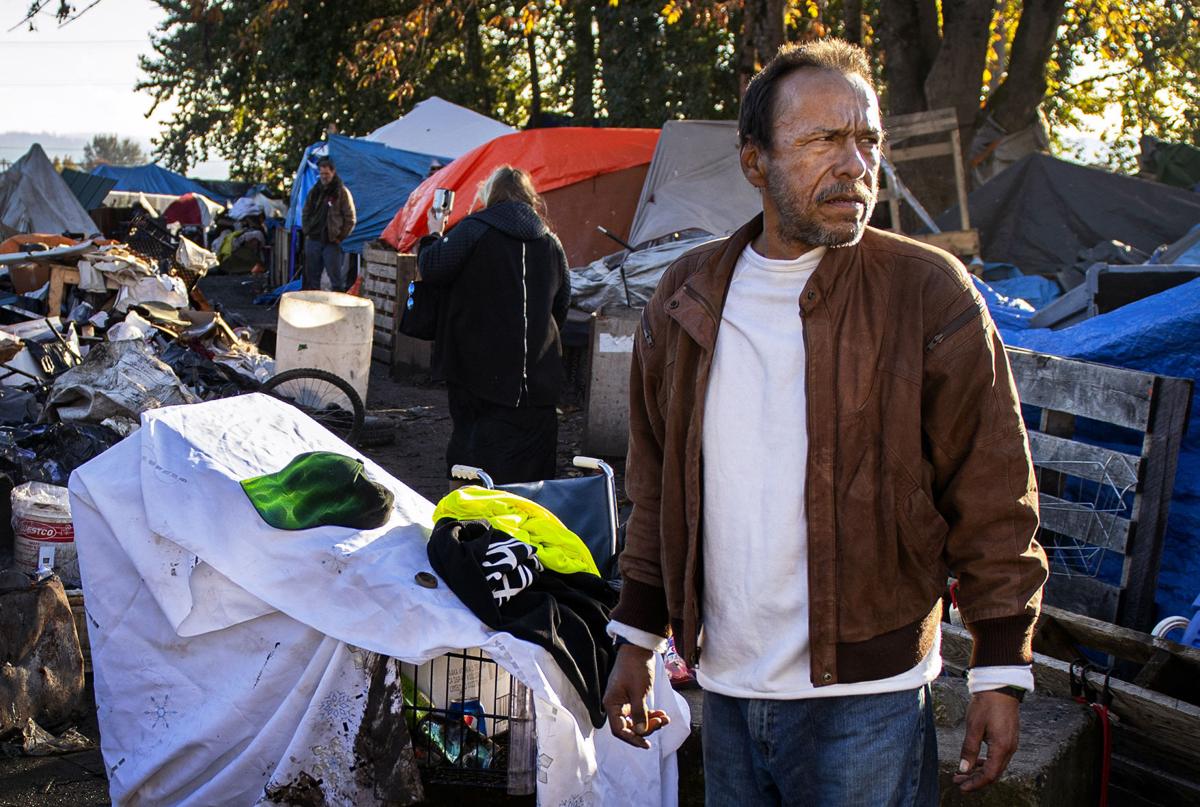 The number of homeless people in Cowlitz County early this year decreased about 19% from the early 2019, according to an annual report recently released by the state. 
The results of the annual Point in Time Count, delayed by COVID-19 restrictions, arrived as local social service providers brace for what they expect will be a pandemic-related increase in people losing housing once the state's eviction moratorium is lifted. 
"We are anticipating once the eviction moratorium is lifted there will be a number of people impacted by eviction all at once," said Amanda Rasmussen, program development director for Lower Columbia CAP. "These are likely to be people that haven't been homeless before, people who have always worked and finding themselves without a job for the first time ever. 
This year's Point in Time Count recorded 328 sheltered and unsheltered homeless people in the Cowlitz County, down from 406 last year. In 2019, the state originally reported 468 total homeless, but an error added 62 people to that count, according to the county.  
This year's count took place on Jan. 23. The state typically posts results in May or June but this year's results were delayed until November because of COVID-19. Cowlitz County's numbers include those counted at Project Homeless Connect held by the Health and Human Services Department and data from the state Department of Commerce.
The count includes those self-identifying as homeless, as well as those living in emergency shelters, transitional housing and places not intended for human habitation such as cars, parks, abandoned buildings and on the street. Not all people sleeping in motor homes are counted, but could be if the RV is in disrepair, parked in an unusual place, or if occupants don't have access to sewer, water and electricity connections. 
People living temporarily with family or friends don't meet the U.S. Department of Housing and Urban Development (HUD) definition of homeless and aren't included in the count. 
State law requires each county to conduct an annual homeless count. Counties must complete the count to receive funding from the U.S. Department of Housing and Urban Development and the state Department of Commerce.
Gena James, county human services manager, said the count doesn't capture everyone experiencing homelessness and the county uses it as a snapshot of the local situation. The state uses the count for grant applications, and the federal government uses the data to make funding decisions, James said. 
The count results have fluctuated over the last decade and have increased overall since 2011, according to the state Department of Commerce. The number of unsheltered people has increased in the last 10 years, while the number of sheltered people has slightly decreased, according to the count results. 
Chuck Hendrickson, Love Overwhelming executive director, said over the last couple of years, increases in rent have driven many people from their homes. 
Since the count in January, the organization has seen an increase of individuals and families who recently lost their housing due to problems from COVID-19, including decreased work hours, medical bills and other situations that decrease income, Hendrickson said. 
"We're definitely thankful for resources in community, as we continue to get these needs on a daily basis," he said. "Even though we're seeing more people, there are care coordinators at different agencies to help people get in different systems of care, including medical, mental and detox." 
Community House on Broadway reported its numbers seem to match the Point in Time Counts for the last couple years, with the shelter serving fewer people overall in 2019 than 2018, said Frank Morrison, executive director. 
Over the past couple years, Community House increased its capacity from about 80 to 90 people to 120, Morrison said. In March the CORE Health Extended Support Service transitional housing opened to provide temporary housing for elderly, medically fragile or those with physical or mental disabilities, adding 55 more beds, he said. 
Starting in March, the organization limited new residents because of the pandemic and currently hosts about 120 residents between the two locations, Morrison said. The shelter has seen an uptick in applications in the last couple of weeks as the weather has cooled, he said.
Community House and CORE have a group of landlords and property owners they work with to place people in permanent housing and keep a steady flow of residents in and out of the shelter, Morrison said.  
"The long-term relationships with landlords and owners is the utmost to get people through Community House," he said. "If we don't keep that positive we will have a log-jam."
Available rental housing is scarce.
Cowlitz County had an apartment vacancy rate of 0.9% in spring 2020, when eight of 1,330 units surveyed were available, according to the Washington Center for Real Estate Research. A 5% vacancy rate is considered the threshold for a tight rental market, according to the center. 
Rasmussen, with Lower Columbia CAP, said the organization is seeing more people displaced by rising rent costs due to local housing market trends, as well as landlords selling homes or moving back into units themselves. 
"With the housing inventory down and tenant numbers increasing as home ownership becomes less attainable, some landlords seem less willing to work with tenants experiencing difficulties paying rent because potential new tenants are abundant and can be moved in with a higher rent," Rasmussen said in an email. 
The biggest trend CAP has seen over the last few years is the increase in elderly people needing housing help, Rasmussen said. As local rents rise quickly, people on fixed incomes can't keep up with the higher expense. This also drives demand for other services for the elderly, such as food and utility assistance, as they try to reduce costs in other areas to accommodate rising rent.
All agencies are concerned about the eventual end of the eviction moratorium, which Gov. Jay Inslee last month extended until the end of the year. 
Hendrickson said Love Overwhelming is working with families who are set to lose their housing when the moratorium ends to keep them in their homes or find alternative housing before the moratorium ends. 
"It's not fair that landlords have the potential to get screwed over, and we want to help reduce that as much as possible while diverting those individuals and families from becoming homeless," he said.