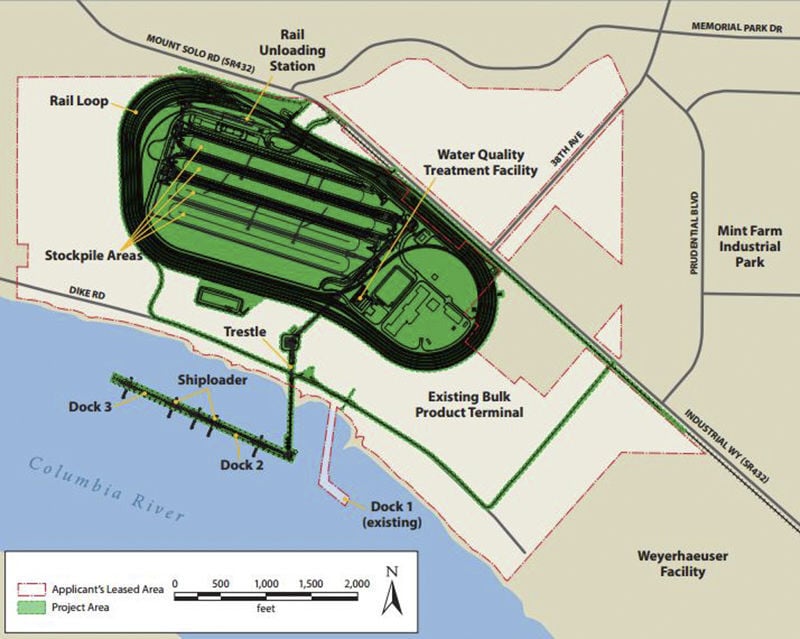 Cowlitz County and Millennium Bulk Terminals have jointly appeal a decision to deny two key permits for the company's proposed coal terminal in Longview.
The parties filed briefs Friday in Cowlitz County Superior Court. They're challenging a ruling in April by the state Shoreline Hearings Board, which found that a county hearing examiner correctly denied Millennium a pair of shoreline permits last fall for the $680 million project.
The plaintiffs argue the hearing examiner erred in several ways when he rejected Millennium's application for substantial development and conditional use permits in November, including:
Inappropriately rejecting permits for the first stage of the two-stage project.
Failing to review Millennium's permit applications for consistency with state and county regulations.
Misinterpreting and misapplying the State Environmental Protection Act (SEPA).
Wrongly concluding the permits could be denied because a number of other project authorizations and permits were facing challenges.
The board ruled in a summary judgment on April 20 that the examiner acted appropriately on all four points. According to the board, the examiner correctly interpreted the state's environmental protection laws to deny the permits based on 10 unavoidable adverse environmental impacts found by a review of the project.
But Millennium and the county are asking a judge to reverse the board's ruling and remand the permits back to the county for consideration.
Millennium is arguing that the first stage of the project — which represents a terminal capable of shipping about 25 million metric tons of coal — is not contingent upon the second stage. The terminal would be capable of exporting 44 million metric tons of coal annually at full buildout.
Cowlitz County staff had previously recommended granting permits for the first phase of the project with 36 conditions to mitigate a range of adverse environmental impacts found in the review.
Millennium also contends that the project's review concluded that the terminal would meet state and county regulations for the permits at full buildout.
However, a coalition of environmental groups and the state Department of Ecology successfully argued that Millennium's attempt to obtain permits for only a portion of the project violated prohibitions on "piecemealing" review. The shorelines hearings board agreed with that argument in April, ruling that the examiner was correct to consider the project as a whole.
The board also held that the state's environmental protection laws allow local decision-makers to deny permits for a project even if it meets permit approval requirements but would still result in adverse environmental impacts.
The case will be heard by Cowlitz County Superior Court Judge Stephen Warning, who ruled that the outgoing head of the state Department of Natural Resource acted arbitrarily and capriciously when he denied Millennium an aquatic lands sublease in January 2017. Warning is also expected to hear a challenge of the state Department of Ecology's decision to deny Millennium a water quality certification after the state Pollution Control Hearings Board rules on the matter this fall.