Snow gave way to heavy rain Monday night and Tuesday morning, causing floods throughout the region and prompting Cowlitz County, Kalama and Rainier to declare flood emergencies.
But in the end the rainstorm — one of the most intense in recent memory — caused no major damage beyond mudslides and flooded streets and roadways, though a dramatic drone photo of downtown Rainier showed several businesses swamped by waters that jumped out of Fox Creek.
The worst is likely over, according to the National Weather Service, which says it is not expecting more flooding throughout the week. Although area rivers and streams rose, they were all expected to start receding Tuesday and Wednesday morning. Temperatures will stay cool enough to prevent a massive melt off of mountain snow, forecasters said.
Rain Tuesday was "unusually localized and heavy," said Andy Bryant, hydrologist with the Weather Service.
Kelso had 2.5 inches of rain over a 24-hour period ending at 4 a.m. Tuesday, according to a Weather Service rain gauge at Kelso airport. Days of two inches or more of rain in the Kelso-Longview area are uncommon, with only about 20 of them recorded since the mid-1970s, according to TDN weather records.
Combined with low-level snowmelt, the pelting rain brought back memories of the 1996 and 2015 floods in downtown Kalama. Downtown Kalama business owner Dena Diamond-Ott said quick action from public works prevented damage this time around.
"Cleaning the drains over the summer, finding and unclogging the new (stormwater) line and turning on the pumps, all three steps kept the town from flooding," said Diamond-Ott, owner of Double D's Feed and Hardware.
(story continues after photos)
The storm drains in Kalama's downtown back up quickly because the system can't keep up a high-volume water flow. After calls to action from business owners, the city created a stormwater utility in November to help fund improvements to its aging system.
Diamond-Ott said she received a call from the Kalama Police Department at 6:15 a.m. alerting her of the flood danger. She called other business owners, who were able to take steps to protect their stores with sandbags, she said.
Although Double D's did get some water leaking through the wall, Diamond-Ott said it was nothing compared to the damage of previous years.
"For us, it's a good opportunity to mop the floors," she said.
Rain and runoff also created problems for Kalama's water treatment plant, prompting the city to shut the plant down due to high turbidity from slides along Kalama River Road. The plant remained shut down Tuesday evening and the city asked residents to conserve water until at least 8 a.m. Wednesday.
The city warned of a potential sewer overflow from heavy rain but because of reduced water use by residents, the plant kept up with demand, Cowlitz County Fire District 5 Captain Terry Sinkler said in a press release.
The Washington State Patrol reported numerous accidents as a result of the heavy rain that fell overnight and into the morning. No major backups were reported Tuesday morning, however.
Both ramps of northbound Interstate-5 Exit 30 at Kalama reopened late Tuesday afternoon after being closed most of the day due to flooding at Toteff Park.
Many other roads throughout Cowlitz, Wahkiakum and Columbia counties were closed due to standing water.
Power was knocked out throughout Wahkiakum County on Monday night, but service had been restored by Tuesday morning.
Landslides blocked parts of Kalama River Road, and the road will remain blocked for about two more days, forcing residents in the upper valley to use a logging road detour, said Mark Koelsch, spokesman for the Cowlitz County Public Works Department.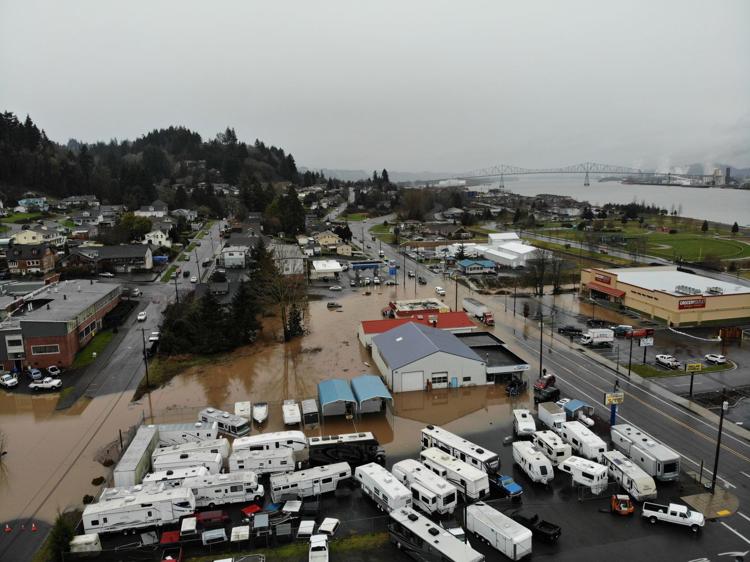 In Rainier, Mayor Jerry Cole declared a state of emergency Tuesday morning. Cole said the waters caused damage to public and private property throughout the city and disruption to public services, and that Rainier is requesting state assistance.
(story continues after photos)
Fox Creek overwhelmed the culvert that carries it underground between B Street and Highway 30, and the excess water flowed downhill past and through several businesses. The creek has been a continuous problem for the city, and plans are underway to partner with the state and federal government to daylight the waterway, which flows into the Columbia River, according to a city press release.
Greg Greer, general manager at Rainier RV Center, said the store — at the intersection of Columbia River Highway and Second Street — flooded Tuesday for the third time as a result of Fox Creek flooding. Waters started entering at about 5:30 a.m., he said.
"We had a foot of water in the shop ... but we'll be back open tomorrow," Greer said.
In Columbia County, Highway 30 was flooded at several points between Rainier and Portland, according to the Clatskanie Chief. Firefighters responded to multiple flooded homes and businesses throughout the night.The Cowlitz River was forecast to crest eight feet below flood stage at 4 p.m. Tuesday. The crest, predicted at 40 feet, is almost 16 feet short of the river's historic crest during the February 1996 storm.
At Kelso, the Cowlitz was forecast to crest just short of 20 feet, about a foot and a half below flood stage, by 1 a.m. Wednesday.
Flood stage is when a river flow starts to rise above a river's natural banks, but is still well short of safe levee heights. At Kelso, the river was nearly 10 feet higher during the February 1996 storm that its expected crest Wednesday.
The Grays River in Western Wahkiakum County, which is one of the region's most flood-prone waterways, already has crested about four feet short of flood stage and was receding.
"More normal Northwest weather (is predicted) for the next few days," said Bryant, with the National Weather Service. "It's going to be on the cool side. I can't rule out some snowflakes, but we're not likely to see accumulation at low elevations. Thursday and Friday look pretty wet, but nothing extreme. ... We don't anticipate another situation like that over the next week."