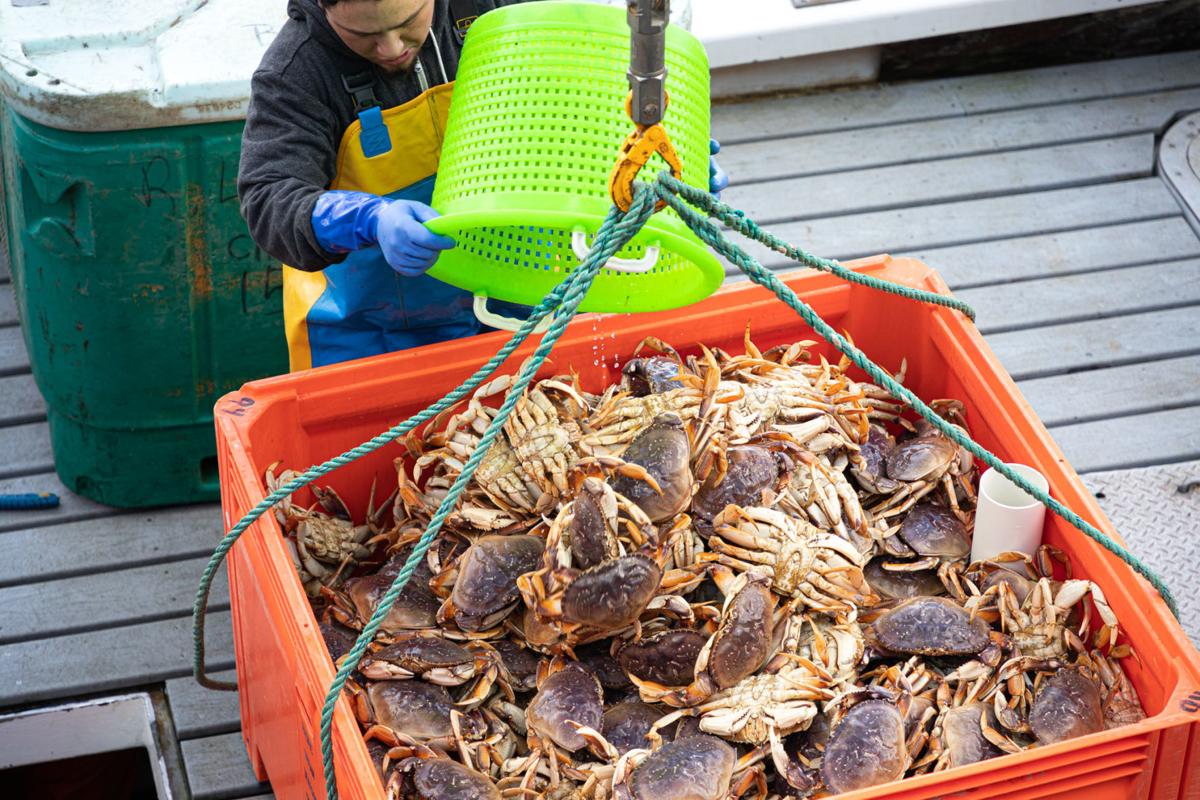 ILWACO — The outbreak of coronavirus in China is hurting the commercial Dungeness crab fishery in the Pacific Northwest.
China has banned live-animal imports as a result of the outbreak. The restrictions are taking a toll on the Pacific County commercial crab fishery, where live crab fetches top dollar in the Chinese export market, particularly during the month-long New Year celebration in January. Live Dungeness can fetch up to $30 per pound in Asian markets.
"We were headed the right way with the live market, increasing in demand for the Chinese New Year," said Ilwaco Landing fishermen co-owner Mike Shirley.
"The tariffs were lowered, the demand was good and the price was headed up, and then it just completely stopped. The coronavirus has spread significantly across China, where a lot of the live crab goes. At this point they have stopped all imports of any kind of live animals," he said.
The impact of the live-import ban in China has already been felt by other fisheries worldwide.
"China isn't taking any live seafood shipments from anywhere," said South Bend Products General Manager Dean Antich. "Lobster fisheries are shutting down in Australia. China is the market for that and they're not taking any because of the coronavirus."
Some seafood companies are anxiously taking a wait-and-see approach.
"We haven't really seen the dust settle on that one," said Bornstein Seafood co-owner Andrew Bornstein. "Weather is the main adversary of the Dungy fleet right now."
Crab fishermen endure rough seas, murky market
Commercial crab fishermen, now about a month into a storm-riddled season, are earning less for their dangerous catch as a result of the coronavirus.
"We were getting a really good live price about two weeks ago — a really good price ($4.35) — but ever since that (coronavirus outbreak) we're getting cooked price, about a dollar difference," said F/V Cutting Edge Captain Brian Cutting, as he watched his catch unloaded Sunday, Feb. 2.
"If we could still ship over to China, that price would maybe be $1.25 or $1.50 more. It was taking leaps and bounds there really nice," he said. "What little bit you had you got paid well for it."
The price difference between live and cooked crab can vary depending on the volume coming in.
"Just for the crabbers price alone, it's almost a $1 per pound difference between the live and cooked price, and that's early in the season. Sometimes the price gets spread by $3 or $4, depending on the volume coming in," Shirley explained.
"A lot of the fishermen utilize that to maximize their extra dollars," he continued. "The cooked price ($3.60) is a good price for the boats. It's very comparable with where the live market was last year at the same time. They're not getting the live ($4.35) price, but it's 60 cents higher than last year, when cooked price was $3. It's a comparable year to previous years. The biggest downfall has been the weather. It's been brutal. They've only had about 11 or 12 fishable days out the entire month (of January]), and that's the big boats."
Coronavirus is another blow to what has been an ongoing struggle for fishermen reeling from tariffs imposed on seafood exports to China in 2018.
"The live market has been limited for years because of the tariffs. It slowed it way down," Cutting said. "They can't pay us as much because they have to pay a 50% tariff. We've dealt with (the tariffs) the last couple years. Three years ago, at a high point, we got $10 a pound in the springtime. It was a huge price. Ever since then we haven't seen that big price. We were hoping the way things were rolling we could see it this year, until the coronavirus."
Crab that would have been sent to China is now largely going to local retailers, restaurants and canneries.
"There's a good and bad with everything," Shirley said.
"The economics are the biggest hard fall from it," he continued. "But at the time same time, switching into cooking all of our crab, rather than sending it to China, is putting all of our crab right here in America. It's going into all the retailers up and down the coast for the Super Bowl and Valentine's Day, when typically this time of the year crab is starting to climb in price and it's much harder for the retailers to afford. Every time it goes up a dollar, that many people less won't buy, so it's keeping it affordable. We've seen that immediately. We're doing fresh, whole-cooked for a lot of different retailers where typically we're doing less this time of the year. What went to China before is now going into our freezers and local retailers and all over the West."
Concerned about COVID-19?
Sign up now to get the most recent coronavirus headlines and other important local and national news sent to your email inbox daily.