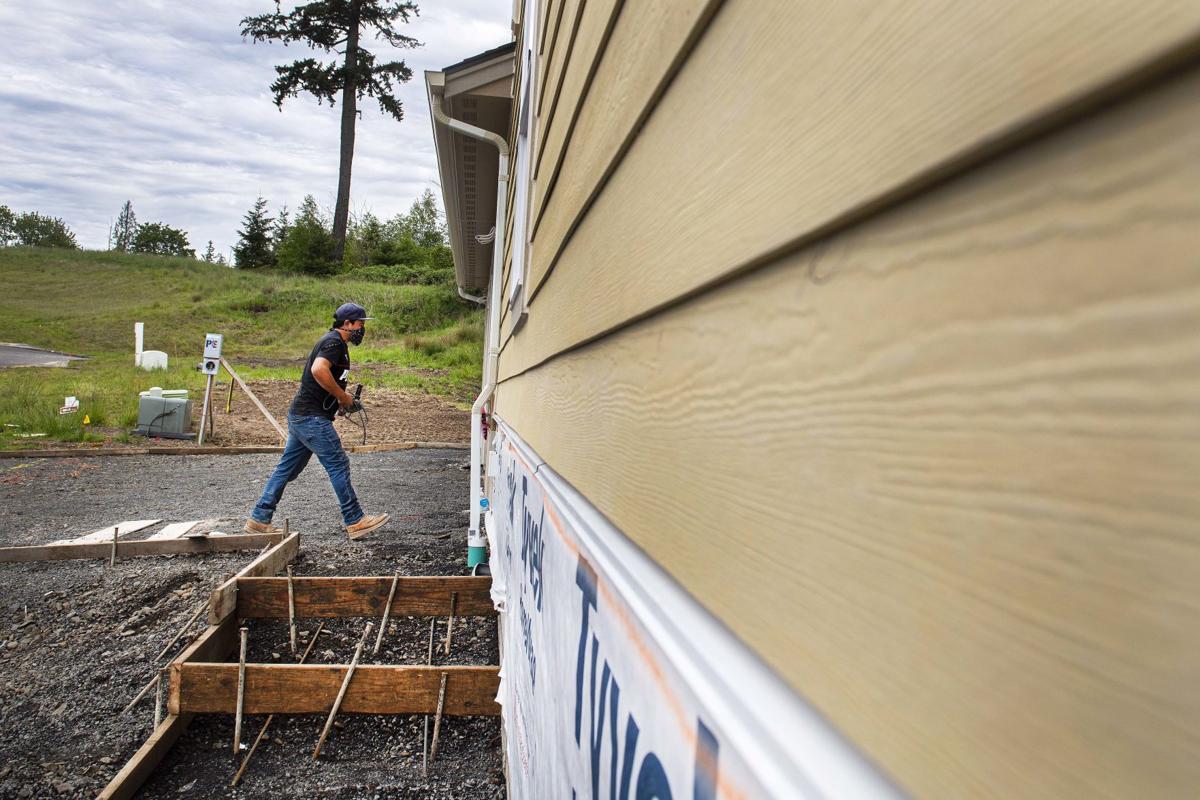 "We could have been done with all the improvements if it weren't for that," said developer Tony Plescia.
The shutdown order set his timeline for the project back by about two months and cost his company extra for loan interest and taxes, said Plescia, owner of Fat Pup LLC, a Vancouver-based contractor. So as soon as Gov. Jay Inslee on April 24 allowed "low-risk" construction jobs to restart, he was eager to get crews back out to work.
He and dozens of other contractors are excited about resuming projects even though workers must abide by a lengthy list of COVID-19 safety precautions. Meanwhile, the fate of future construction remains in limbo because Inslee's guidance so far only covers existing worksites.
"I think we are more concerned about where the market is going to be six to 12 months from now versus right now," said Rob Harris, JH Kelly's vice president of business development. "What's going to happen to business and its ability to fund future projects in industry? And what's going to happen to the market overall?"
The construction company has seen a downturn of people looking into future projects, Harris said, even as it continues work on essential projects already underway.
"There's not as much activity on the front end of project development as there has been in the past. Engineering companies slowed down, and that means construction companies will too," Harris said.
City of Longview Community Development Director John Brickey said the volume and valuation of city building permit applications also are down.
The city received about half the number of building permit applications in April compared to the same month in 2019. The valuation of those 98 applications totaled roughly $830,000, down from $3 million in April 2019.
At the county level the volume of permit applications is "trending pretty consistent with the previous months, and is not too far off from this time last year," said Mike Wilson, deputy director of the county building and planning department. But whether that'll hold true moving forward is unknown, Wilson said.
"There is a degree of pent-up demand, which this community is attempting to service. (For example) the chronic housing shortage we've experienced. … It just depends on how the summer goes and (companies') willingness to invest money," Wilson said.
The county and city both are reviewing all applications for building, including for new construction projects. Brickey said permits are issued with the understanding that it does not authorize any activities that would violate the law or the stay-at-home order.
Work that can continue must follow a 30-point list of safety precautions outlined by the governor. The list includes requirements such as wearing masks, gloves and eye protection at all times; keeping a six-foot distance between all workers; providing soap and running water so workers can frequently wash their hands; and employing a site-specific COVID-19 supervisor to monitor worker health and enforce the site safety plan.
None of the safety requirements is "too cumbersome" to follow, but they do require adjusting typical work practices, said Jennifer Spall, spokesperson for the Building Industry Association of Washington. But considering that about 82,500 association members regained their jobs once the governor loosened restrictions, most workers are more than willing to adapt to the new rules, she said.
"Our guys are up to speed on it, and they are implementing it," she said. "But there are going to be some bad actors out there. … We are hearing from different parts of the state that some (startups) are going smoother than others."
At a residential construction site off City View Drive in Longview Monday, a reporter saw that some workers went without masks for a portion of the morning, and not all of them were observing a six-foot separation.
The state Labor and Industries Department is tasked with enforcing most of the COVID-19 safety rules. For now the agency is focusing on educating workers about the new requirements instead of turning immediately to punishment by fine, said Tim Church, L&I spokesperson.
"It's very unusual in the workplace safety realm to all of the sudden say, 'You've got to do this. You have to do it now and if you don't do these things you won't be able to operate,' " Church said. "While we expect people to meet these requirements, we understand it's not going to be perfect the day it comes out."
Lower Columbia Contractors Association President Kurt Henthorn said employees will "learn to deal with what we have to do" to be able to work.
"Nobody wants to get into trouble and take the risk of us shutting us back down again. ... The last thing I want to do is booger this all up for everybody," Henthorn said.
And if the new rules keep workers safe, then that's a plus, too.
"From a business point and a personal point, we don't want to put people at risk. I would feel horrible if I found out one of my employees tested positive and he passed it on to half a dozen people," Henthorn said.
At the site of the future Castle Rock subdivision, following the rules should be pretty easy as Plescia, the developer, starts "kicking it right back up."
"There probably would not be more than four or five guys on tractors," so social distancing on the 25-acre lot will be a breeze, Plescia said Monday. "We won't have a flood of people out there."
Concerned about COVID-19?
Sign up now to get the most recent coronavirus headlines and other important local and national news sent to your email inbox daily.