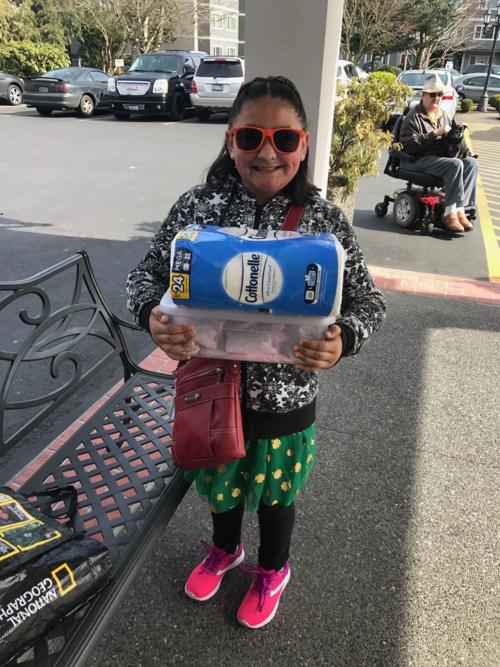 Panic shopping sparked by the coronavirus had caused a hygienic crisis at the Somerset Retirement and Assisted Living in Longview. The facility, which is home to about 130 residents, was struggling to replenish its supply of toilet paper.
So administrator Mariisa Jimenez turned to Three Rivers Christian School on Monday to be included in its prayer list.
Instead, she came to work Tuesday morning to a dozen packs of donated toilet paper and a flurry of phone calls from the community offering help. As of Wednesday morning, Jimenez estimated the home had received 700 rolls of toilet paper, which she expects to last about two weeks.
"I never dreamed that the general public would step up and help out like that," she said Wednesday. "It was so unexpected but so loved and appreciated."
Jimenez said she normally purchases toilet paper for the homes at Costco. With massive demand for toilet paper across the country, however, the grocery outlet has limited customers to one or two packages at a time, she said. And other stores are on backorder for weeks.
She said she is working with local paper producers to ensure the retirement home can maintain its supply of toilet paper, but that could be a couple weeks down the road. In the meantime, she reached out to Three Rivers Christian School.
The school posted on Facebook Monday night about the home's shortage. Within two hours, the post was shared more than 450 times. As of mid-day Wednesday, that number had grown to more than 870. Typical posts are shared about 50 to 75 times, Director of Student Services Rachell Coffee said.
Coffee said she was amazed at how the post "exploded."
"In a time of lots of confusion and just kind of a scary time, it was a tangible way for the community to help out their neighbor and somebody in need, especially a vulnerable population that can't easily access toilet paper," Coffee said.
Jimenez said she was "dumbstruck" by the reaction and started crying when she saw the donations.
"It's an eye-opener when people realize that seniors are protecting in place and people trying to care for them can't do basic care because they can't get access to supplies because hoarding is going on," she said. "People are feeling helpless, and I think it was something they could do to help, be useful and fight back against something we don't understand and have no control over."
She encouraged the community to look out for their elderly neighbors and support other local retirement homes and their residents.
"Just give them a call and say 'What do you need?' " she said. "Boots on the ground is very helpful right now."
Jimenez said she currently is looking for a couple more iPads that staff can use to help residents FaceTime their family members while sheltering in place. Canterbury Park and Monticello Park probably have similar requests, she added.
Christine Smith, who lives near Somerset, said she and her 8-year-old daughter, Lilliana Ashford, already were planning to stop by the retirement home when they saw the Facebook post.
They had a couple rolls of toilet paper to spare, so they brought some with them.
"We're all worried right now but those are the people who shouldn't be worried over something as simple as toiletry," Smith said Wednesday.
The people at the front desk were so appreciative that Lilliana wanted to do more.
"She was pretty proud of herself yesterday," Smith said of her daughter. "She said, 'Is there anywhere else we can drop something off today?' "
Concerned about COVID-19?
Sign up now to get the most recent coronavirus headlines and other important local and national news sent to your email inbox daily.