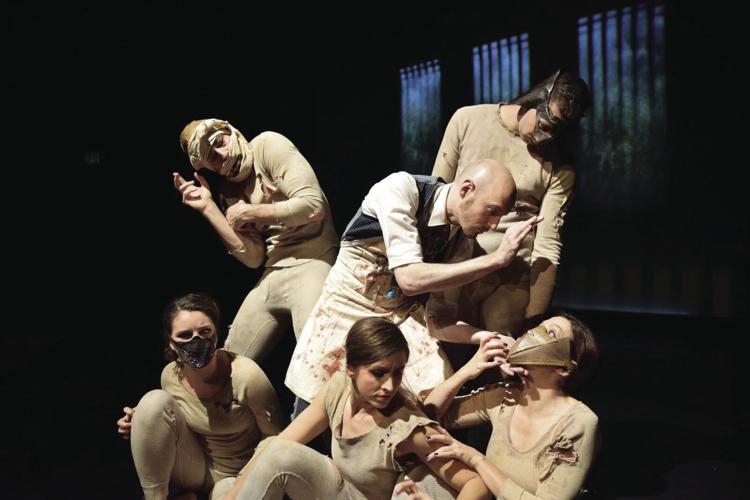 An upcoming production at the Columbia Theatre for the Performing Arts is something audiences can sink their teeth into.
"Dracula" is coming Oct. 27.
The production is based on the famous 1897 horror novel by Bram Stoker.
But this production, by PUSH Physical Theatre, is an interpretation combining acrobatics and physical motion with minimal dialogue.
"By combining PUSH's speechless artistry with traditional dialogue-driven theater, the collaborators have created a ground-breaking, thrilling and unforgettable ride into the warped world of one of literature's most famous villains," according to the company's promotional materials.
"PUSH plays it all, from Renfield — the tortured soul from whose point of view the classic story of seduction, desire and madness is told — to the incomparable Darren Stevenson as Dracula. They transform into all of the set pieces: tables, chairs, lamps … even bringing to life the impossible imaginings of twisted minds. Stunning lighting, interactive video projection and sound design complete the spellbinding, cinematic-like masterpiece. Intense athleticism, gravity-defying acrobatics, and soulful artistry are the trademarks of this award-winning, genre-defining theater company," according to the Columbia Theatre's description of the show.
The 90-minute production is a simplified version of Stoker's complex novel. It features actor Rick Staropoli in the character of Renfield, the tortured soul from whose point of view the classic story of seduction, desire and madness is told. Actor Stevenson plays Count Dracula. Several women in the original plot are played by a single actor.
The show is "a highly acrobatic, athletic sort of feat where we create not only all of the action and the flying and fighting but also the set pieces. A lot of the props are made out of our own bodies," Stevenson said by phone Wednesday.
Stevenson said the show is a return to his acting roots. He recalls seeing a production of Dracula in his hometown of Plymouth, England, when he was 10 or 11 years old. For the son of a preacher, the experience was life changing, he said.
You have free articles remaining.
"I was both on the one hand terrified by it and also in awe that they were able to inspire this level of fear in me," even though he understood the drama was art and not reality. "Dracula's story has deep roots for me and I am excited to return to it.
PUSH debuted a shorter version of the production in New York in 2009, but the company mothballed it until picking it up again and expanding it last year. The Longview production is the first time it will appear on the West Coast, said Stevenson, who in addition to acting also is the PUSH artistic director.
The Dracula story lends itself to the company's physical approach, he said.
"Because we speak primarily through the body, Dracula seems like a really great fit because vampires and the physical descriptions of what Dracula did are so disturbing."
Stevenson, 46, said it is hard to play the character of a monster because it is hard to understand the mindset.
"No one thinks they are a monster. We all think we are noble and rational. But how would Dracula defend himself if he were asked? We attempt to answer that question."
In addition, Stevenson said, it helped that he has felt like an outsider, being an English resident of America since 1992, when he came to the U.S. to study and stayed because he met his future wife here. His wife, Heather Stevensen, plays the role of  "the woman" — an amalgamation of several women in Stoker's novel.
"There is a scene were Dracula comes upon the woman and clearly is in love with her. ... I know what that feels like. To me that was my access point into the character, my way to sympathize with the monster."
He said the performance is "not terribly disturbing" and does not contain nudity. However, Stevenson advised, it is "an intense, imaginative roller coaster" that may leave children with lots of questions for parents afterward about such things as the nature of evil and nature of love.
The show starts at 7:30 p.m. Tickets are $35 to $45. Students pay $20.
The Columbia Theatre is located at the corner of Vandercook Way and Commerce Avenue in downtown Longview.
Get local news delivered to your inbox!
Subscribe to our Daily Headlines newsletter.