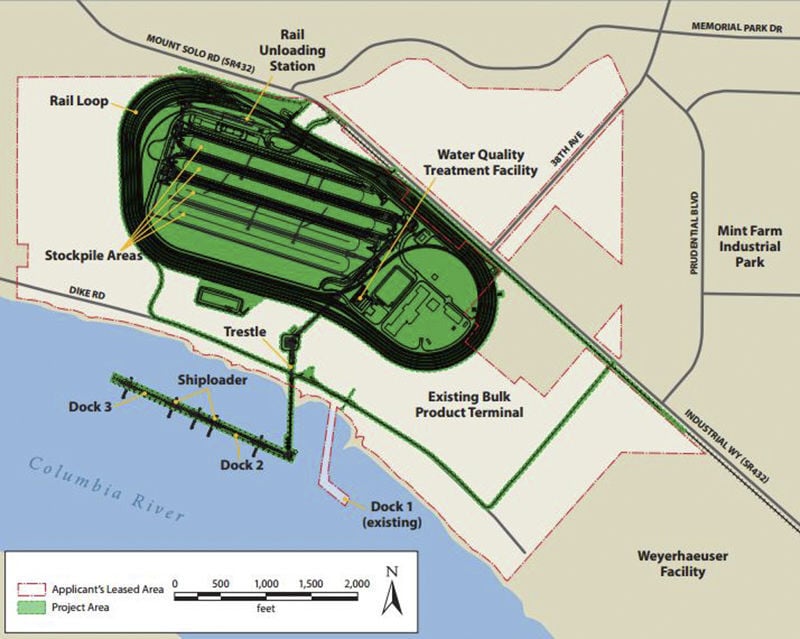 Millennium says it has entered a "new phase" in its five-year effort to build one of North America's biggest coal terminals after Cowlitz County officials issued the first permit needed for the $680 million project.
Cowlitz County Building and Planning officials confirmed Wednesday that they've issued a Critical Areas Permit, the first of eight permits the company needs from the county.
Overall, the company needs 23 permits from various federal, state and local agencies. Yet Millennium officials say this is an important first step in permitting the Columbia River terminal.
"Millennium Bulk Terminals-Longview has entered a new and exciting phase with the receipt of our Critical Areas Permit," said Bill Chapman, Millennium CEO and president in a prepared statement. "Today this project took another significant step forward. We are absolutely delighted to see the agencies begin permit issuance based on their extensive Environmental Impact Statement."
Opponents have 30 days to appeal the Critical Areas Permit to Cowlitz County. Power Past Coal, a coalition of several environmental groups, is still evaluating whether or not it will appeal, said Jasmine Zimmer-Stucky, organizer with Columbia Riverkeeper.
In issuing the permit, Cowlitz County largely approved of Millennium's proposed mitigation plan — an expansive document detailing the steps the company would take to compensate for environmental damage to the floodplain, wetlands and fish and wildlife habitat around the terminal.
"It's not an authorization to go construct, but it's saying, 'Hey, for all your critical area activity, this is what you're going to have to do to be compliant,'" said Nick Little, deputy director at Cowlitz County Building and Planning.
Millennium has yet to receive the most significant permit from the county, though: a shoreline permit, which usually is accompanied by a multi-day public hearing.
"The big honking permit is the shoreline permit. ... We haven't gotten that far yet," Little said.
According to county documents, the terminal would result in the permanent loss of 20 acres of wetlands. To compensate, Millennium would have to convert an existing agricultural pasture area to forested, scrub-shrub wetlands. The company will also have to monitor any impacts to the wetlands or fish habitat, among other measures.
During construction, contractors would have to use a "bubble curtain" and a "soft start" method to minimize the noise impacts of pile driving. A biologist would monitor the effects of pile driving and dredging on fish and wildlife. The biologist could issue a temporary stop work order if any species are distressed.
Coal opponents point out that Millennium still has several hurdles to overcome. Beyond permitting, the company is appealing a decision by the Washington State Department of Natural Resources to deny an aquatic lands sublease needed for the project.
Separately, Department of Ecology is reviewing Millennium's new wetland management plan. Ecology will decide by September whether or not to issue a water quality certification for the project. A 30-day comment period on Millennium's application for the water quality certification ends July 27.
"In short, today's decision (from Cowlitz County) does not change the reality of Millennium's long-shot business venture: coal is a dying industry and this project faces unprecedented grassroots opposition," said Zimmer-Stucky of Columbia Riverkeeper in a prepared statement.
"The Power Past Coal and Stand Up to Oil coalitions recently delivered over one million statements (to Gov. Inslee) from people opposed to dirty coal and oil export projects. Over 250,000 of those statements were directly related to Millennium," Zimmer-Stucky said.
Permitting for the Longview coal dock has stretched on for five years. At full built out, the terminal would export 44 million tons of coal annually — boosting U.S. coal exports by 40 percent.
Opponents say the project would exacerbate climate change by increasing global greenhouse gas emissions by an estimated 2 million metric tons annually, according to an environmental impact study (EIS). They also point out that rail cars servicing the dock could increase the cancer risk rate by 10 percent over background county levels for residents in Highlands's neighborhood of Longview, according to the EIS. (The number is contested by BNSF Railway and Millennium.)
Proponents point out that Millennium would have to adhere to strict regulations to minimize or compensate for any environmental impacts from the project. They also say Cowlitz County needs the economic stimulus: The project would create more than 1,000 construction jobs, 130 permanent jobs and $5.4 million in annual state and local taxes, according to the EIS.