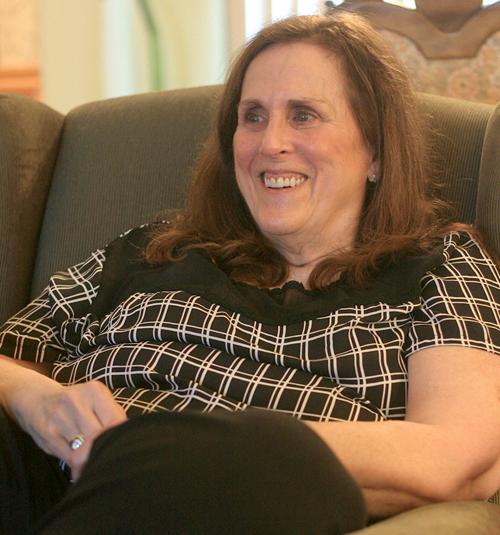 Suzanne Bierlein's history with Longview goes back before there was a Suzanne Bierlein. Or a Longview, for that matter.
Both her grandfathers followed their own family connections into the Long-Bell Lumber Co. empire in 1913, Earl H. Houston in sales, L.C. Stith in finance. At the time, Long-Bell operated in the south, and it came to the Northwest after World War I to find timber because southern forests were depleted.
So Houston and Stith came west from Louisiana to Longview in the early 20s. Both rose steadily, and each became a vice president in 1948. Bierlein remembers Grandpa Houston, the salesman, as her favorite grandparent, while Grandpa Stith, the accountant, was a much more stern man who "scared the pants off me!"
The two executives' children married, and Jerry Houston and Virginia Stith had three daughters. Suzanne was the the second, arriving in 1952. In her childhood, Bierlein recalls, Longview still was not developed far beyond its company-town origins, and almost all her playmates had parents who worked for Long-Bell.
Bierlein knew Mark Morris and other company leaders by sight, but she rarely spoke with them because her family's Southern manners discouraged children from chattering during adult gatherings.
"I was proud of where I lived. It was cool," said Bierlein, who lived in two homes — one on Maple Street, another on Kessler Boulevard — during her youth in Longview. "I was the kind of person that hung out with everybody. I just liked it that way. I didn't like it when people said, 'Her family has money.' "
She and her friends rode their bikes to swim in the long-gone pool at the Monticello Hotel. Their Saturday afternoon routine was to take a few cents, watch cartoons at the Columbia Theatre, and visit the Longview Library on the way home.
Attending R.A. Long High School "was great. It was so great. I loved the school itself. I really liked the teachers. I was proud that it was R.A. Long, and I thought it was a beautiful school. I just hope they don't do too much to it."
Bierlein herself attended Western Washington University to become a teacher and spent two years at the head of a first-grade class in Australia. She wondered if she would ever return to Longview. But her path did lead her back to her hometown, through a local Catholic-school job opportunity that proved a less than pleasant experience.
"I'm not Catholic, so it was a little rough."
Her next job offer was from Castle Rock, where she soon clicked both with the school and with fellow teacher Jim Bierlein. "The first day of school, I met him, and I swear, it really was love at first sight. You should have seen me. We just meshed. And we've been married for 36 years, living in Castle Rock."
Now retired after over three decades of teaching, Bierlein is renewing her interest in her roots, collecting Long-Bell and Longview memorabilia — books, maps, company minutes and legal papers from the '30s, vintage grainart, paraphernalia from a Longview before the age of the spotted owl, Great Recession, or deterioration of the Monticello.
"The Monticello makes me so sad. I just wish somebody, or a group of people, would buy that hotel. It was really a big thing to go have lunch or dinner at the hotel. I think, 'Oh, things have really gone downhill.' And then I think, 'No, it's just change. You have to get used to change.'"
Bierlein does feel that in Longview's case, change would go better if filtered through an appreciation of the town's unique history.
"I think they study (Longview) in fourth grade, and I think that's not old enough. And I think that everyone should study Longview, and I think if it was taught the right way, it could really bring some loyalty. If people were taught about their city ... there's a reason that city is there!"