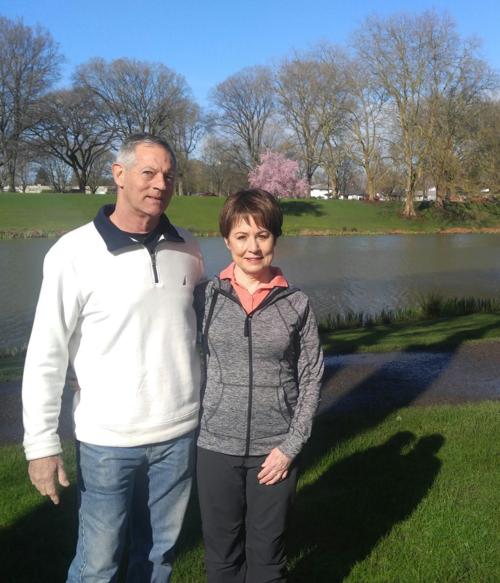 Every morning for the past five years, John Roche has walked the footpath around Lake Sacajawea. His wife, Marcia, has enjoyed the morning ritual for 30 years.
On a recent Thursday morning, the trail was frequented by people running and walking among flowering plum trees. But Roche remembers a time when the lake was populated less by people running and instead by kids fishing. His mom told him stories of when the lake was clean enough to take a dip, and his wife has shared memories of riding her horse, named Tinkers Toy, along Ocean Beach Highway to the lake.
"The lake is just an absolute jewel. Most communities don't have something like that," he said.
Things were different back then, but not everything has changed. Roche said Longview still is the same close-knit town where he grew up. He said the size of Longview is what makes it easy to maintain relationships. And the people, he said, are never in too much of a hurry.
"Life here is just a little more leisurely," he said, adding that he prefers it to living in a big city. "We don't have a lot of freeway wars here, at least those of us who work in Longview."
Roche was born and raised in Longview. His grandfather moved to the area in 1927. He owned and operated the St. Helens Shopping Center on Beech Street for 31 years, having bought out his father and his father's partner. He sold it and retired in 2005.
"He was one of the first group of guys to come from Wisconsin for the Longview Fibre Co. He eventually retired as the superintendent of the paper mill," Roche said.
His wife's family moved to the town in 1923, the year Longview was founded. Her grandfather, originally from Ohio, traveled to Longview with Long-Bell Lumber Co. She's a retired school teacher, having taught at St. Rose Catholic School for years.
Growing up, Roche said he spent his Saturdays at the Columbia Theatre's Highland Dairy Fun Gang, where he'd pay a quarter and a bottle cap for a day of movies and cartoons. Or he'd head outside to play with the neighbor kids until dark, perfecting the sport of the season, he said.
But Roche said those activities of his youth — including riding his bike alone to the movies as a 10-year-old or playing outside until dark — aren't as common among kids today.
"I don't know if it's more dangerous, but I think that a lot of parents think it is," he said. "It probably is. It's just the way things are today."
Roche said drugs and homelessness also weren't as prevalent as they are today. He said he heard of people smoking marijuana in high school, but it wasn't common. He'd never heard of harder drugs such as meth.
"I can't really say when I first heard about meth, but it was in my adult life," he said. "Maybe 30 years ago."
And there are challenges that exist in Longview today that weren't as prevalent decades ago.
Kids in the 60s, for instance, could quickly transition from high school to working at the mill and make good money, Roche said.
"A lot of guys did (that)," he said. "That something that happens not nearly as often anymore. Many of the jobs are skilled jobs. Some training in required."
There are some things in the town that haven't changed, however.
It's a friendly town, he said, and it was a great place to raise his children. Roche said he spent several years in the Seattle area after college, but he and his wife returned to Longview to raise their family.
"We wanted our kids to have a growing-up experience like we did where they could walk places and be close to their schools, and we didn't have to drive 30 minutes to work," he said.
Roche said he enjoys the perks of the small town, but when asked his favorite part of Longview, he answers without hesitation: "Certainly the lake."
Contact Daily News reporter Sarah Grothjan at 360-577-2541; on Twitter at @SarahGrothjan.