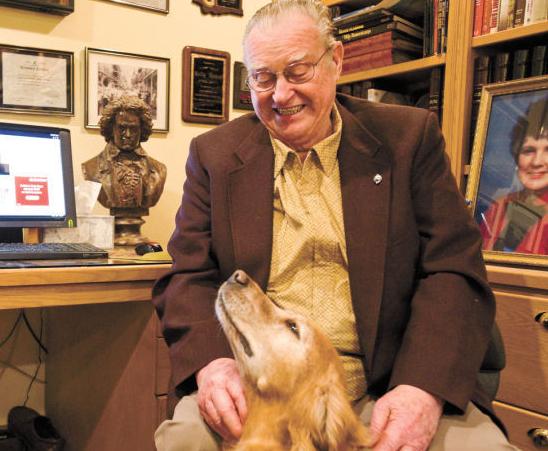 In the 1940s, Holly Bishop spent nearly every Friday at one place: the YMCA.
Back then, the YMCA hosted dances every weekend.
"That was one of the key entertainments that the high school students enjoyed attending, because it was a lot of fun, a lot of recorded music," he said.
Rock 'n' roll was just beginning to take over, he recalled, and he and his friends rarely missed a dance.
"We'd all team up and get our girlfriends and our dates, get them some flowers and head over," he recalled. "Then, of course, the big thing was junior and senior prom, which was held in the cafeteria at R.A. Long."
Bishop said he'd spend about $7 on dinner for his date, which back then was considered expensive. Back then someone could buy five burgers at Cap'n Yoby's for $1. Shakes and hamburgers each cost about 25 cents at Top Hat, a restaurant that was on Commerce Avenue where Bank of America is today.
"The gang would hang out (at Top Hat) after school or later in the evening," he said. "Or (you'd) take your date there and then go to the movies across the street."
Bishop said when he was young, drugs and homelessness weren't as big a problem as they are today.
"You didn't hear much about drugs," he said. "I know marijuana was out there, but that was about the only thing."
Overall, he said Longview also seemed much safer, and the police didn't have as much to worry about. His parents trusted him when he was just 8 years old to run down the street to buy a movie ticket — something he speculated likely wouldn't happen today.
Some things haven't changed, though, including the rivalry among school football teams.
Bishop, a retired bail bondsman, is an R.A. Long graduate. He said that when he was in high school, contention existed between R.A. Long and Kelso High School. The feud predated the rivalry between R.A. Long and Mark Morris, which didn't open until the late 1950s.
The RAL-Kelso football game, which Bishop dubbed the "battle royal", took place each year on Thanksgiving day.
"It was the highlight of the community. I'll tell you that," he said.
The night before the game, Bishop said he joined his friends for a bonfire at R.A. Long's stadium. The high school boys would grab discarded cardboard boxes from Commerce Avenue and light them on fire.
"I'm thinking today the fire department would stop that pretty quickly. It might have burned down the stadium. You never know," Bishop joked.
One year, Bishop said someone from Kelso burned a large "K" in R.A. Long's field the night before the game. Another time, someone stole the bell from the R.A. Long tower.
"It went on for years and years," he said of the rivalry. "It was a big occasion for both Kelso and Longview."
Thinking back on such memories, Bishop said he's glad he's spent his entire life in Longview. He wouldn't want to live anywhere else, he said.
"The people who run Longview and the people who live here are the ones who make a difference," he said. "The friendly attitude of Longview is one of the outstanding assets."
Bishop said he's not concerned about the community's future, though he said it needs more jobs to attract young people. "The city is doing the best it can."
"I think that Longview will survive," he said. "There's no question about that."
Contact Daily News reporter
Sarah Grothjan
at
or 360-577-2541.