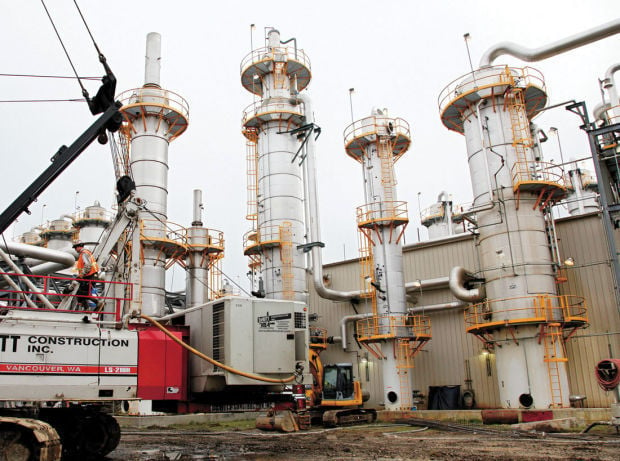 A Clatskanie-area ethanol plant that once shipped crude oil is seeking permission to move "green diesel" as well, a proposal that is making environmentalists uneasy.
Global Partners, which owns the Columbia Pacific Biorefinery at Port Westward, says it can "move to a cleaner, greener product with a committed term of five years" while maintaining about 25 jobs at the plant. An undisclosed customer wants to contract Global to ship it renewable diesel, spokeswoman Catie Kerns said last week.
Columbia Riverkeeper, a Hood River, Ore.-based conservation group, says it wants written assurances that the company will abandon crude oil altogether, saying it could be a "ploy to distract" from plans to resume crude oil shipments.
"There is a track record of Global switching from one thing to crude oil trains, and the … community in Columbia County needs durable protection against that," said Dan Serres, Riverkeeper's conservation director.
Renewable diesel is chemically similar to petroleum-based diesel but is made of organic materials, such as cooking oil or animal tallow.
Generally it is less flammable than ethanol or crude oil and is easier to clean up, according to the Oregon state Department of Environmental Quality.
It also burns cleaner than regular diesel, but data about its benefits for climate change conflict between studies.
Global said the fuel has an estimated 50% to 80% reduction in greenhouse gas emissions over burning conventional diesel, but a 2018 government-funded National Renewable Energy Laboratory study found the reduction 4.2%. Nonetheless, California has increasingly used renewable diesel to meet its statewide Low Carbon Fuel Standards, according to a 2018 report by the U.S. Energy Information Administration.
"By handling products like renewable diesel, Global can help play a role in the low-carbon future," Kerns said.
Global is seeking clearance to take train shipments of biodiesel, using the same single-track Columbia County railway, and transfer it to storage tanks at Port Westward. Then it would pipe it onto marine barges and ship it out.
Global must get permission from the Port of Columbia County (its landlord) and DEQ. DEQ will incorporate Global's Feb. 3 request to ship green diesel into a renewal application for shipping crude oil and ethanol and expand storage capacity, said DEQ spokeswoman Lauren Wirtis.
You have free articles remaining.
Global also submitted draft amendments to its port lease last week. It will host a public open house about its proposal from 4:30 to 7 p.m. on March 10 at Meriwether Place (1070 Columbia Blvd., St. Helens, Ore.).
Port of Columbia County Executive Director Douglas Hayes said port commissioners and the community appear to be "more pleased" with green diesel than previous proposals by Global. The company came under fire in 2013 after DEQ fined it for shipping six times more crude oil than the "incidental" amount it was allowed under state permits.
Global now holds two permits: one for ethanol production and one for shipping ethanol and crude oil. The company has not shipped crude oil from the plant since 2015, and Kerns said there are no immediate plans to resume ethanol manufacturing.
Put together, all of Global's requests "certainly paints the picture that Global has been making concrete steps to handling and shipping crude oil," Serres said. "If they are serious about shifting away from crude oil trains, that would probably be a welcome thing. But right now we can't take Global at its word."
Riverkeeper's "fundamental concern" is crude oil trains that present "very serious repercussions from a derailment, a spill or a fire," Serres said. He pointed to a 2016 derailment in Mosier, Ore., that spilled 42,000 gallons of oil, sparked a large fire and leaked small amounts of oil into the Columbia River.
Kerns was unavailable last week to respond to Riverkeeper's demand for written promises to abandon crude oil. In earlier interviews she emphasized that the company would be bound by a five-year contract to ship renewable diesel, should the port and state approve its proposal.
Global can use the same equipment to ship and store renewable diesel as it does crude oil and ethanol, but it must clean the storage tanks and piping every time it switches substances.
"If it does get approved, this is a multi-year contract, so there would be no shipment of crude oil during this current request by Global," Hayes said. "The reason being is you have to clean the pipes (between substances). But (when) you have a contract to ship one commodity out, that's the commodity they will have to ship."
The port has supported green diesel projects in the past, including leasing property to NEXT Renewables, a renewable diesel production company. Hayes said the two companies have talked about the "feasibility" Global shipping NEXT's product, but no formal agreements have been signed.
Kerns said Global has no plans to partner with NEXT at this time.
Clatskanie City Manager Greg Hinkelman said he backs "whatever commodity … that keeps jobs there. He added. "Anything that keeps that plant in operation and keeps those jobs viable, I am all for."
Get local news delivered to your inbox!
Subscribe to our Daily Headlines newsletter.