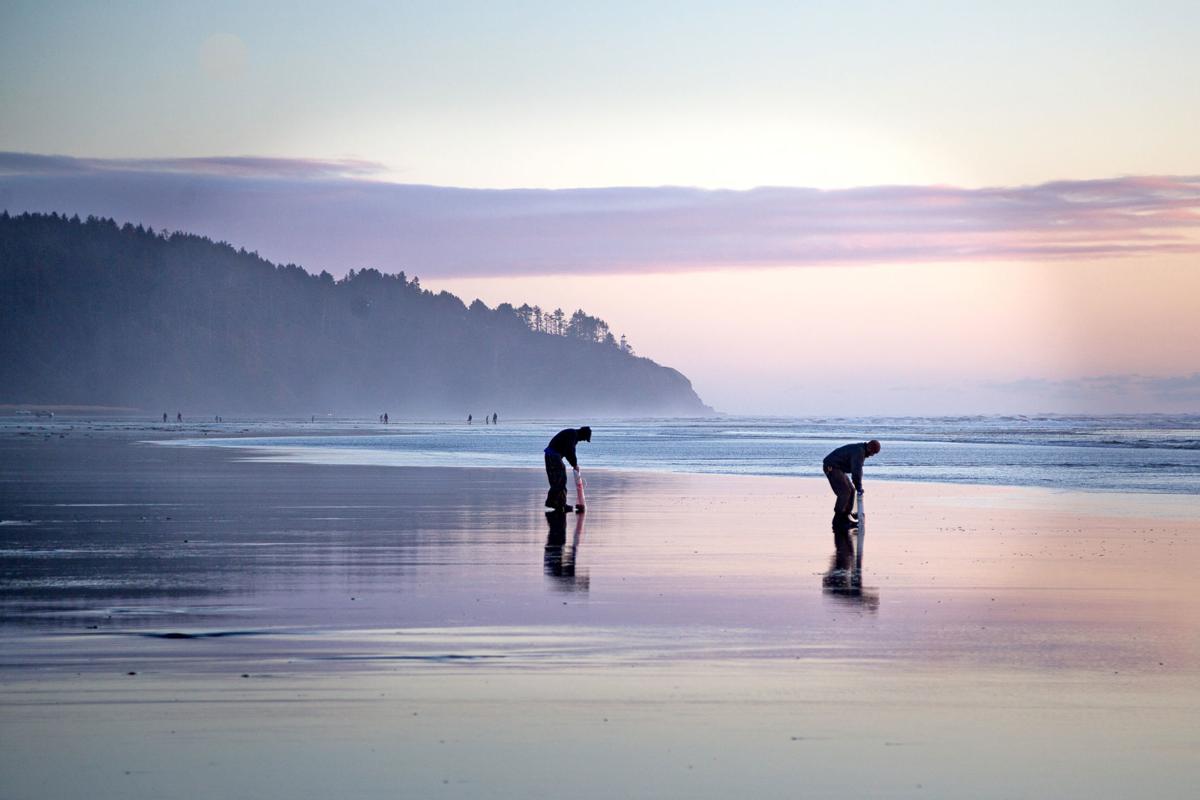 Recent razor clam surveys conducted by the Washington Department of Fish and Wildlife reveal clams are thriving on the Peninsula. Early-season digging dates will be announced soon, based on a robust 2019-20 harvest quota of 5.2 million clams.
"Long Beach is looking really strong, and there will be some super digging in the months ahead," said WDFW Coastal Shellfish Manager Dan Ayres, upon completing the final clam population survey of the summer with his four-man crew on Aug. 30.
"We had a lot of little guys last year and not a lot of big clams. We gave them a break to let them grow, and that's exactly what happened. We have a great population of harvestable clams. We're going to get back this year what we lost last year."
There were only four digging days on the Peninsula over the entire 2018-19 season. There may be 25 times as many days of digging in the upcoming season.
"The size across the beach the average size of these recruit clams is 3.7 inches. This is similar to the 2015-16 and 2016-17 seasons when we had around 100 days of digging at Long Beach," Ayres said Monday.
This season's total Peninsula clam population estimate is about 13 million.
"We'll use that number to total our Total Allowable Catch (TAC), and that's the number we use to manage the season with," Ayres said last week. "This year we're going to target our harvest at 40 percent of the population estimate."
Random, Peninsula-wide state surveys revealed a bounty of big, healthy clams, with improved overall distribution from Benson Beach in Cape Disappointment State Park to north of Oysterville.
"The good news about Long Beach is our data is showing clams all along the beach," Ayres said. "People can spread out and use the whole beach."
Clam digging is a crucial part of the local economy, attracting thousands of visitors in pursuit of their 15-clam daily limit.
Pacific razor clams, ranging from California to Alaska, can produce up to 18 million spawn and live upwards of five years, reaching about six inches at full maturity. Specimens further north often grow slower and live longer.
"Biologically razor clams are really powerful. They grow quickly and are prolific reproducers if we give them a chance and ocean conditions are right. We had a down year and now they're back," Ayres said.
"In 2016, we lost a lot of clams because of fresh water coming out of the Columbia River. The adult clams held up down below (the sand) but the little tiny guys on the beach that year, the stock for 2017, got wiped out by the freshwater. Conditions were way better this year. Right now the ocean conditions have been fine and the razor clams are doing great."
Lead technician Clayton Parson, who's logged nearly 30 years with WDFW's shellfish department, said the recent razor clam survey for the Peninsula has been among the most promising he's observed in years.
"I would say this is among the highest I've seen. They're not super big, but there's a ton of them. This is probably one of the tops. Things are on the up and up for Long Beach," Parson said.
"We're super excited about the volume of clams we've been seeing, especially after losing all those clams a few years ago." 
Get local news delivered to your inbox!
Subscribe to our Daily Headlines newsletter.