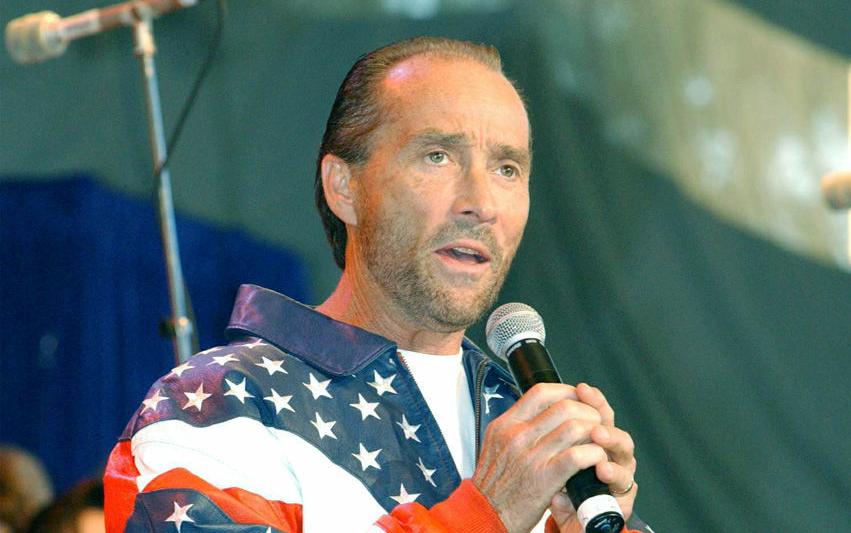 A group of Cowlitz County residents plans to launch a two-day "We The People" Independence Day weekend gathering at Lake Sacajawea this year despite state COVID-19 social restrictions, and the organizer says country music star Lee Greenwood will headline the event.
City officials are not issuing a permit for the event but are unlikely to stand in the way. They're cautioning that they don't think it is a good idea.
The celebration will also include a kid's parade along the lake's gravel path, talent show, classic car show, food vendors on Saturday July 4, and a community worship service the following Sunday morning July 5, according to organizers. However, large gatherings are still currently barred under Gov. Jay Inslee's re-opening orders, so these events won't be officially sanctioned by the City of Longview.
"I can't ask for permission because (the city) can't give it to me," said organizer and Longview real estate developer Larry Wood.
Wood and other organizers said they want the event to be a non-partisan celebration, but Wood acknowledged that it is in direct defiance of the state's COVID-19 limits on gatherings. He said he was disappointed by the cancellation of Go 4th by the private nonprofit Go 4th Festival Committee, which cited coronavirus health concerns.
"Our celebrations that we held dear as part of our community and culture were taken away for apparently little reason, and so early on," Wood said. "We wanted to put our foot down. ... Independence Day is an important day to remember that we lived under tyranny and we no longer do."
The Daily News was unable to confirm with Greenwood's publicity team by Friday that he will appear for the event.
As states and counties continue the cautious process of re-opening, coronavirus cases continue to climb. Cowlitz County COVID-19 infections are on the rise, too, and health officials say the increase is not simply to due an expansion of testing. Public health officials have said wearing masks reduces the risk of catching the virus, and outdoor events are safer than indoor events.
Wood hopes to draw around as many as 10,000 people to the lake for the event.
He acknowledges it won't be easy.
Go 4th typically draws more than 30,000 people over the holiday weekend. It's Cowlitz County's largest and most complicated summer festival, with employees and volunteers working all year to coordinate permits and locations for vendors, parade street plans and road closures, police and emergency responders, and a myriad other logistical challenges. The event's 2019 budget was $125,000, according to Go 4th organizers.
The "We The People" team of a few dozen regular citizens started work on their event after the Go 4th committee cancelled this year's festival. Before advertising, the event's budget is over $60,000, Wood said, more than half of that going toward bringing Greenwood to perform. Wood said the members of the organizing team are funding the event themselves, and the event is also accepting donations on its website.
City and state officials aren't poised to shut the event down just because it violates the order, but they have concerns.
"Large gatherings such as protests aren't permitted under the governor's Safe Start proclamation, but as we've seen for months now the state has not stood in the way of protests," Mike Faulk, a spokesman for Gov. Jay Inslee, said by email. "We ask everyone, regardless of what they're protesting to follow health guidance" such as physical distancing, testing, mask wearing and isolating oneself if exposed.
Longview City Manager Kurt Sacha said an event on the scale Wood's team is planning "absolutely" warrants concern. The event is unsanctioned, unpermitted and not sponsored by the city, he said.
"We support the First Amendment, freedom of speech and demonstration, and we don't have any problems with any of that," Sacha said. "We believe strongly in everyone's right to freedom of speech, but this goes a little beyond that … based on anecdotal information we've seen."
Sacha said the city attorney has served notice on the event organizers that the city won't be liable if harm comes to attendees, and if city property is damaged, they'll look to the organizers to pay up. City officials and Go 4th Festival committee members plan food vending, soundstage set-up and all aspects of the celebration well in advance, Sacha pointed out.
"It's all those things that come together for an organized event like Go 4th. We're at the table together, pre-planning, we're talking about community safety and what's entailed in the event, what we might expect, and what kind of provisions we need to make to make sure it's a safe and secure event. With this, we have none of that," Sacha said.
Longview Police on Friday posted a reminder to its Facebook that gatherings at the city's parks are still not allowed.
"Not only would a gathering of more than five people while Cowlitz County is in Phase 2 violate Governor Inslee's directives, but depending on what is planned, it may well violate provisions of the Longview Municipal Code," the post said.
Wood said the event will allow all vendors to come for free, in part because the organizers don't have the ability to ask for a contractual relationship. Fear of retribution from the governor's office or the state Department of Labor and Industries has scared some businesses from joining in, he said.
"People need hope," said Kerri Scroggins, a Longview interior designer and one of the organizers. "It's a wonderful thing to celebrate our country, celebrate our freedoms, share that tradition, and create some hope and vision for the future. I want the little kids who love the parade to be able to decorate their bikes and ride around (the lake.) I think if there was ever a year where we needed to be able to continue that tradition … I kind of think this is the year for it."
People who are sick or who are particularly vulnerable should consider staying home, Wood's wife Traci Wood said, and anyone who comes is welcome to wear a mask and do whatever they need to be comfortable.
"I'm not a protester by nature, (and) that's not really the heart of what we're doing," Traci Wood said. "Our community needs this. ... We feel, with all the things going on right now, there's been so much fear pushed at our country from every direction ... and this is a good time for a message of hope "
City organizers made the call to cancel Go 4th a little over a month ago, calling it a "heartbreaking" decision but one ultimately necessary to keep people healthy.
Cowlitz County is currently in Phase 2 of Gov. Inslee's four-stage plan for re-opening, which allows gatherings of five people from different households. Phase 3 boosts that number up to 50. Only in Phase 4 — which allows for unlimited gathering sizes but still recommends caution for people in vulnerable populations — could a summer festival at the scale of Go 4th be legally feasible under Inslee's plan.
Under Inslee's timetable, there is no way that the county could move to Phase 4 by July 4, because the governor's "Safe Start" timetable requires at least three weeks to move from one phase to the next.
Get local news delivered to your inbox!
Subscribe to our Daily Headlines newsletter.