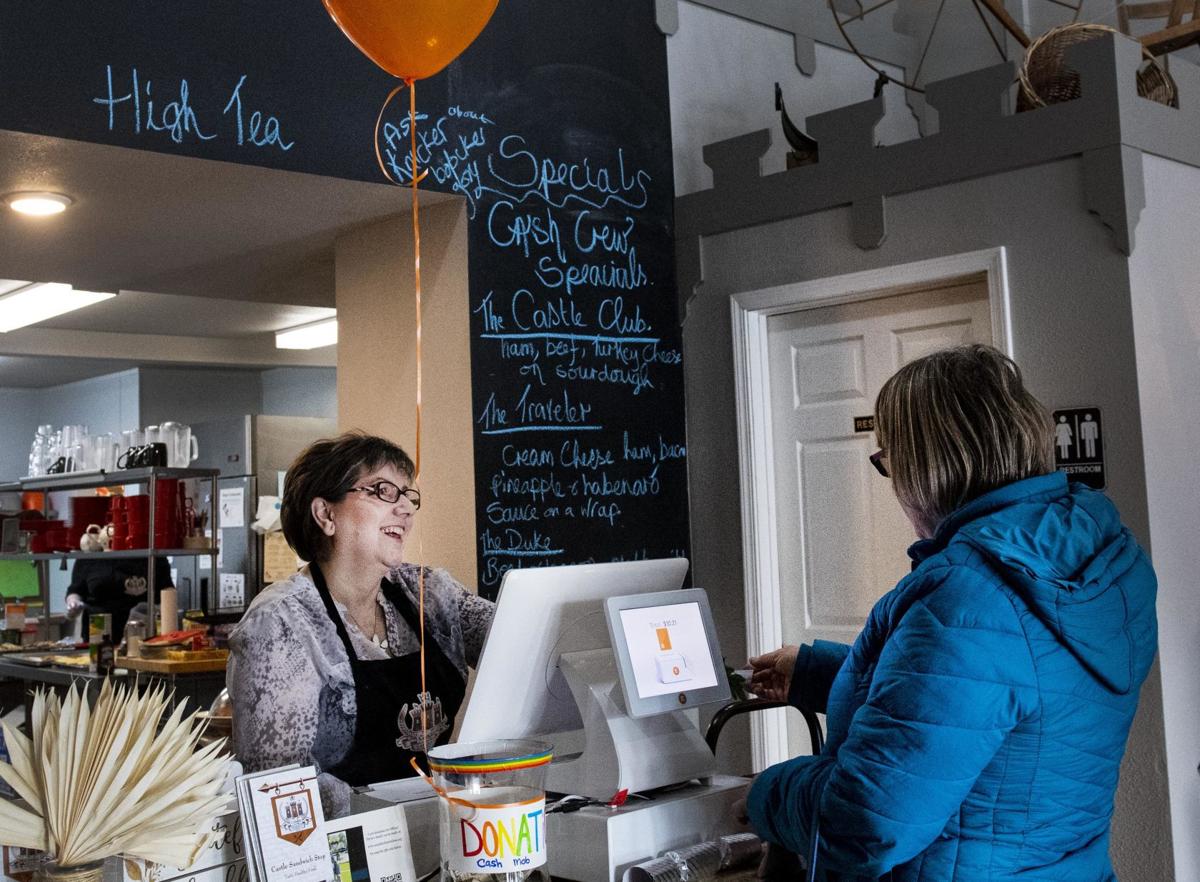 CASTLE ROCK — Katie Ogden left a larger tip than usual for her Saturday afternoon meal at Castle Sandwich Stop. Then, before sitting down to eat, she slipped a couple more dollars in a donation jar for the restaurant.
Ogden's generosity was inspired by a grassroots effort to give local businesses an extra boost. She and her husband usually stay in for lunch on the weekends, she said, but the Castle Rock Cash Mob drew them out for sandwiches.
"We were hungry," Ogden laughed. "And we wanted to support the (cash mob)."
The idea is simple: Local residents nominate a business they want to support, then they designate a day to flock to the store and shop. Maybe customers leave an extra tip to show their appreciation for their favorite local business. Maybe they donate to the store as a small financial pick-me-up.
"There is a lot of small businesses in Castle Rock that go unnoticed or have to close their doors because they can't maintain that (interest)," said Amy Warren, cash mob organizer. "We want to see Castle Rock continue to grow and be successful."
Warren's plans for a cash mob started about a month ago, when she was talking to Castle Sandwich Stop owner Geraldene Keighan-Taylor about some of the challenges of running a small business in a small town.
"When you're so little, you don't have the finances and resources to do big advertising," Keighan-Taylor said. "Your product is your advertising," so you have to rely on word of mouth to grow your customer base.
And in a town powered by tourism like Castle Rock, it can be "harsh" in the winter when there's fewer people hanging around town, she said.
Growing up Warren participated in flash mobs, or surprise group dance events. Through those experiences, she learned about cash mobs.
"I was sitting in the sandwich shop, and I thought to myself, 'That's what Castle Rock needs, something like a cash mob where the community comes together and gives back to one business at a time."
Warren took to Facebook to gauge interest in the idea. As a relatively new member to a community with many lifelong residents, she wasn't sure the plan would work.
"But I got really good feedback on it. … There was enough positive response and people wanting to know more or willing to partake that I thought, 'We can give it a go and see.' "
Warren planned to pick businesses at random, but unprompted nominations started flooding in via Facebook comment and direct message. Warren formalized the nomination process, and soon Castle Sandwich Stop rose to the top.
The restaurant was a great candidate because Keighan-Taylor is very involved in the community, Warren said. She opens the store to baby showers and meetings, and she often caters lunches for community groups and high school field trips.
"I wanted to do something I knew would help and give her a little bit of reassurance that we are all here to support it," Warren said.
Keighan-Tyalor said she was "humbled" to be the first business visited by the cash mob.
"In many ways, we have worked really hard to be part of the local community," said Keighan-Taylor, a native of Staffordshire, England, who moved to the United States in 2011. "It was a real compliment for them to want to return that favor."
Ron Cryderman and his wife, Stephanie, drove down from their home in Silver Lake to participate in the cash mob Saturday.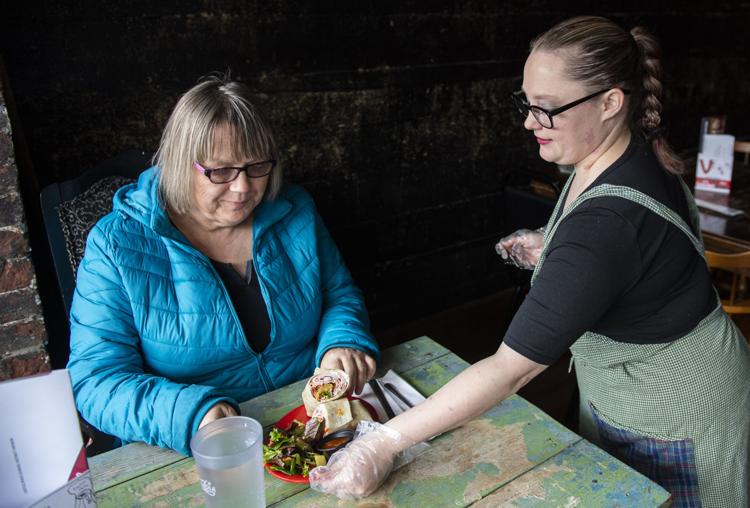 "I actually nominated (the restaurant)," he said. "We were here for the Christmas parade, and the food trucks were raking in thousands of dollars. Geri stayed open," despite her customers getting taken away.
Cyrderman's mother owned the Toutle diner for several years, and he sells leatherwork from a personal business, he said, so he understands the challenges small business owners face.
"He doesn't have a storefront (to cash mob), but we thought about others who could benefit," Stephanie Cryderman said.
"Geri tries really hard, just like my mom did," her husband added.
In addition to their lunch, the Crydermans donated money to the sandwich shop.
Thirty-five customers stopped into the shop between 10 a.m. and 3 p.m., Warren said. Though sales were relatively average as of 3 p.m., Warren was optimistic that the tips and donation jar would add on to Keighan-Taylor's profits.
Plus, the event generated a buzz on social media that might inspire others to stop into the restaurant later on, Keighan-Taylor said.
"Sometimes advertising has a ripple effect. … Whether one comes or 100 come today, it won't be indicative of the community" that knows and loves the shop, Keighan-Taylor said.
Warren also wants to gain recognition for the cash mob events, so she can grow the number of participants in the "cash crew."
"I'm just trying to make a name for it and have it where people recognize it, understand it and know what it is," she said. "It's power in numbers. The more people we can get the more publicity we have, the better the outcome."
The Crydermans said they will try to attend the next cash mob event, once the details are announced.
"It's kind of like Girl Scouts selling cookies. I just can't pass it up. It's a worthy cause," Ron Cryderman said. "It'll be exciting to see who's next."
Get local news delivered to your inbox!
Subscribe to our Daily Headlines newsletter.