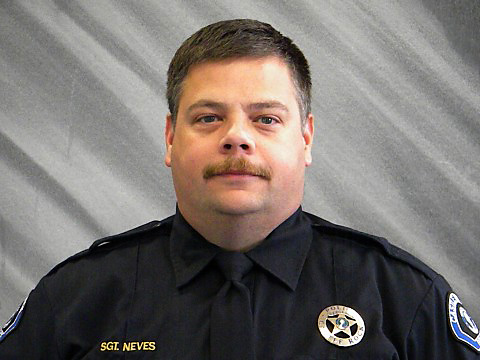 Working on domestic violence cases is often the hardest part of his job, but resolving them also is the most rewarding part of police work, Castle Rock Police Sgt. Scott Neves said Wednesday.
"It's emotionally draining on the victims and, at times, on the officers that investigate them," he said. "(But) my parents instilled a passion in me to help everybody."
Neves was recently honored by the Justice and Hope Conference for his work in a domestic violence case, which involved a family's arrest last October after they refused to testify against another family member. It was Neves' fifth award from the Justice and Hope Conference, a one-day workshop for Cowlitz County social service organizations, law enforcement and other advocates to discuss ways to prevent domestic violence.
Castle Rock Police Chief Bob Heuer said Neves was instrumental in arresting Joel H. Darvell, a Castle Rock man who was sentenced in November to three years in prison on two counts second-degree assault and one count of fourth-degree assault. Last April, Darvell attempted to strangle his wife after she caught him drunk in bed with a 22-year-old woman. Darvell's 17-year-old son tackled his dad to protect his mother. Darvell, 36, grabbed a gun and fired a single shot, injuring no one, then pistol-whipped his son.
Darvell's wife, son and 13-year-old daughter were arrested for refusing to testify against Darvell. Heuer said Neves' dedication to the family convinced them to agree to testify, though eventually the family was spared from appearing in court.
"No one wants to arrest kids and women who have already been victimized," Heuer said. "He got their confidence that he cared and wasn't going to be judgmental."
Neves said his faith and his family — wife Callie and their three children — help him get through the complex cases.
"That case, I had to go home and hug my kids and just spend some extra time with them," he said. "I try to approach all these cases with a lot of care and compassion and treat people how I like my family to be treated. That's served me well in my career."
Lyxan Toledanes covers health and medicine and Rainier and Castle Rock city government for The Daily News. Reach her at 360-577-2586 or ltoledanes@tdn.com.
Get local news delivered to your inbox!
Subscribe to our Daily Headlines newsletter.