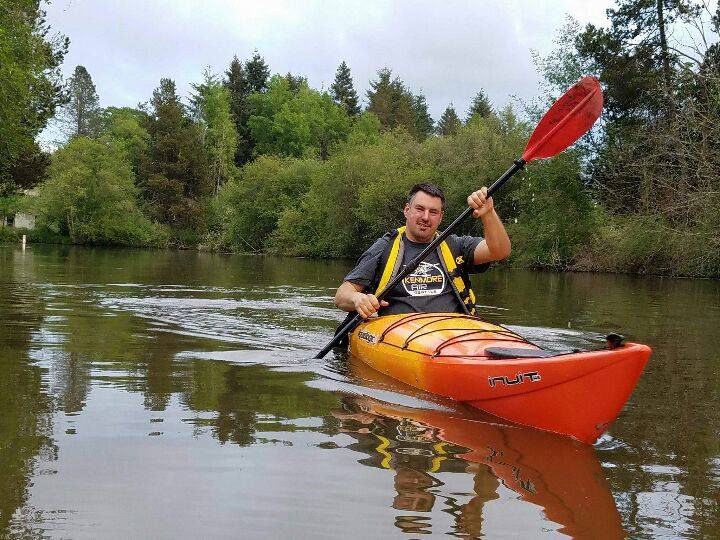 Despite its abundance of picturesque rivers, Cowlitz County is not widely known as a major kayaking destination.
Kelso native Mike Hedges wants to change that.
Hedges is the man behind Cowlitz Kayak Tours, a new local business that aims to connect locals and visitors with the area's waterways.
"You go to other parts of the country and you see a lot of kayak-based tourism, and then you look at Longview-Kelso and there's just not really anything," Hedges said in a recent interview.
While Sasquatch Adventures already operates a kayak rental business on Silver Lake near Toutle, the area lacks an established river guide company, Hedges said.
The 41-year-old splits his time between working for LTL Trucking Company in Auburn, Wash., and loading kayaks onto a trailer towed by a used van he purchased off Craigslist last September. Hedges has been a serious kayaker for four years, and he grew up canoeing local rivers with his father.
Hedges is still working out some of the kinks with the new venture, but he hopes to exploit what he sees as a lack of competition as the summer continues to heat up.
"On a hot day, what better way is there to cool off?" he said.
As the founder of NorthwestKayaking.com, Hedges has already done a lot to put Southwest Washington on the map.
The site currently redirects to a Facebook group, which has grown to nearly 1,300 members since Hedges created it two years ago.
On a tour last Saturday, nearly 20 members gathered at the Fat Moose Bar & Grill in Woodland before launching from Lake Merwin Park. It took about three hours to float down the gentle stretch of the Lewis River before finishing at the Lewis River Golf Course.
Hedges also organized a float down the Cowlitz River last Labor Day that drew about 50 people. He is hosting the same event again this year, and he expects the turnout to be at least four times greater than last year.
Nearly 3,200 have indicated interest in the event on Facebook, and almost 200 people have RSVP'd.
Cowlitz Kayak Tours is different than most other kayak tour companies because Hedges isn't solely focused on rentals.
In addition to providing transportation, Hedges will offer his guide services to people who already own kayaks.
"I want to get people off on the right foot so people don't go down to Walmart and buy a kayak and then go down the river not knowing what they're doing," he said. "We want people to be safe."
Guided kayak tours including rentals start at $45 will be available by appointment in two weeks. Hedges will also operate a kayak rental shop out of Streeter's Resort on Silver Lake, where single kayaks can be rented for $10 per hour and doubles for $20.
"It's a great way to get outside and make some new kayaking buddies," Hedges said.
Get local news delivered to your inbox!
Subscribe to our Daily Headlines newsletter.