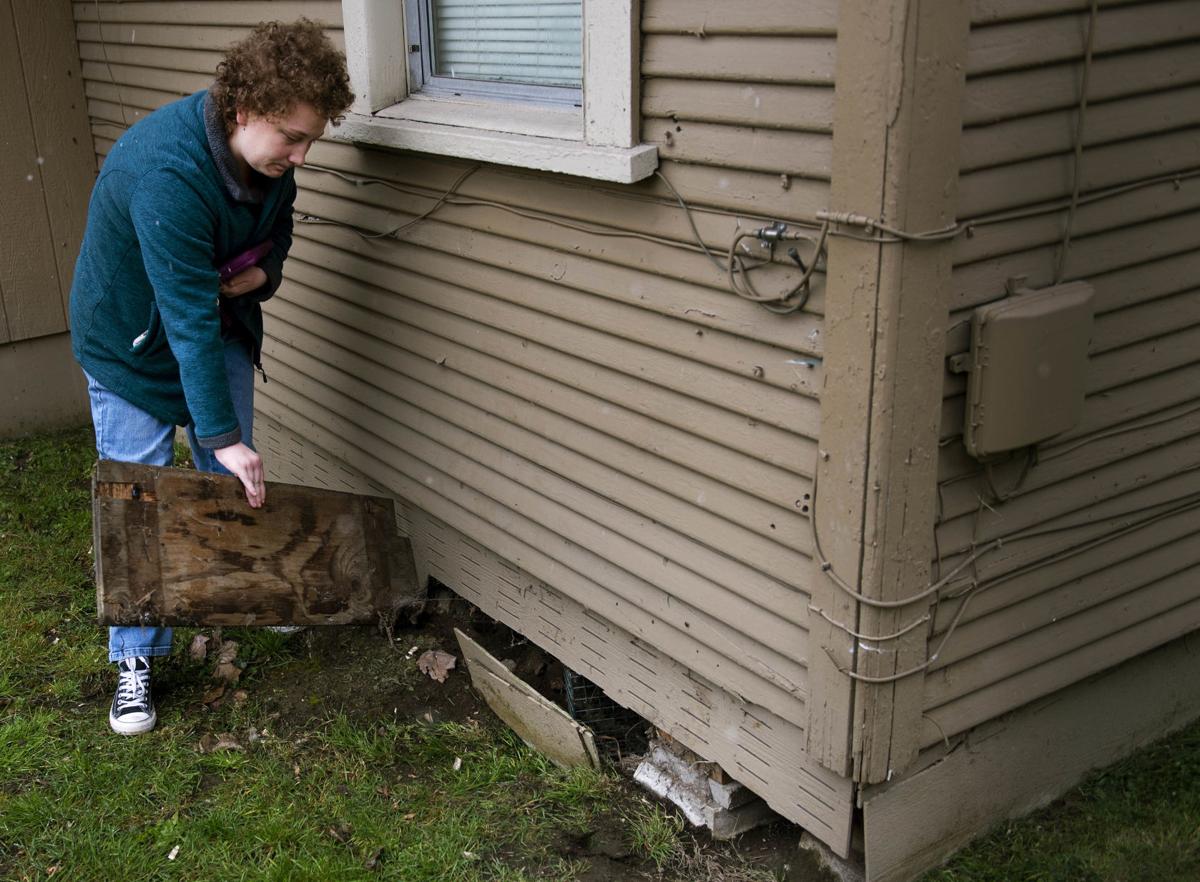 A California investor has purchased 61 rental properties in Longview and Kelso, 34 of which are in the struggling Highlands neighborhood.
His efforts to improve the more blighted properties is sparking both optimism about improved housing stock but also concern that rents will rise and push out the area's most vulnerable tenants, possibly exacerbating the city's homeless problem.
Gary Sauter of Corona Del Mar said he decided to invest in Longview and Kelso because of the cities' proximity to Portland and Vancouver with access to Interstate 5.
"Kelso and Longview are nice neighborhoods for people who aren't really wealthy but are wanting their own home," he told The Daily News this week. "There are a lot of nice things about the community."
Sauter finalized the sale of the 61 properties in August for $4 million. Since then, he says he has spent a lot of money cleaning up the properties, many of which he says had fallen into disrepair. He hired a local property management company, Longview Investments, to take over management in January.
Some of the tenants were paying less than $500 a month for a home, he said, so rents will naturally increase as the properties are cleaned up.
While eliminating blight in the Highlands is a good thing, it could price out tenants from Longview's most affordable neighborhood, said Elizabeth Haeck, community organizer and former Highlands community coach. Those who are pushed out may not be able to find anywhere else they can afford, she said.
"I don't know what's next for people that can't afford to live in the Highlands. I guess many of them would face homelessness," Haeck said.
During her research to update the city's Highlands Revitalization Plan, Haeck has found that the cost of living in the Highlands has nearly doubled over the last decade while wages and the median income have barely changed. The updated plan is expected to be released in the next month or two.
Haeck added that the poverty rate in the Highlands is twice what it is for the City of Longview. And the number of two-parent households in the Highlands have increased by 11 percent, while single-parent households have declined by 21 percent. Married families are typically more economically stable, she said, so the fact that there are more in the Highlands now could mean families are increasingly struggling financially.
"My guess is that two-parent households are falling into poverty at a higher rate and single parents are being priced out of the Highlands," Haeck said.
The U.S. Census Bureau found that about 55 percent of households in Cowlitz County are cost-burdened, meaning they spend more than 30 percent of their income on housing. About 73 percent of Highlands residents are cost-burdened, according to the bureau. The state average is 49 percent.
Providing quality housing at a low cost is a balancing act in every community, said Anna Leslie, with Longview Investments, who took over management of Sauter's properties in January.
"As rents go up, they go up everywhere," Leslie said. "(Sauter) wants (the properties) to be updated, clean, affordable and in areas that have been a challenge in the past. Maybe by updating and upgrading in those areas, other landlords (and) other neighbors will follow suit."
All of the Highlands properties in the sale were built between 1925 and 1953, and Leslie said many of them needed flooring, walls, plumbing, roofing and electrical upgrades. On top of that, Sauter says many tenants had neglected their yards and alleys.
"The guy that owned (the homes) before was a nice person, but I think he let people stay there for a long time with low rents because he didn't want to put money in properties," Sauter said.
Sauter purchased the properties from local property owner Cullen Rentals, which did not return calls for comment on this story.
The sale also included four homes in Longview's Olympic West neighborhood, seven in South Kelso, one in West Kelso and 15 in North Kelso.
Ray Swagerty, a current Highlands tenant in the 200 block of 24th Avenue, said the property was a mess before he moved into one of the homes in February. There were plumbing and electrical problems; the floors were sinking; the old windows were crumbling; nails covered the backyard.
"Nobody should have to live in the conditions the old owner had for these," Swagerty said.
But the new maintenance team cleaned it up and now he has "an amazing deal" for what he pays, he said. He lives there with his girlfriend and two kids. Swagerty, 27, said his rent is "decent" compared to nearby rentals that charge $1,200 to $1,300 a month, but he declined to be more specific.
Leslie, with Longview Investments, said the new owner plans to charge fair market rent, which is set by the U.S. Department of Housing and Urban Development. Many tenants haven't seen rent increases yet, she said.
Those who have seen some rent changes told The Daily News that their rent had increased between $50 and $100 since Sauter bought the properties.
One tenant, Jennifer Sargent, said earlier this month that her rent increased from $650 to $700 on Sept. 1. And late fees increased from $25 to $50.
Sargent, 26, lives in the 100 block of 16th Avenue with her boyfriend and two young boys. She says she has some ongoing maintenance problems that have never been fixed, despite her requests, such as her shower faucet leaks into the tub, the bedroom light bulb is out, wires are not connected to a light fixture and an opossum may be living in a hole in the back skirting. Sargent has lived there since 2017.
Leslie said there is a backlog of maintenance requests that they have been working through since taking over only a couple months ago.
When asked about tenants who had concerns about $50 and $75 a month increases, Leslie responded, "That's it? She should count her lucky stars. $75 is not much of an increase."
But Linda Brigham, who has lived in the Highlands for 21 years and is active in the community, said $50 could make it hard for people to buy groceries or pay their utility bills.
"When people from out of town come in, they just don't stop and think about how prices are a little lower here. We're not California. People are not getting paid the same," Brigham said.
Some tenants, many of whom declined to give their names, said they were worried about getting evicted despite paying their bills on time.
However, Sauter said those fears are unfounded. Some tenants have been evicted, he said, but that was because they weren't paying rent or taking proper care of the homes. Leslie said there have been no evictions since she started managing the properties in January.
Sauter said he wants to work with tenants to help keep those who are generally responsible but may struggle with rent increases.
"We are trying to rent to people who would enjoy their houses, respect it and keep it in good clean condition," Sauter said. "So people that aren't being cooperative, aren't paying rent, am I supposed to keep them in the property?"
Tenant Swagerty put it more simply: "If you don't pay rent, you gotta go. That's just life."
Even though the properties were rentals, Haeck said the purchase can still impact home ownership, which is the best way to build wealth and climb out of poverty.
"If there's a shortage of properties to buy, it's going to drive prices up," she said. "It's more difficult for low-income people to afford housing. And if rent increases too, it's difficult for people that don't make enough money to live on."
Sauter said he hasn't made a decision about whether he plans to eventually "flip" the properties by selling them for a profit after he's cleaned them up. But Leslie said that wouldn't necessarily be a bad thing.
"It's a business opportunity, too. If you can buy the properties for $4 million and sell for $8 million, who wouldn't?" she said. "And maybe somebody local would pick it up."
Haeck said time will tell if the purchase will be a boon for the community.
"If they do everything they said they're going to do, it could be good for Highlands. But then my concern is about rent increases and the families that live there now."
Get local news delivered to your inbox!
Subscribe to our Daily Headlines newsletter.