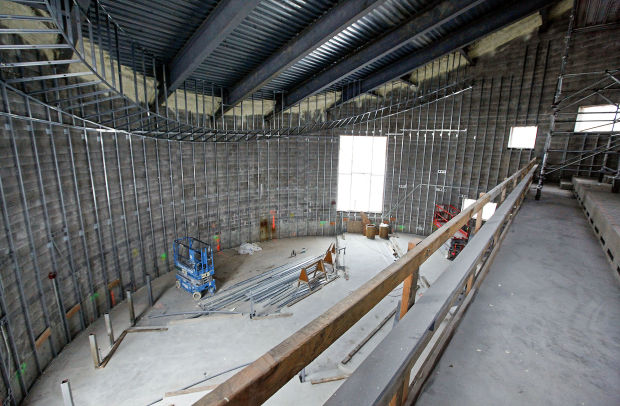 Excitement is increasing at Lower Columbia College as the new health and science building — due to open this summer — draws closer to completion.
The 140-seat, two-story lecture hall at the southwest end of the campus "is going to be a real showcase," said Nolan Wheeler, LCC's vice president of administration. "I envision a lot of community use of this auditorium."
It will include a 32-foot television screen on the ground floor and two 103-inch TV screens on the balcony, so everyone will be able to have a good view of lecture materials.
"Everybody's real excited about this room," he said.
One of the nursing classrooms includes a control room with one-way windows. Nursing teachers in the control room will be able to manipulate lifelike mannequins in hospital beds so they appear to display symptoms. "They'll watch the students as they respond to the symptoms," Wheeler said. "The faculty designed this room for this purpose."
And like every window in the building, it has a great view, he added.
Wheeler said faculty members have taken frequent tours while Emrich Construction has been making progress. He said students and instructors are excited about the large classrooms, laboratories and a large increase in storage and office space, which will place all the college's science and nursing programs under one roof instead of scattered around campus as they are now.
You have free articles remaining.
"It's been amazing walking through this building," he said. "This is the first time the college has built up."
Previously, no college building has been taller than two stories. The health and science building has three full stories of classrooms and a small fourth story for maintenance services. The first floor holds the earth science, physical science and environmental science programs. The second floor is devoted to nursing, and the third floor holds chemistry and biology laboratories. All will have state-of-the-art electronics.
Aesthetic features include entry halls that will feature works of art, landscaped courtyards, recessed display nooks, tall windows and a "green" rooftop patio on the third floor. Solar panels will gather 85,000 kilowatts an hour, contributing about 15 to 20 percent of the 70,000-square-foot building's electric power.
Wheeler said the building's target opening is in the summer, and he hopes it will be early enough to hold summer classes. A grand opening date has not been set.
After the health and science programs move into their new digs, the vacated rooms will be repurposed. Wheeler said a campus and community team has been brainstorming ideas as the college works on its master development plan.
"It's up to that group to decide what to do," Wheeler said.
The $38.5 million health and science building is the latest LCC construction project along Maple Street. The Main Building got a facelift in 2001, and the $24.6 million Rose Center for the Arts opened in 2008. Gone from Maple Street are a McDonald's restaurant, the Masonic Lodge and the Maple Street Apartments, giving an entirely fresh look to the area.
Wheeler said when he stands in the Civic Center and looks toward the Georgian-style Longview Public Library and the campus beyond, the new brick architecture looks well alongside the old.
"It complements the Circle," he said. "I'm really pleased with how it looks."
Leslie Slape covers education for The Daily News. Reach her at 360-577-2523 or lslape@tdn.com.
Get local news delivered to your inbox!
Subscribe to our Daily Headlines newsletter.