Lili Venegas is surprised at how attached she's become to her Beacon Hill third graders in just three months.
Carly Sims is learning just how short a school day is when there's so much she wants to accomplish at Butler Acres Elementary School.
Sierra Wishard is finding ways to corral chatty Coweeman Middle Middle School students so they'll focus on their lessons.
And Justin Roberts is struggling to keep his Kelso High School social studies students off their cell phones in class.
These are just some of the lessons and challenges that four of Kelso's newest teachers — all of them Kelso graduates themselves — have learned and encountered in their first three months on the job.
And there's at least one more discovery: How much they love being teachers.
The Daily News profiled all four of these teachers, themselves all graduates of the Kelso school system, when classes opened in August. We're checking back with them to see how they're doing.
Lili Venegas, Beacon Hill
"Busy" is how third-grade teacher Venegas describes her foray into teaching. She knew teachers need to put in a lot of time outside the classroom, but she didn't realize how much it would take until she started.
"It's not that every single thing is hard. It's just that everything takes time," 2015 KHS graduate Venegas said. "I didn't realize how much time you spend thinking about it."
All that time is a measure of the passion she brings to her classroom.
"I wasn't prepared for how attached to the kids I was going to be," Venegas said. "Every single one of their triumphs, I'm like, 'Whoo!' I'm so hyped. And when stuff doesn't work out, I feel every thing every one of these kids feel."
She said she's been consistent in her expectations, and her students have started to learn the daily routine. However, she said classroom management has been her toughest challenge.
"Student teaching prepared me mentally for (disruptive) behaviors, because you know they're going to happen. But you don't really think about all the small classroom management things, like when am I going to allow kids to sharpen pencils? And am I going to have a sign-out sheet for the bathroom?"
Venegas said while it's been a challenge, it's also been a thrill.
"Ready your heart," Venegas said, "because these kids are going to stay there forever."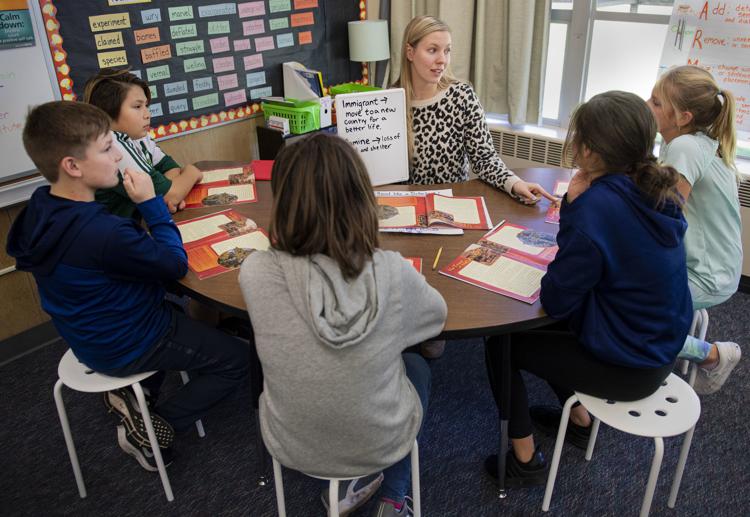 Carly Sims, Butler Acres
Sims, KHS class of 2013, said she got lucky with her class of fifth graders.
"I have a really sweet class, and they're fun and pretty self-motivated — for the most part — as much as a class can be," Sims said.
The most challenging part for Sims so far has been managing her time, she said, as she also coaches the KHS volleyball team.
"There's so much you want to get through ... (but) you get to the end of the day and it's like, 'Oh my goodness. We didn't even get to that thing that I had planned.'"
She's already altered how she runs her classroom — such as changing where students keep their notebooks and how they turn in papers — to make the day run more efficiently.
Sims' mother teaches at the school and has been a valuable source of advice as she navigates her first year.
You have free articles remaining.
"I even have some of her old students, so that's really fun," Sims said. "I've had some kids say, 'That was how Mrs. Sims did it. Did you learn that from her?' And I did."
Sims said she focuses on building relationships and making sure students feel "safe and happy" in her classroom, as well as teaching them skills beyond reading and math.
As she sat with a group of students and read through a short story last week, she gently but firmly reminded one student to raise his hand before answering and instructed another to wait her turn before interrupting with a question.
However, it's the moments when the students want to keep learning past the end of a lesson that make Sims feel like it's all coming together.
"I feel lucky to be here," Sims said.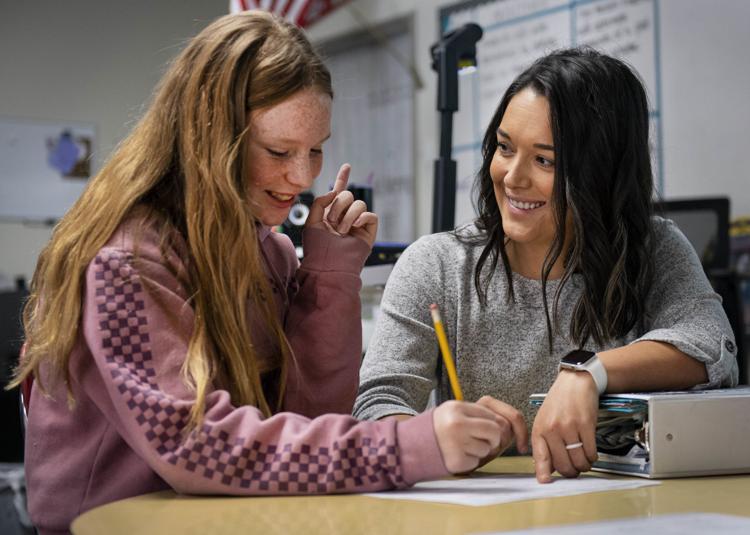 Sierra Wishard, Coweeman Middle School
Managing 140 middle school students over the course of a day can be "exhausting", but seventh grade math teacher Sierra Wishard said she's learning a lot and is encouraged by her students' growth.
"I've noticed my kids ... develop in reasoning and problem solving, so that's been huge," said Wishard, KHS class of 2013.
When a class of 25 chatty students trooped into her room for their 10 a.m. lesson last week, Wishard quickly got them focused with an "entry task": simplifying mathematical expressions. Instead of making it a solitary task, she involved all the students by dividing them into pairs to do a worksheet – but not without them groaning about the random partner they were assigned.
Coming from a background experience with elementary students, she said teaching more classes means a lot more prep work and grading. For now, Wishard said she's working on putting consistent routines and expectations into place. She is starting to see results.
"Kids like that consistency and structure," Wishard said. "Even if they don't think they do, they do, because they know what to expect and they're not getting in trouble for things they didn't know."
Wishard said she's learned to lean on other teachers and ask for help. After all, she said, teaching is about more than just algebra.
"They're in this stage in middle school where they're trying to find themselves," so her job, Wishard said, is "also trying to teach them to be a respectful, responsible student."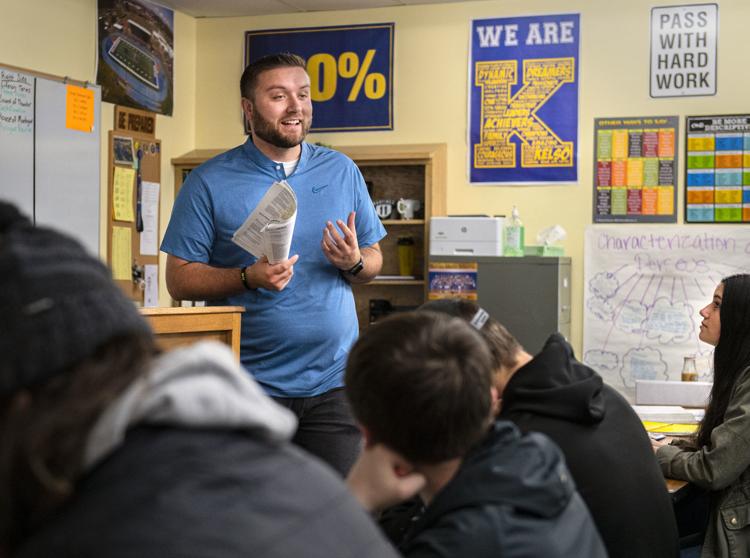 Justin Roberts, Kelso High School
Justin Roberts, a 2013 KHS graduate who is teaching freshman language arts and social studies, said he enjoys having his own classroom now that he's no longer a substitute. Now, he has student posters up and his own organization system.
"It makes it way nicer to build relationships with kids because you see them every day," Roberts said. "You see them at their best. You see them when they're dragging, and you get to try to pick them up. You actually feel like a part of it, not just a fill-in."
He said he's also enjoyed participating in the homecoming festivities again, especially as the Varsity K adviser, arranging school spirit events such as pep rallies. While it adds work, he said it's rewarding, as there's "something special about home games."
So far, Roberts said he's learned to lesson plan in several-week chunks, to allow for flexibility and to keep the work from becoming overwhelming. He said he often makes adjustments to each individual class, focusing on the skills students need and the best way to deliver them.
"Going through it for the first time, there's always things I think of by third period that I didn't think of first period," Roberts said. "So we adjust and I make myself a lot of notes."
Although keeping students off their cell phones has been a challenge, Roberts said the start of the school year has confirmed that he's in the right place and the right profession.
"When you're early in it, it feels like there's a million things to do and you're pretty tough on yourself when something doesn't work out (and) you feel overwhelmed," Roberts said. "But at the end of the day, know that it really is worth it."
Editor's note: We'll write about this group again near the end of the school year.