Flaxseed, kale, acai berries.
These aren't just superfood buzz words you learn about on TV or in magazines. At the Raw Juice Bar in Longview, customers can sample the raw food trend in tangible juices, smoothies, shots and acai bowls.
When the work day is long, the pantry is empty and children are hungry, Cathie Groesbeck said locals can rely on her to do the cooking, not them.
Owner Shelby Hiatt, 20, said at least 10 regulars frequent the eatery a day for drinks made of the usually hard-to-find, nutrient-packed ingredients. The Mayo Clinic reports flax seeds are high in fiber and omega-3 fatty acids and can lower blood cholesterol. Kale has high amounts of calcium, potassium and vitamin A and can lower the risk of cancer, reports the clinic.
Other available trending toppings at the eatery include acai berries, bee pollen and the algae spirulina, which are often found in health food stores. Sources like the Mayo Clinic and WebMD state the options are healthy, but lack scientific proof for touted benefits like curing asthma or allergies.
In Longview, when longtime locals are craving a breakfast and a chat with old friends, they head to the Pancake House on California Way — in the same location, offering the same menu for nearly half a century.
Hiatt said many of the eatery's ingredients can provide anti-aging and immune-boosting benefits. As the weather chills, she said more customers are frequenting the business to build their immune systems during cold season.
The eatery offers juice shots with ingredients like cayenne pepper, apple cider vinegar and ginger, which Hiatt said are often chased with a made-to-order smoothie. One of their most popular smoothies is the Nutty Brown Cow, said Hiatt, because it tastes "the least healthy." Employees mix peanut butter, cacao powder, dates, a banana, ice, and customers' choice of almond milk or coconut water into a blender and serve.
The eatery had a seating area before the pandemic, but today customers take items to go, she added. They also serve acai bowls, which she called a thicker smoothie served in a dish and topped with items like fruit, nuts and peanut butter.
Hiatt said she and her partner Ricardo Valdovinos, 20, purchased the Triangle Center juice bar about six months ago after she worked for the business for about two years. Since taking over the roughly 3-year-old business, Hiatt said the pair added organic soups, such as creamy potato cheddar topped with bacon and chives, available Mondays through Thursdays.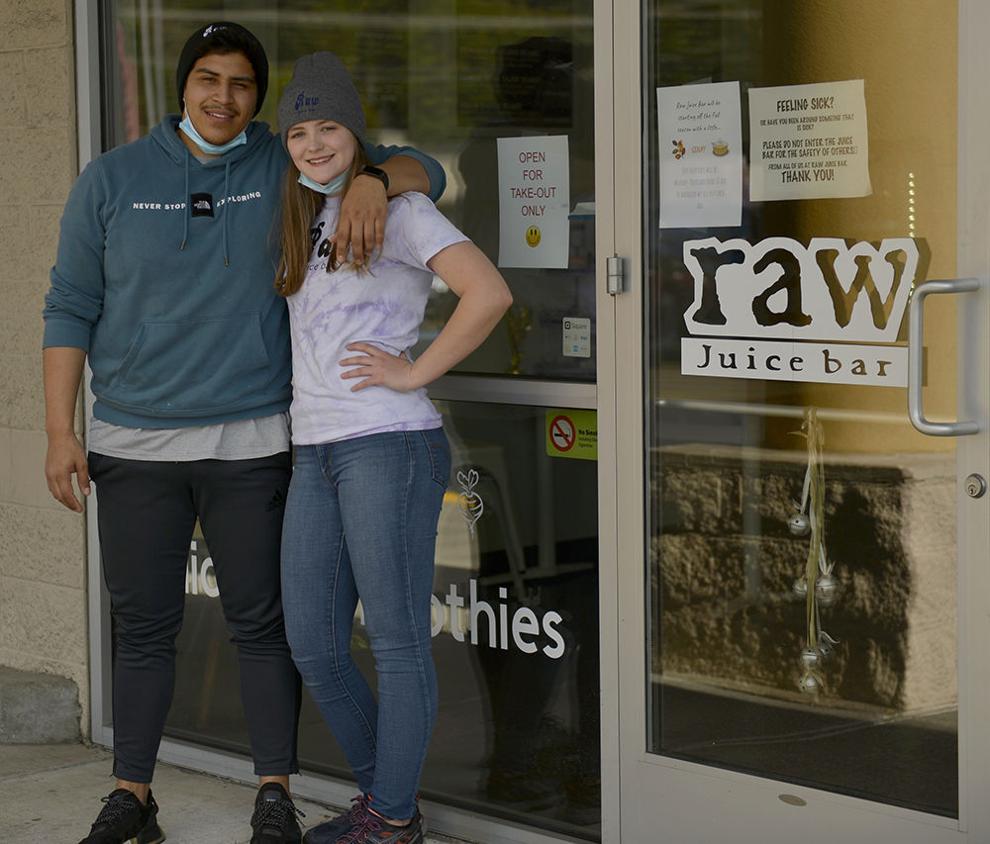 Other new additions were longtime favorites of the owners and recently added to the menu like a banana, strawberry and avocado smoothie, and a sixth avocado toast sprinkled with everything bagel seasoning. Valdovinos said the classic avocado toast — with avocado, salt and pepper on whole grain or gluten-free bread — is the most popular. They also offer more creative options like avocado toast with bacon and a sliced boiled egg.
WOODLAND — People shop at a convenience store because it's the only nearby option. Customers frequent the Woodland Corner Store by choice.
The Kelso High School graduates suggest locals can start a healthy routine by frequenting the shop.
"Especially during cold season, it's important to eat and drink healthy," Hiatt said.
Signature Fare is a series featuring local restaurants' signature menu items and prints every other Wednesday.
Contact Daily News reporter Hayley Day at 360-577-2541 or hday@tdn.com for possible inclusion in the series.