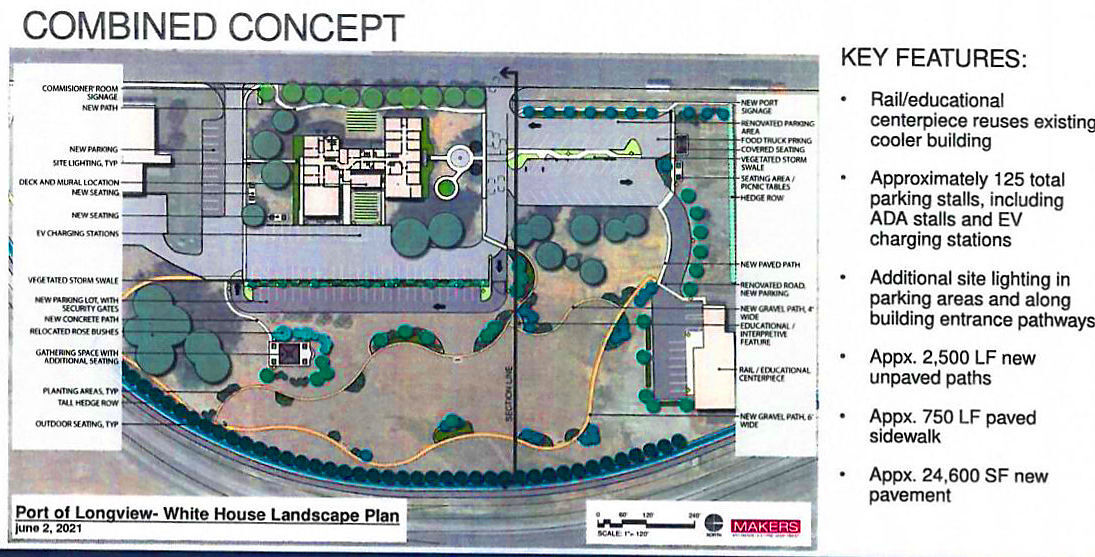 The Port of Longview Board of Commissioners is looking to return to in-person meetings in July, members said at Wednesday's meeting.
Commissioner Jeff Wilson said he wanted to "put the open sign back on the White House door."
"We can do it safely," he said.
Commissioners Allan Erickson and Doug Averett also said they would like to hold the July 14 meeting in person.
Port CEO Dan Stahl said port staff "will dot our I's and cross our T's and hopefully on July 14 we can open the doors."
The commission also discussed landscaping options around the newly remodeled port headquarters.
The overall concept includes a combination of historic and rustic aesthetics, adding parking to the south entrance for the public and the east side for port vehicles, storm water swales, hedges to screen the rail line and Industrial Way, an area for food trucks and public seating, gravel pathways and more educational features.
Short of a sign on the front lawn and a public christening, the Port of Longview has officially moved its headquarters into the historic Long-…
Wilson said while he liked the overall concept, he wanted to do it in "baby steps" and prioritize the hedges and parking lots.
Averett said he would also prefer to start with the projects closest to the building and the parking lots first, and Erickson said parking lots for public convenience and the hedges also were on top of his priority list.
Makers Architecture & Urban Design provided the concept for landscaping around the port's renovated headquarters.
"I'm looking forward to having Makers come back to us with cost estimates so we can set priorities based on that," Erickson said.
The Berth 2 bulkhead also will get about $190,000 in repairs to fix settling and erosion problems.
Director of Facilities and Engineering Bill Burton said settling of the bulkhead created some breaks in the asphalt, and a shift between the bulkhead and dock let in some water and caused erosion under the bulkhead.
Port crews will make the repairs. While the issues are not causing immediate problems, "you typically don't want to leave it," Burton said.
"The erosion is not an immediate issue, but as we start getting into the rainy season we could have issues with cracks or, worst case scenario, a break or crack on the bulkhead," he told the commission.
That change for Berth 2 was already in the five-year plan, but the commission decided to start the design process now in response to the changing regulations by approving a $450,000 contact with consulting firm KPFF.
Wilson and Erickson commended the staff for being proactive on the repairs.
The port also will get a second backhoe for about $140,000 to keep up with the rate of projects.
Burton said the port has had to rent equipment to keep up with the work, and the backhoe can be used by the engineering and the maintenance departments.