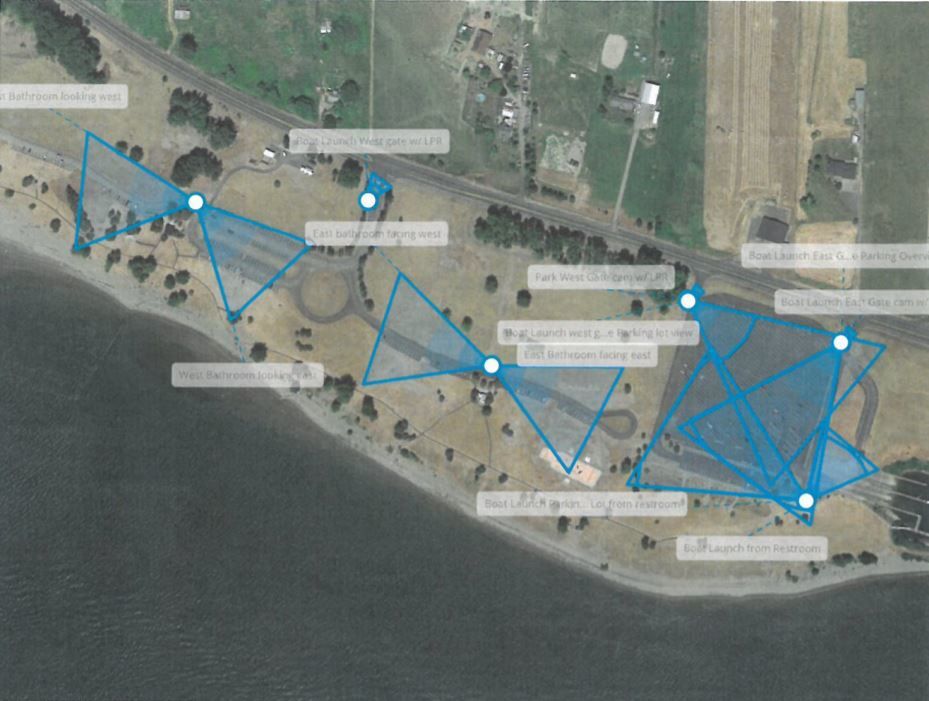 The Port of Longview is looking to the future as it updates its master plan. Wednesday, port commissioners discussed drafts of several different growth options for the port proper.
Dan Johnson, with cargo facility design company Cargo Velocity, said the four draft plans are meant for looking forward and the idea is not to start building right away, "but to have a document to be ready to set on the table and talk to potential tenants about what the Port of Longview could offer."
"We want to present an option to potential tenants that gets them excited and make them say 'oh, I want to go through Longview,' " Johnson said.
The first alternative, which would maintain a base level of port operation, would include train track changes at the northwest curves of the current rail line and silo demolition to improve rail connections, Johnson said Wednesday.
The pros of that alternative would be that it would not impact any existing customers, port maintenance buildings would not need to be relocated and the port would maintain its 52 acres of general cargo backlands.
The rail improvements would include upgrading "switch alley," closing some roadway crossings to make it a more effective arterial, and demolishing the old silos so the port could relevel the property in that area.
However, without any new expansion of rail or planning for a new tenant at Berth 4, that means the option would have a lower overall tonnage potential.
The next alternative is a "double loop" option that would create new loop tracks around warehouses 10 and 11, as well as adding new infrastructure for BP West Coast Products.
Johnson said the pros are allowing a higher overall tonnage to move compared to existing capabilities, add about 14,000 feet of new unit train tracks, and would not impact International Raw Materials, North American Pipe and Steel — also known as NAP Steel — or port maintenance buildings.
"The downside of rail loops is everything inside is cut off from truck traffic," Johnson said. "But it's a good place to put conveyors and bulk storage."
This design plan assumes there would be a new tenant at Berth 4 and also suggests giving IRM two ship berths, not one, which Johnson said "implies they would make some improvements."
"It gives them the chance to work two different cargos at the same time," he said.
However, the plan would only allow the port 40 acres of general cargo storage, a 12 acre loss from current capacity.
The next alternative would create "side-by-side" rail loops by redeveloping the western track. Johnson said the pros of the plan are a higher overall tonnage potential, 15,500 feet of new train track and 50 acres of general cargo storage, which is a loss of only 2 acres from current levels.
That plan also assumes a new tenant at Berth 4, Johnson said. However, the port would need to buy five acres from NAP Steel and move the port maintenance and mechanic shops.
The final alternative, which would create "maximum loops," could handle much longer trains, higher overall tonnage and would add 19,600 feet of new train tracks, Johnson said.
It adds capacity to IRM, assumes a new tenant at Berth 4 and lets the port retain 48 acres of general cargo storage, a 4 acre loss from current levels.
To do that, the port would need to buy 14.5 acres from NAP Steel and the port would need to move its maintenance and mechanic shops.
Johnson said all of the plans "could be adjusted further or tuned to meet a particular customer's interest."
All the alternatives require some grade separation of trains and roads, but each alternative proposes different locations.
Port Chief Executive Officer Dan Stahl said staff would present more details on the alternatives and cost estimates at a future meeting. The port will hold another workshop in late July on the drafts.
Willow Grove cameras
The commission also heard an update on the cost for cameras to be installed at Willow Grove Park. Port Director of Facilities and Engineering Bill Burton said the port received an estimate of $146,000 for 11 cameras powerful enough to cover the park and read vehicle license plates, and for digging trenches, buying lights and completing electrical work.
Burton said to put five cameras only in the boat basin area the port received an estimate of about $76,800. The cost of cameras is not in the budget, so the budget would need to be amended. If the commission decides to move ahead with the cameras, the project bid could be awarded in the fall, Burton said.
The boat basin stays open 24/7, Burton said, while the park area is locked at dusk and reopened at dawn.
Wilson said 11 cameras is the minimum number he would support, because "I have waited 55 months to get us to the point where we can modernize that park and get more elevated security."
The commission asked staff to bring the information to the Willow Grove Park Advisory Committee at its July 14 meeting to get the group's opinion on the cameras.