Nearly 200 kayakers paddled down the Cowlitz River from Castle Rock to Longview on Sunday as part of a local group that coordinates paddling times and talks shop on Facebook.
The free event to celebrate Labor Day was organized by Kelso native and professional kayak guide Mike Hedges.
Hedges's knowledge of kayaks and local rivers is the basis of the online community, but the goal is more than just to make new friends; Hedges is selling the idea of kayaking the Cowlitz.
A national surge in COVID-19 cases is creating an unpredictable Labor Day weekend for Lower Columbia residents, like the rest of the country.
In an area surrounded by rivers, the closest kayak rentals mostly are located south of Cowlitz County along the Columbia River. Hedges wants to bring paddlers up north to the Cowlitz River, and its tributaries like the Toutle River.
"Eventually, it would be nice to have a place like a kayaking destination in Cowlitz County," he said. "I'm trying to make it that way."
Plans
Miriam Stone is the owner of RiversEdge RV Park & Camping in Toledo. She said she's worked with Hedges for the last three years to promote renting kayaks and canoes from the campground, as well as shuttling paddlers and their gear along the Cowlitz River — what she called a first for the area.
Stone said locals and tourists don't know where to launch or where to go along the Cowlitz, so her company and Hedges show them. Hedges said he could offer paddling tours at RiversEdge within a year.

At Sunday's event, RiversEdge transported kayakers who parked at the float's destination of Gerhart Gardens Park in Longview to the Castle Rock boat launch for a fee so paddlers could float the roughly 16 miles to their vehicles.
Hedges said the company will shuttle anyone to nearby areas. RiversEdge's states staff will transport paddlers to Barrier Dam, Blue Creek and Massey Bar for about $10-$20 so they can float back to RiversEdge. Kayaks can be rented at the campgrounds, as well, according to its website.
Hedges started a local kayak touring business in 2018, but he said the season's short, three-month window in Cowlitz County made it difficult to get the business off the ground. Today, he works at the Puget Sound kayaking business during the week, and returns to Cowlitz County on the weekends to organize floats for fun.
Kyleen Austin set out on a 1,100-mile solo kayak adventure down Alaska's Inside Passage last year in search of a "transcendental" experience. …
"I just like to see people get out on the water down here, in my hometown," he said, adding that creating a Cowlitz County kayak business is a long-term goal.
Tourism money
Monica Dickson of Tacoma said she centers an annual trip around the local kayaking group's Labor Day float. Sunday was her fifth time joining the event. This year, she stayed near Merrill Lake, north of Cougar.
"It's sort of a vacation," she said.
Hedges said the Labor Day event brings in money to other nearby campgrounds, as well as Castle Rock's boat launch parking and restaurants like Lexi's Pizza Pub which delivers to the float's lunch stop at Riverside Park in Kelso.
People who stay in short-term lodging in Cowlitz County are taxed to provide revenue for organizations to draw visitors at later events. According to the county, lodging tax revenue dipped 11.5% from 2019 to 2020.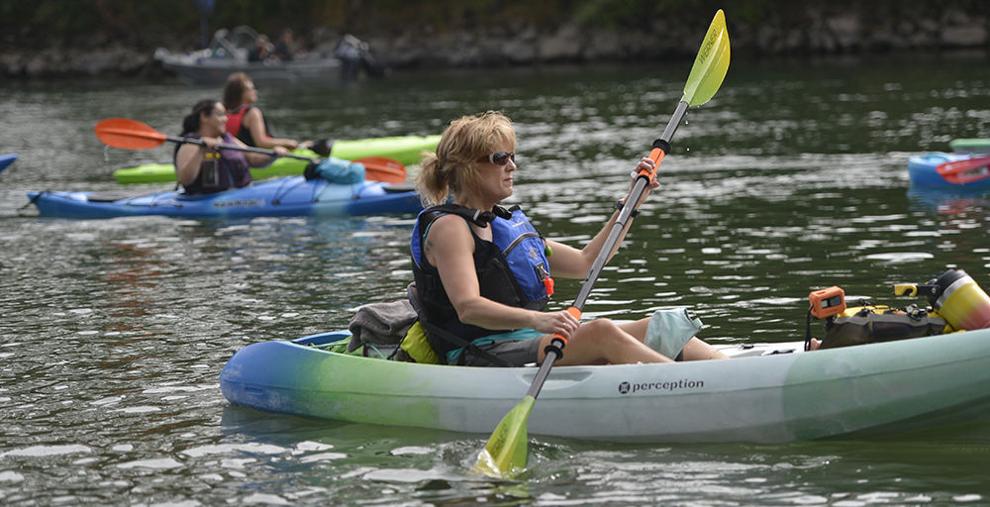 Cowlitz County Event Center Director Kimberly Bowcutt said county tourism usually is driven by summer tours and sports tournaments, which did not occur in 2020. Instead, social distancing options like camping took precedent.
"In 2020, visitation to Cowlitz County looked a little different," she said. "... We had a higher than usual number of families traveling in RVs and exploring the outdoors."
The U.S. Army Corps of Engineers has been monitoring how much sediment is still sluicing off Mount St. Helens after the 1980 eruption and into local waterways for years, as it presents flooding danger to downstream communities.
Hedges said focusing on local kayaking options could add an additional boost to the local economy.
"For years, the biggest draw has been to visit Mount St. Helens, with hiking, biking," he said. "We should promote kayaking more."