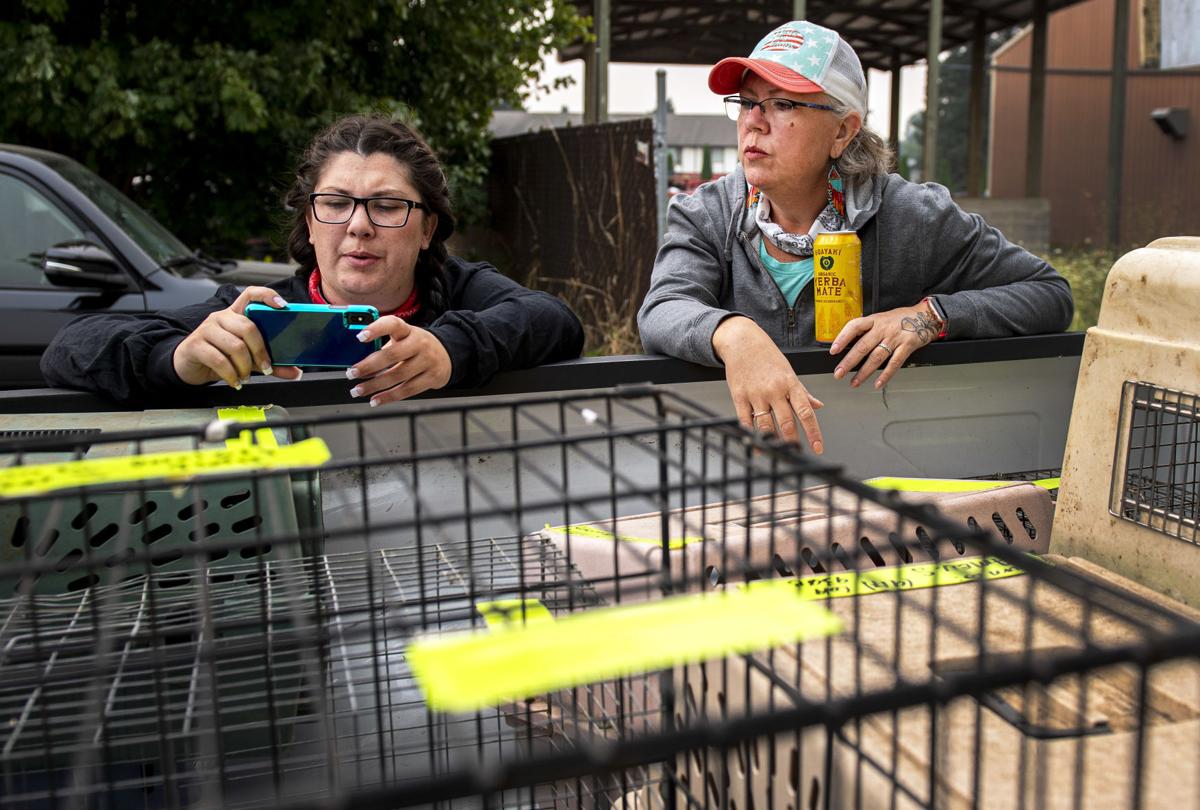 The Big Hollow Fire in the Gifford Pinchot National Forest swelled from 6,000 acres Wednesday to 12,000 by Thursday and the southwestern portion of the forest is completely closed to the public, according to state forest officials. Meanwhile, local law enforcement officers responded to a half-dozen calls about fireworks or open flame Wednesday and Thursday.
Officials originally said the fire had reached 22,000 acres Thursday morning, but revised the number.
"At this time, the Big Hollow Fire is presenting an extremely dangerous situation, and we must close the forest to protect the life and safety of the firefighters and the public," Forest Supervisor Eric Veach said in a Wednesday night press release. "Even if your destination is outside of the closure area, please consider waiting to visit the Gifford Pinchot or other National Forests until the fire situation in the Northwest has stabilized somewhat."
The Big Hollow fire is burning east and north of the Trapper Creek Wilderness. It was discovered around 4:30 a.m. Tuesday and the cause is still under investigation.
Over Friday, there will be a west wind blowing from 5 to 7 mph in the afternoon that calms in the evening, according to the National Weather Service. Saturday will bring a light and variable wind, after days of heavy wind that stoked fires across the region.
Closures include developed campgrounds, dispersed camping, day use areas, wilderness areas and most forest roads and trails south of Curly Creek Road to nearly the southern border of the forest. According to a Gifford Pinchot press release, the closure will be re-evaluated daily as conditions change and is expected to be temporary "to protect public and firefighter safety and health."
The only open campgrounds in the area are Sunset Falls and Panther Creek, and only the Pacific Crest Trail remains open. However, anyone evacuating the forest is still allowed to use the roads, the press release said.
There is also a forest-wide ban on campfires in response to the "threat of unprecedented and dangerous fire conditions." With the area's extreme heat, significant wind events and dry conditions, the press release said firefighting resources "are stretched thin across the region and nation" as firefighters operate at "maximum capacity." See the attached info box for a full list of local bans and restrictions.
"These extremely critical risk conditions make it likely unattended campfires will escape and rapidly spread. Additionally, unattended, abandoned, and other careless campfire uses are one of the leading causes of wildfire and firefighter response. A campfire prohibition will greatly reduce the number of escaped campfires, thus reducing possible COVID-19 exposure amongst wildland firefighters and other first responders," the press release said.
Even with those conditions, people are setting off fireworks and in one case, using a flame torch to kill weeds, according to the 911 call log.
Wednesday afternoon, a concerned Silver Lake resident called the Sheriff's office to report a man using a propane flame burner to kill weeds. The same afternoon, callers in Castle Rock, Kalama and Longview all reported someone firing a weapon, which could spark a fire.
Three people in Longview, Kelso and Castle Rock also alerted deputies that neighbors were setting off fireworks. According to the Longview caller, one firework started a small fire in the grass on 33rd Avenue, which they put out.
And Castle Rock police cited a man Thursday morning for second-degree reckless burning. According to a Facebook post, an officer was called about a man who had set off a firework in an area of heavy, dry grass near houses, "creating a large explosion and a cloud of smoke."
The post said Tyrone Yarbrough, 47, admitted to setting off the firework and said he had found it laying near the walking trail. Several other fireworks in his possession were confiscated for destruction, according to the police.
Wednesday afternoon, the Department of Natural Resources recommended a Level 2 evacuation notice for the Cougar area. The Cowlitz County Department of Emergency management said that remained in place Thursday morning. A Level 2 means to be ready to go on a moment's notice, or to leave immediately if extra time is needed. The area under the order is from Speelyai Park east to the Cowlitz County line and Merrill Lake south to Cowlitz County line.
Nearby residents are encouraged to follow their local county sheriff's department Facebook pages and websites for information about evacuation safety, the press release said. And local fire officials encouraged Cowlitz County residents to sign up for emergency alerts through the Cowlitz County Department of Emergency Management. Follow this link to do so: https://signup.hyper-reach.com/hyper_reach/sign_up_page_2/?id=99002.
Get local news delivered to your inbox!
Subscribe to our Daily Headlines newsletter.