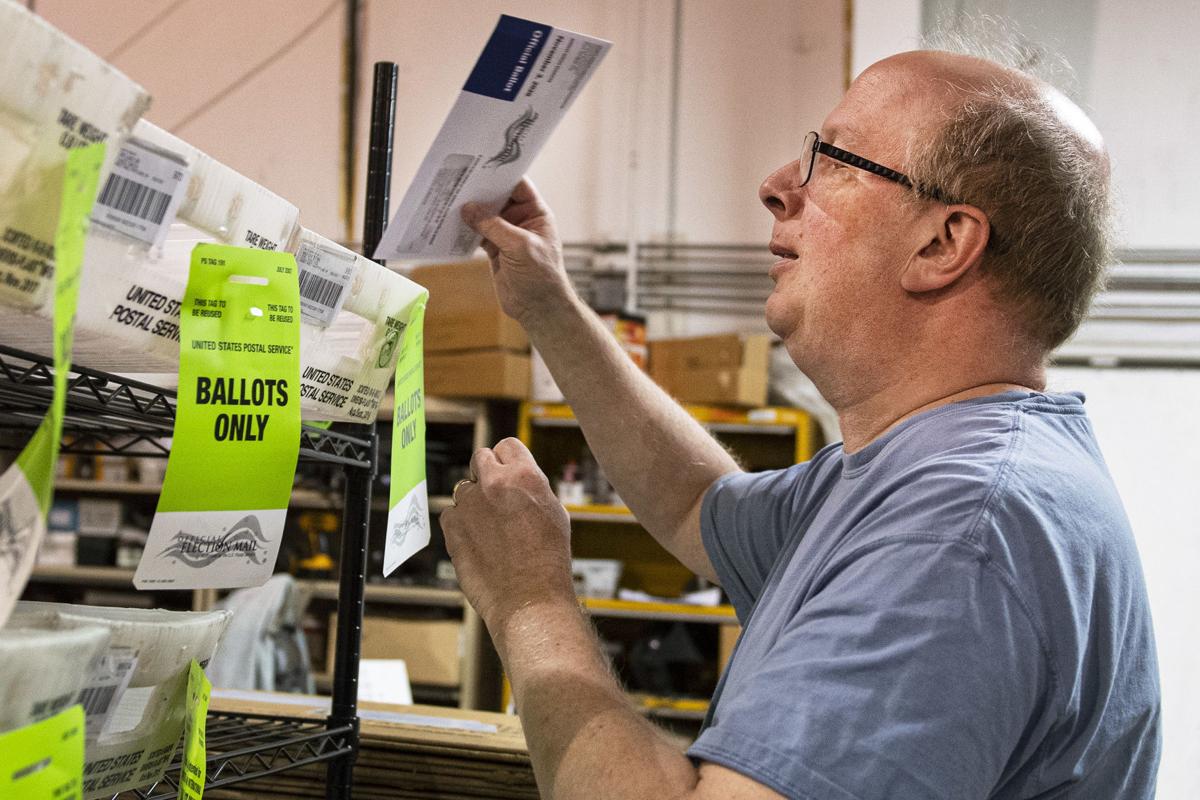 As ballots for the Nov. 3 General Election hit the mail today in Cowlitz County, local elections staff say they are ready for what many expect to be a wildly popular presidential election in the midst of the COVID-19 pandemic.
Cowlitz County Auditor Carolyn Fundingsland said Thursday that the county's elections team is beefing up security and adapting the county Elections Office to meet the state's coronavirus safety standards.
"We are open and here to serve," she told TDN.
The Elections Office requests increased law enforcement patrols near ballot boxes every presidential election as a "standard practice," Fundingsland said. In 2016, county sheriff's deputies stepped in to provide the additional security, she said.
This year, however, the county contracted with Phoenix Protective Corps, a private security provider that works with the sheriff's office. City police departments also agreed to take on a portion of the patrols.
"(Elections staff) want to mitigate potential risks. We can't be everywhere all the time, but we want to make sure there are eyes on the ballot box all the time. In the past, that was the sheriff's deputies," Fundingsland said.
"As we move forward, I'm trying to make sure the City of Kelso has eyes on the City of Kelso drop box and the City of Longview has eyes on the City of Longview drop box — just so that the Cowlitz County Sheriff's Office isn't so overwhelmed."
Security personnel will accompany elections staff to the ballot boxes when they pick up ballots, and will monitor security at the Elections Office.
"You have to be concerned about a lot of things: fraud, ballot box tapering, cybersecurity," Fundingsland said. "Where I'm not concerned is that we have plans in place."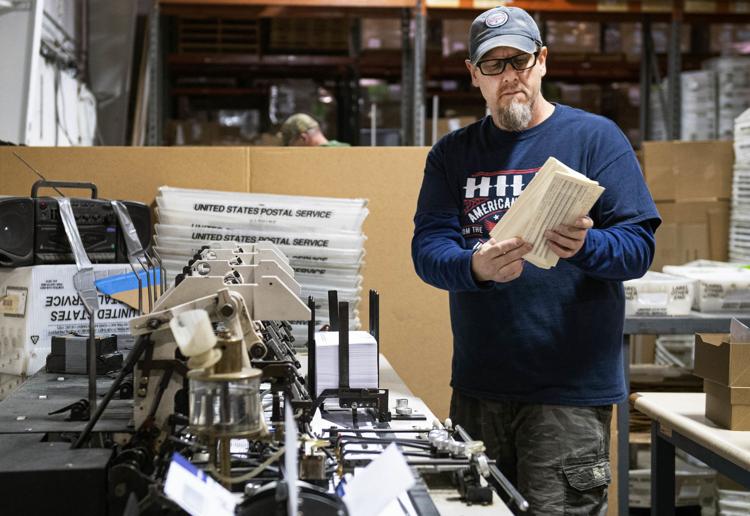 Despite changes to the voting process in other states due to the COVID-19 pandemic, Washington state's vote-by-mail process remains the same. Ballots should arrive in mailboxes by Tuesday, and voters can drop off their completed ballots in a county drop box, the mail or the elections office (207 Fourth Ave. N., Rm. 107, Kelso) ahead of Election Night.
To be valid, a ballot must be put in a drop box or received in person before 8 p.m. Nov. 3 or postmarked by Nov. 3.
Ballots have pre-paid postage and can be dropped in the mail. However, Fundingsland recommends voters use the county's ballot drop boxes instead. (A list of locations of the drop boxes is attached to this article.)
"It's more secure, and it's much quicker," she said. "There are different collection times on different mailboxes. It's just a risk they shouldn't take, and then it takes extra time for a mail handler to get that to the elections office."
Should voters choose to mail their ballots, the United States Post Office recommends sending them at least seven days prior to Election Day "to account for any unforeseen events or weather issues."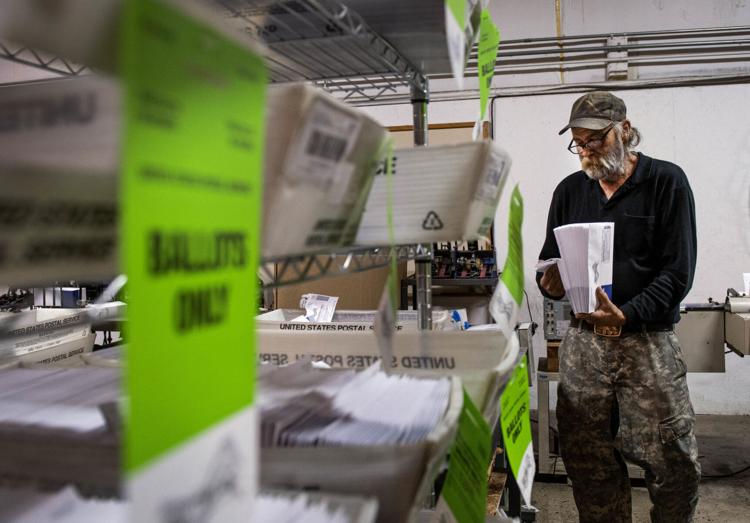 Washington's mail-in ballot system is tested and true, Fundingsland said. Unlike other states, which have established mail-in voting programs "on the fly," Washington has had "two decades to perfect the vote-by-mail process," Fundingsland said.
"We are uniquely prepared for this pandemic, and vote-by-mail is the best election administration practice out there," she said. "We've had a lot of years to work out the kinks here and put legislation in place that protects us," she said.
The only difference for the election this year, then, is the physical layout of the Election Office. Fundingsland said the department has spread out over all three floors of the county administration building to make room for staff and the public.
"COVID-19 hit us the hardest with space issues. If you've been to the elections office, you know it is very small," Fundingsland said. "When you pack in a large number of temporary and part-time support staff, it's like sardines in there. So we are using every space in this (county administration) building for different processes in the election."
On the first floor of the building, the Elections Office itself is designated for public interactions, such as answering voter questions. The deli area near the office is reserved as a ballot pick-up space.
The second floor houses the signature verifying team, while the third floor is dedicated to ballot opening and processing.
"And then we have put together an observer room, only for observers. There is a room for multiple observers that allows for social distancing, and we will be live-streaming different processes of the election into screens in the room," Fundingsland said.
Fundingsland said she also intends to live stream each part of the ballot processing system online, so people can watch the elections process from the "comfort of their own home."
"We do election tours every year, but we were unable to do that because of COVID-19. So this is just a fraction of what we would normally provide to the public. It's in a different format, and I'm really hoping to be able to facilitate that process," Fundingsland said.
COVID-19 also changed the staffing model this year. Usually the Elections Office hires and trains temporary employees to help with increased workload of counting ballots as they come in. That's especially important this year, when officials are projecting record registration and turnout for the election.
"Due to COVID-19, there are risks involved with bringing temporary staff into the office. One of our objectives was to avoid that," Fundingsland said. "Instead, we have cross-trained and we are diverting full-time licensing staff to work in elections."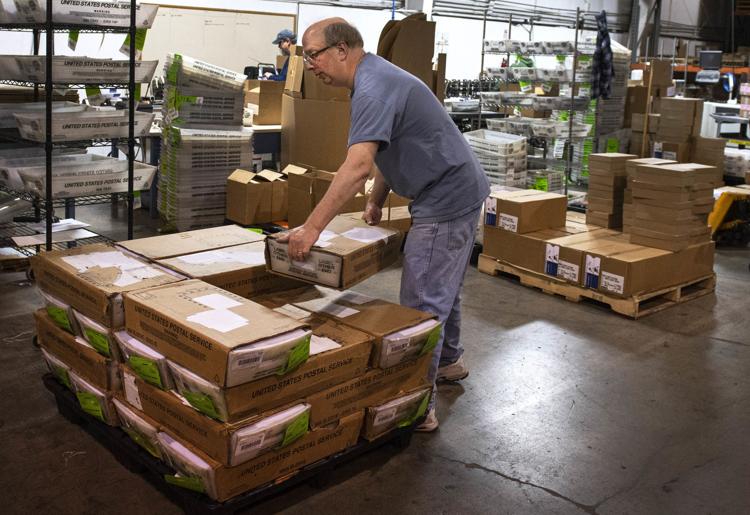 As of Wednesday, more than 70,000 county residents had registered to vote — a record high for the county.
"Prior to a presidential election, we always see our roles hit the highest marks we will see in a year, and then over the next four years you kind of see them taper off. … But we've never had 70,000 registered voters, and that just this week," Fundingsland said.
For a point of comparison, she pointed to the previous record for registered voters set during the 2016 election. That year 63,430 people signed up to vote.
Turnout for presidential elections averages around 81%, so the county will reasonably receive upwards of 56,000 ballots. And it's likely to be even more than that. Washington Secretary of State Kim Wyman said counties should be prepared for potential turnout of up to 90%, according to a report from the Associated Press released shortly after the primary election.
"I honestly cannot predict what our turnout will be," Fundingsland said of the county results. "But seeing that we had a record turnout in the primary, I can't imagine what it will be in the general."
(Cowlitz County smashed its previous record for a primary election turnout this year, with nearly 54.55% of the registered voters casting ballots in August.)
Fundinglsand said most residents should expect to receive their ballots by Monday or Tuesday. Anyone who has not received a ballot by Oct. 20 has three options to get a new ballot:
Print a ballot online at vote.wa.gov
Call the elections office and ask staff to mail a new one
Visit the elections office in-person and pick-up a new ballot on-site.
"People are afraid they are not going to receive their ballot, and I want them to know I will ensure I will get them a ballot — but they have to contact us," Fundingsland said.
Elections staff is available in person or by phone to answer any questions voters might have, she said. Residents also can call the office to track when their ballots are received.
"We will look it up," Fundingsland said. "We want them to have peace of mind. That's the most important message I can get out there."
Get local news delivered to your inbox!
Subscribe to our Daily Headlines newsletter.