Editor's note: The story has been updated to correctly reflect the name of the Facebook page the citizen's complaint was posted on.
A group of citizens is accusing Love Overwhelming of fraud and publicly took their case to the Cowlitz County commissioners on Tuesday, even though the county auditor's office already found the nonprofit innocent of significant wrongdoing.
However, the Secretary of State's office on Nov. 30 did revoke LO's charity standing for failing to file renewal paperwork. LO Executive Director Chuck Hendrickson said Tuesday he had been unaware of the closed status and that it was an oversight. The group filed the paperwork Wednesday.
Charitable status is necessary to accept public or large amounts of private money, and LO has taken in about $2.8 million since 2014, according to its tax returns. Most of that funding came from state and federal programs funneled through the county.
Hendrickson said usually the group gets a reminder in the mail to renew, but he did not see it this year.
However, he acknowledged that LO lost its charity status at the beginning of 2019 for the same reason. It was later reactivated, but Hendrickson expressed frustration with the nonprofits' critics.
"We should be focusing on the people we're serving, not on this," Hendrickson said in a TDN interview. "Especially one month after the auditor came out with the findings."
LO board member Shawn Nyman said she felt like Tuesday's release of the citizen's complaint on the Cowlitz Citizens Update Facebook page, without mention of the auditor's report, was a "double whammy."
"What I'm reading is people are disgruntled about Love Overwhelming and (Kelso-Longview Ministerial Association) for getting funding for the severe weather shelter," Nyman said, referring to the cold weather shelter at Longview Christian Church. "That's unfortunate because the shelter has been a success. ... The community said to step it up, and we did."
The citizen complaint alleges that it was illegal for Hendrickson, a paid staff member, to also serve on the organization's governing board. The complaint additionally states a 5-acre Kelso property gifted to LO in 2017 "personally benefited" Hendrickson; that LO's 2018 tax form did not list the property as an asset; that it has not paid property taxes on it; and that LO has not disclosed its full board membership on state forms. It also alleged that the coffee shop LO runs operates as a for-profit business under the banner of the nonprofit.
The auditor's report was prompted by a complaint filed by Christen Ellis and Christina Wood. Ellis previously was a member of the county's Homeless and Housing Task Force, but her term ended in September 2019.
She told The Daily News she is representing a group of citizens "collectively concerned with transparency, fidelity of services, appropriate reporting, noncompliance and consistent issues that arise from actions taken by this agency since its inception in 2011." She said she simply took the lead to file paperwork for the group.
She turned over her allegations to the Cowlitz County Auditor's office in early December. On Dec. 19, the auditor refuted most of those claims, although the office said LO could be more transparent.
The auditor's report said that it is "acceptable for a member of the board to be an employee of the nonprofit," rejecting the claim that Hendrickson can't serve two roles. It also said LO is only required to list one board member on its forms, though all board members are listed in its 2018 tax filing.
According to the report, the auditor's office called LO and was given a list of board members, leading the office to conclude that the nonprofit "is not withholding information from the public but (is) simply reporting the minimum requirements."
Hendrickson said all board members are listed whenever the organization applies for a grant, and that he used to list board members on LO brochures. He said there's not enough time for him to do that with regularity, but said the organization provides the information if asked.
"We're a small agency and I wear so many hats ... It's difficult to keep up with all of that PR," Hendrickson said.
Nyman said she always identifies herself as a board member, as do other members, but "there are only so many hours in the day" and they want to focus on the programs.
You have free articles remaining.
"For me as a board member, I'm more comfortable just doing the work, and I would say the same for the other board members right now," Nyman said. "Our role is to promote and support our programs, not to promote ourselves."
As for the allegation that Hearth Coffee shop meant LO was "running a for-profit business under its nonprofit corporation," the auditor's office said that Hearth Coffee is not a separate entity from Love Overwhelming, but rather an extension.
"They are using Hearth Coffee for employment opportunities for those who are homeless and possibly (have criminal records) that prevent them from acquiring employment," the report said. "This would fall under their mission statement."
Regarding the 5-acre Kelso property, the auditor's report found that "though (the parcels) may be conveniently placed next to Chuck Hendrickson's personal property, they cannot benefit him personally."
However, the report also clarified that "This is outside of our office's monitoring and auditing authority."
According to the Cowlitz County assessor's office, as of January there were $3,130.90 in 2018-2019 taxes due on the property. Hendrickson said he was not aware of the taxes owed and would look into it.
While the complaint said that LO's failure to disclose the property "is a clear violation of transparency rules and an attempt to mask assets of determinable value," Hendrickson provided documents showing that LO claimed the land on a 2018 Schedule B 990 tax form with an estimated value of $133,910. The property is located on the 1600 block of South River Road and used to be a scrap metal yard.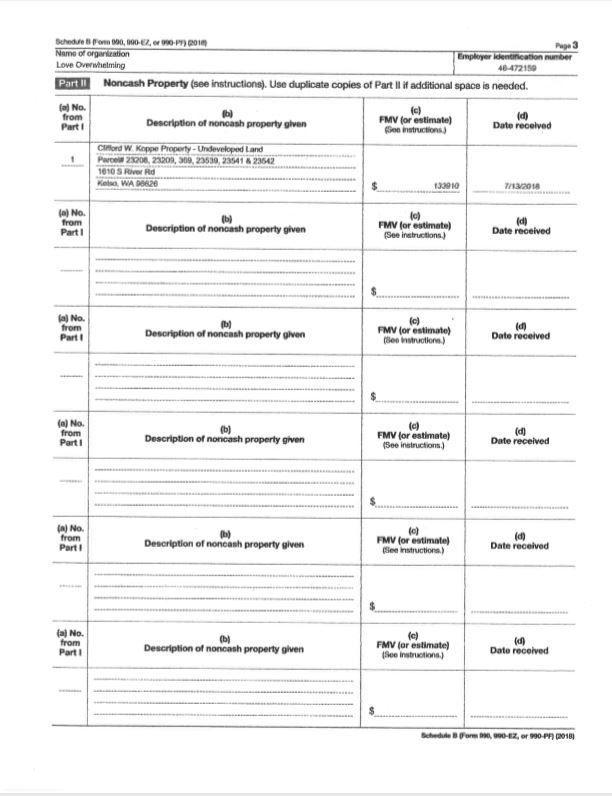 It is a brownfield site, meaning it is contaminated with pollutants and requires extensive remediation before it can be redeveloped. Hendrickson said LO has been working with an U.S. Environmental Protection Agency grant to clean the site and would like to eventually use it for an affordable housing project.
On Tuesday, Ellis spoke at the county commissioner's meeting and said due to LO's status, by law all county funding to the organization should cease immediately. However, County Commissioner Dennis Weber said after the meeting that he didn't think LO had any active contracts with the county.
In October 2019, the commissioners chose not to renew LO's "scattered site" permanent supportive housing program, and they also ended the coordinated entry grant to Love Overwhelming at the end of 2019.
"If there's a final contract they still have, if that jeopardizes any payments for services they provided, as long as they haven't been out of compliance long it's a relatively simple form to get them reinstated" as a charitable group, Weber said.
Ellis said Wednesday that the group decided to send their information to the commissioners, and the cities of Kelso and Longview, because they felt the auditor's report conflicted with statements made to them by the Secretary of State. She also said the report suggested that many of the concerns need to be handled by the State Attorney General, the Secretary of State and the IRS.
The auditor's report stated that while the office was "in agreeance with your perception of Love Overwhelming not being transparent enough," it found that LO was fulfilling its legal requirements and not breaking state laws.
Hendrickson said he was "caught off guard" that Ellis would take the citizens group's report public and online.
"I have nothing ill to say about her at all," Hendrickson said. "She does a lot of good work in the community and good work with me in the past."
Ellis said that she and the group "trust that the commissioners understand the gravity of this situation, will follow the law and will represent their fiduciary duties on behalf of their constituents appropriately and wisely."
She also said she anticipated that the Attorney General's Office and the IRS would investigate LO based on the open complaints the group submitted. The Attorney General's office was not available to comment on Wednesday.