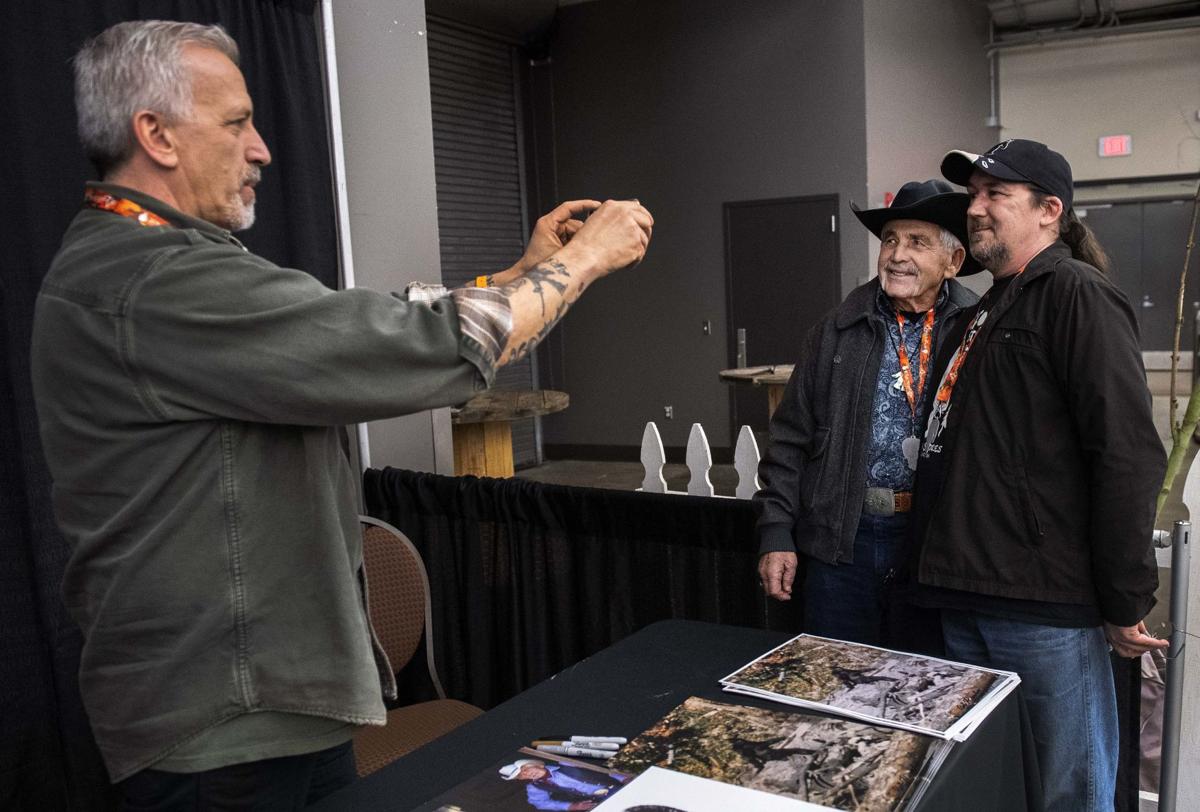 Although he's one of the biggest names in the Bigfoot world, Bob Gimlin never tries to force his beliefs onto strangers.
Should his famous filmed encounter with a female Sasquatch in 1967 in Northern California fail to convince someone of the beast's validity, so be it. Gimlin has survived decades of criticism from nonbelievers, so he knows there's nothing he can do to change their minds.
"But I know what I saw," Gimlin, 84, told The Daily News Friday. He traveled to Longview from his home in Central Washington to attend the fourth annual sQuatch Fest, where he met with thousands of like-minded Bigfoot believers.
That fateful day near Bluff Creek "changed my entire life," Gimlin said. A life-long cowboy, Gimlin was riding horses along the river in search of Bigfoot with his friend Roger Patterson. The duo was following up on rumors that three sets of suspiciously large footprints were found near a gas tank in an isolated part of the forest, Gimlin said.
"What got me into Bigfoot was Roger Patterson," Gimlin said. "He showed me cassettes with testimonials" about sightings whenever they'd go camping together. "Pretty soon I got interested enough."
By the time they arrived at the scene, rain and human traffic had destroyed the footprints. But Gimlin and Patterson stayed to scout of the rest of the "hot area."
"After riding for a month, we came across a Bigfoot," Gimlin said. "I never ever dreamt I'd see one. I was just looking for footprints."
The 59-second clip, captured by Patterson, shows a tall, human-like figure covered with hair walking across a timber-strewn sandbar by the river. Most of the footage is too shaky to make out the image in great detail. However, Patterson's hold on the camera steadies just long enough to show the towering creature turn back and look at the camera, its face resembling an ape.
That moment was immortalized in stills taken from the video and is often cited as proof that Sasquatch exists. Despite many attempts, the video has yet to be officially debunked.
For several Sasquatch fans, the film served as an entry point into the exotic world of Bigfoot. Watching the video sparks an interest that might grow, leading them to search for evidence of Sasquatch themselves.
"I saw the Pattersn-Gimlin film when I was a young boy, and I've been interested ever since," said a Tacoma man who made the 90-minute drive to Longview Friday to attend sQuatch Fest. He hurried off to introduce himself to Gimlin before giving his name to the reporter.
But Gimlin's fan base started out small, if not nonexistent. In the years following the sighting, people refused to accept the video as truth.
"They thought I was an idiot," Gimlin said, adding that "the first 35 years they'd say, 'That old Bob had to be drinking some strong stuff down there (in California).' "
Gimlin admits that the video's quality may cause some to question its validity. Even he thinks it doesn't do the moment justice. When he and Patterson first reviewed it, "I didn't think we had anything to compared to what we had seen with our own eyes," Gimlin said.
He stands by the story, though, along with a second encounter with Bigfoot he had about 10 years later while camping along the Pacific Crest Trail.
"I put my tent up that night. There was a half moon in the sky," Gimlin said. "I looked up through the tent and a Bigfoot was standing right there (looking in). By the time I got my boots on, it was gone."
Gimlin trades Sasquatch stories with his quickly growing fanbase, which now includes thousands of people. Nearly 500 people attended sQuatch Fest Friday, and another 3,000 were expected for Saturday. (The event ended after press time, so TDN was unable to include the final count in this article).
Gimlin said he's attended conventions in other places with upwards of 95,000 people.
"(Seeing Sasquatch) changed my life altogether. It's like here," Gimlin said, alluding to the hundreds of visitors who stopped by his booth in the Cowlitz County Expo Center Friday. "People want my pictures and autographs … Before I was just an old cowboy."
Gimlin was among almost a dozen other Bigfoot experts at sQuatch Fest, including Cliff Barackman from Animal Planet's "Finding Bigfoot" show and Huckleberry, Wild Bill and Jeffro from the Travel Channel's "Mountain Monsters." Usually speakers and special guests attend the conference at the invite of the Chamber, said Amy Hallock, project manager for sQuatch Fest. Gimlin, though, reached out to the Chamber asking if he could come. He'd heard about the gathering from other experts at other conferences, and decided he wanted to drop into Longview.
"I didn't have anything else scheduled for this weekend," said Gimlin, who attends about a dozen Bigfoot-focused conferences like sQuatch Fest each year, including events in Ohio, Nebraska and Kennewick, Wash.
Dressed in his black cowboy hat, paisley button down and rodeo belt buckle, Gimlin greeted each person who approached his booth warmly with a smile and firm handshake. As they talked, he'd listen intently to what they had to say.
"A lot of these folks have very good sighting (stories) about what they've seen," Gimlin said.
Occasionally, when he had an important tidbit to share, he'd grab a visitor by the shoulder and look deeply into their eyes.
Conventions like sQuatch Fest "mean a lot" because they create a safe space for people to talk about their Bigfoot encounters and learn more about the mysterious monster, Gimlin said. That's a platform he lacked for almost 35 years after the fateful day along a river in California.
"It took a long time for people to believe was they saw on the film. ... the Bigfoot world grew gradually. In the last six or seven years, it's gotten really big," he said.
But even now, more than 50 years after his first run-in with Bigfoot, some people doubt Gimlin.
"There's still folk who say, 'They can't exist. I've lived my whole life in the woods and I've never seen one,' " Gimlin said. Sometimes he'll fire back a retort: "Well I've lived in the woods my whole life, too," but his first Bigfoot encounter didn't happen until his 30s.
And even then he only realized what he'd seen because Patterson had taught him about the mysterious creature.
"Once it's brought to your attention, then you're alert watching for things," Gimlin said. "Our film footage has gotten people to keep their eyes open."
Get local news delivered to your inbox!
Subscribe to our Daily Headlines newsletter.