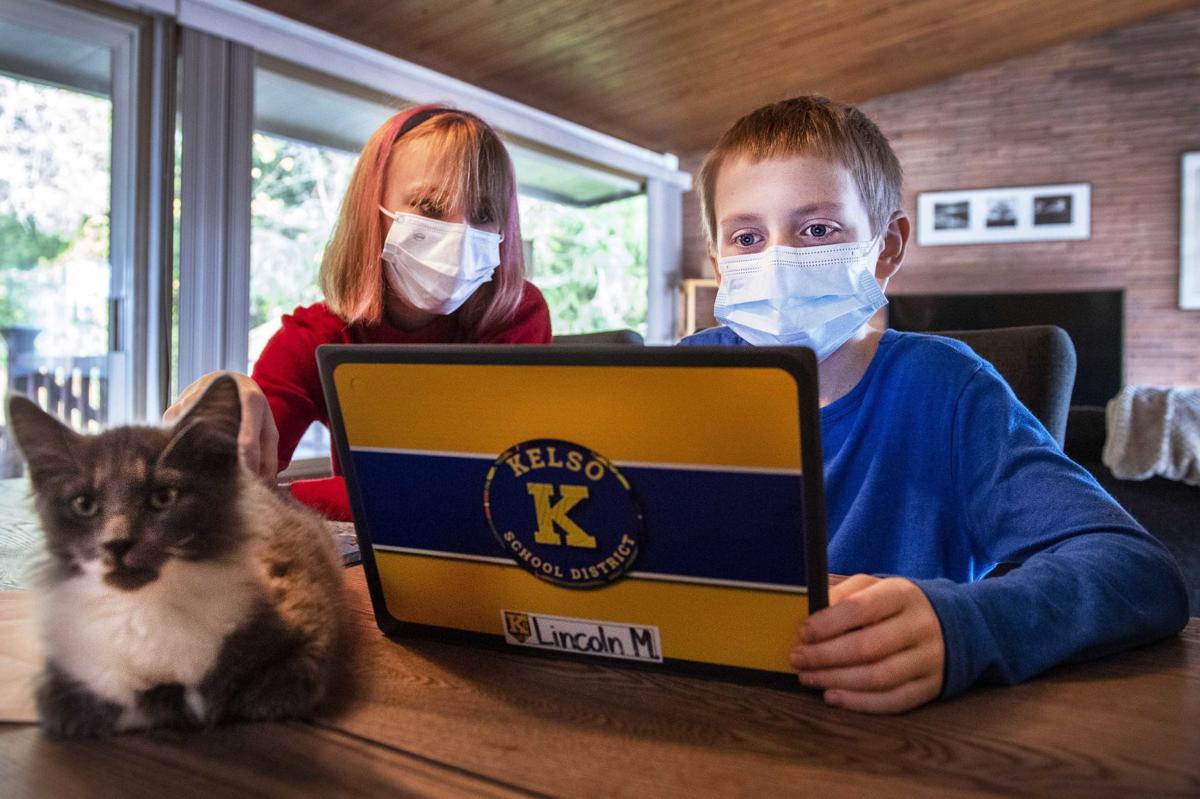 Older students were so close to returning to hybrid classes, and then it all shut down again when COVID-19 cases skyrocketed locally.
Castle Rock freshman Brookelyn Alblinger got to return to sports practices for about a month, and was looking forward to going to in-person classes before the spikes.
"I've lost all motivation to do any of it," Brookelyn said. "It's hard to keep my grades up. I want to keep my grades up, but I just – I don't know."
A similar uncertainty pushed the Hight-Musser family to stay in Kelso Virtual Academy for the rest of the year, instead of trying to go back to hybrid next semester.
"We thought about it, but we were thinking that staying in KVA for a while is probably best," middle schooler Sadie Musser said.
And Longview elementary student Rem Carman is once again having to forgo his in-person therapy. His sister CeCe, however, loves the stability and responsiveness of the Washington K12 online academy.
While remote means less opportunities for Rem, his mom Sarah Carman said a silver lining is it makes scheduling easier for her job.
"He's got a schedule of this is what you're doing every single day, so I don't have to figure it out like a Rubik's cube," she said.
Heading into winter, three Cowlitz County families who are sharing their school experiences with The Daily News are bracing for a second wave to take away the small bits of normalcy they had managed to reclaim. They anticipate things will get worse before they get better.
The Carmans: Longview School District
Sarah Carman said the switch away from hybrid for third-grader Rem has been "crazy." His last day in person was Monday, Nov. 23, she said.
"We're in a holding pattern until we get more information," she said. "I'm sure it will change."
Freshman CeCe just transferred to the Washington K12 online academy after she struggled with the class structure and support levels at Mark Morris High School, and Carman said "they are amazing."
Right now, CeCe is only in two classes as she and other new classmates get used to the system and the expectations, but in December she will take a full load of five classes, Carman said.
"She went from being super stressed and not knowing how to do any of the stuff to feeling like she understands, and more importantly that she can call her teachers for help," Carman said.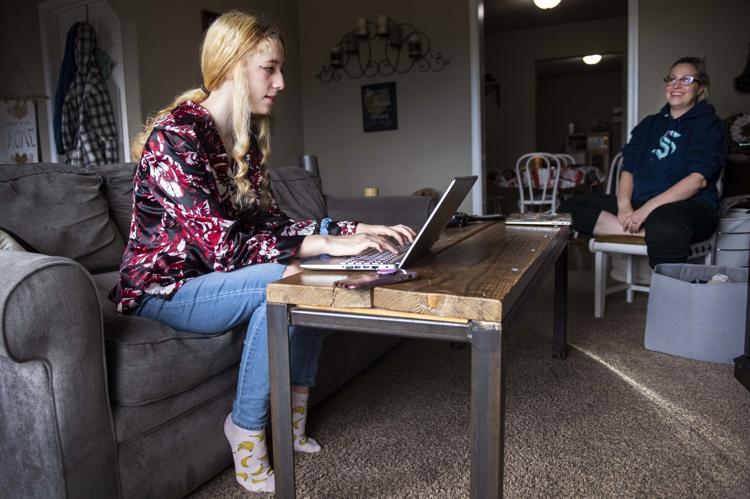 For example, Carman said the other day CeCe couldn't get into one of her online classes because of a computer glitch. She messaged the teacher "freaked out," but "the teacher said don't worry about it. It happens. Just watch the recording later."
"It's a huge relief for her to feel like she has teachers she can talk to that understand and know if she calls them and says 'I pressed this button and this happened' they say, 'oh, do this.' They can talk her through it," Carman said.
However, both students are missing social interaction.
Rem is "going miss his teacher and classmates" and CeCe's youth group is on hold.
"She's super bummed there's no way to do it right now," Carman said. "For her she was looking at it as she was having fun doing things and nobody was getting sick. She feels like she's getting punished because other people are getting sick somewhere else."
Carman said she thinks schools should stay open, because there are such low levels of transmission in schools and with winter weather, cases are "going to uptick because that's what happens. This is a virus and its doing what viruses do."
"It would be one thing if there were 135 cases in school and all because of one teacher or kid, then I'd be concerned," Carman said. "But if we have a couple of cases and it was all linked to different things and nobody else came down with it ... listen, it's here, it's going to stay here no matter how many times we lock down, no matter how many activities we cancel."
"We should be keeping our kids in schools," she added.
The Hight-Mussers: Kelso School District
Kelso Virtual Academy has provided the three Hight-Musser children with an anchor point in the storm, as well as bonus life skills, mom Laura Hight said.
"They're learning how to use the internet as a tool and not just as entertainment," she said.
"The typing and Google searching and all the stuff I use every day at work in every job I've ever had is stuff they don't teach in school," she added. "Not everyone gets really proficient at it and the amount of technical savvy all three kids have now because they're forced to is huge."
There are no big complaints about KVA from the kids, either. Freshman Lexi Musser turned in all her work early, extending the Thanksgiving break for herself and keeping the high grades she wanted. She plans to work ahead a little over winter break, to "gear up for warmer weather."
Eighth-grader Sadie is finding setting aside the right amount of time to finish reading assignments tricky, but she said she knows it will "good for us to be able to make a schedule." She also leans on Lexi for help, because her big sister was just in eighth grade.
And where he could once only focus on one class a day, fifth-grader Lincoln Musser can now do two and sometimes three classes without getting confused, all at his own pace. Lexi helps him out, too.
"At the beginning when I was doing all the classes each day I was really confused and I couldn't keep track," he said. "I would put in social studies answers to language arts."
Socializing is the hardest part, but Lexi planned to join some virtual clubs the school is offering, starting with French club and Key club for community service. She also plays PS4 games with friends online, she said, as do her siblings.
"I've made some new online friends that I play with when we go over to our grandma's house, because that's where we have our console," she said. "For the most part I just like hanging out and having time by myself. It's relaxing."
Sadie texts her friends and dove into new hobbies, including art, and now "my whole room is covered." Lincoln keeps himself busy by staging battle scenes with toy soldiers and creatures from video games.
Hight said that her kids' dedication to school makes her job as a parent easier, as does the stability of KVA, because the "transportation schedule would be a nightmare" and said KVA is a "more relaxed way to do the school year during a very stressful time."
"Each of the kids' personality has kind of come out in the way they have chosen to do school," she said. "I think that we're all in a good rhythm. Each of the kids feel accomplished."
The Alblingers: Castle Rock School District
The past few weeks have been a "dangling carrot" to her daughter, and Kari Alblinger is worried about how it's affecting Brookelyn.
"She's a great student and things are getting tougher. It's taking a toll on their mental health, it's taking a toll on their attention span," Alblinger said. "It's not easy and as parents, we're at a loss about what to do ... They really have to be on their best game."
Brookelyn said she is feeling isolated as sports and other activities shut back down and she's "stuck at home." English, one of her better subjects, has lost some appeal as the class listens to an audiobook, which Brookelyn said was "just background noise."
Her grades in math, her most challenging subject, are up, but without her friends around her, she's not too excited about it. She has accidently slept through a few morning classes, she admitted, and sometimes will log in with the camera and microphone off before dozing off again.
"It's boring all the time, so I just don't feel like doing anything school related. I'm just sitting there, staring at the screen, because either I don't know what to do or I just really don't want to do it," she said.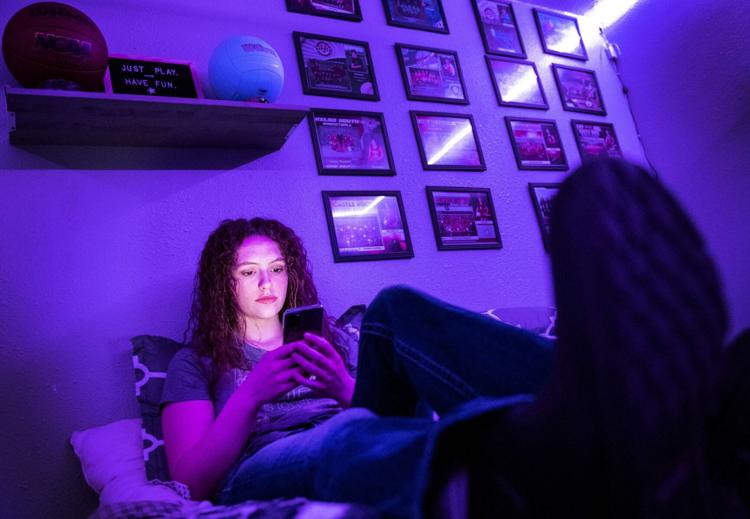 Brookelyn was doing club volleyball, but the new lockdown orders ended that. Her Fellowship of Christian Athletes and her youth group are meeting less, with greater restrictions. And she can't even get her driving permit, because limited classes are full.
"Why do some many people have to be 15 right now?" Brookelyn asked. "My best friend already started and finished and now she has her permit. She's so lucky."
To get out of the house, she goes for car rides with her older brother and his girlfriend, she said, and on the weekends sees one of two friends.
Alblinger said she's trying to keep social circles small while getting her daughter some relief from the stress of school.
"I want (school) to be at least part time for high schoolers," Alblinger said, saying that while she knows younger graders get to stay in person because they need the support, "I'm starting to see that the middle and high schoolers need just as much support."
Alblinger said while the family is doing their part by "masking up and making limited trips," it's "crazy how the numbers just go up. There's nothing I can do to solve everyone else."
In her community, which had largely been sheltered from cases, Alblinger said she's seeing increasing posts on social media about people in the community who have contracted COVID-19.
"It feels like it's creeping in all around us right now."