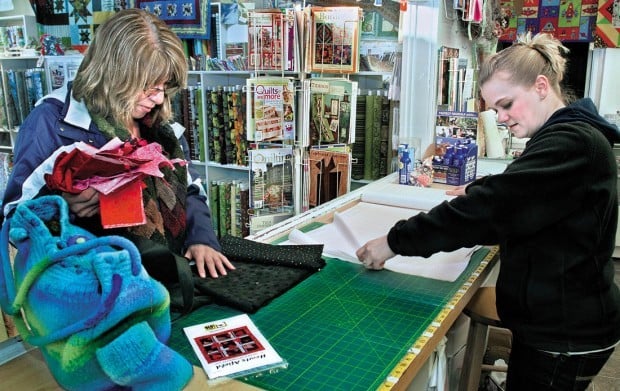 Karen Eastwood tried opening a fabric, yarn and craft store in Kalama 16 years ago. It lasted less than nine months.
But quilting was too much in her blood, so on July 1 she opened Karen's Quilt Loft in Kalama. This time around, her shop is stitching together a success story that is reflected across the nation: Quilt shops are proving to be recession-proof.
"As far as the economy now, for quilters, it's a hobby, and everybody always has a stash (of materials), but there's always new stuff coming out," Eastwood said Monday. "It's a hobby, and you're going to put money away for that."
Eastwood has joined four other quilting supply shops in Cowlitz County, all of them reporting strong sales while other small businesses may be cutting back or even going under. It's a trend seen nationwide.
According to the 2010 Quilting in America survey results, the estimated value of the quilting market in America is close to $3.6 billion, an increase of 9 percent since 2006. The total number of quilters in the United States now exceeds 21 million, the survey reported.
Reasons for the robust numbers, local shop owners said, include people indulging their hobby while curtailing other activities, such as travel, and retiring baby boomers looking for new pastimes and hobbies.
"Part of it is we're a hobby industry, and they're foregoing traveling and staying home," said Brad Park, owner of Longview Sewing.
"Women need to keep busy if they can't travel," said Tina Keele, owner of the Quilt Nest in Castle Rock, who has seen her stock expand from 500 bolts of fabric five years ago to 5,000 bolts today. (A bolt, rolled around a rectangular piece of cardboard, typically holds 8 to 10 yards of fabric.)
And there are newer seamstresses taking up quilting, which can become an addiction, shop owners say.
"What we're seeing in our store is younger quilters," said Susie Meyers, owner of the Paisley Duck in Kelso. "The face (of quilting) is changing a bit for them. They'll do aprons, table runners, bags; those projects are starting to appeal to them. And it could be because the older generation is encouraging them."
"(Quilting) is like a sport or a quest," Keele said. "It's not a hobby you can dabble in."
Keele said she recently had one of her regular customers come into her shop in "panic mode."
"She was freaking out because she was down to (working on) six quilts," Keele said.
"Passion — that's the key word. There's the lure of the fabric calling your name," Meyers said. "It's amazing. Women walk in and say 'Oooooh,' when they see a bolt of fabric, and they had no intention of buying anything, but then they do."
That passion doesn't always come cheap. A typical "dedicated quilter," according to the Quilting in America survey, spends an average of more than $2,000 on quilting annually.
Quilters' willingness to spend is one reason Sharon Pennel, owner of Momma Made It, made a leap into bigger quarters in January 2009. She moved from a house-turned-shop on Ninth Avenue in Longview to a larger space on Eighth Avenue.
"I was optimistic enough that there was a trend," said Pennel, who has been in the business for nearly 15 years. "I've never regretted the move."
Pennel and the other owners say each shop has its own niche. For example, Pennel carries a specialty line of 1800s reproductions. Longview Sewing carries brighter colors and Asian fabrics, Park said.
"We have no problem sending customers to the other shops," Meyers said. "We all carry different things and offer different focuses."
All the quilt shops frequently participate in "shop hops" where quilters visit shops in succession to collect bits and pieces of fabric for blocks.
"It's a cooperative way to work," said Pennel, who's been in business the longest. "My attitude is we're all in it together. I've actually offered advice, and they've taken me up on it."
Classes, whether for novice or expert, usually fill quickly at each of the quilt shops, owners said. At some shops, there are regular sessions for quilters to drop in and work together.
"It's not just about making quilts," Pennel said. "It's hanging out and making friends and the social aspect of it, too."
Lenore Meyers, a recent customer at The Quilt Nest, sums up the passion she and other quilters share as "a lot of wow for your money." Her hobby goes beyond cutting the pieces and sewing them together.
"It can take you out of a depression," she said. "You can let the creative juices flow. You get a big bang for your buck. Everyone has stashes, but you have to find just another little piece to make it perfect."
The quilt shop owners say they expect business to keep on growing.
Meyers, who opened her Kelso store in May 2009, said she did well her first year, and business "has been steadily climbing." Her first "Saturday sampler" class drew 24 people. The most recent one attracted 61, she said. Her mailing list is now at 150, and her e-mail list is at 650.
"In the first year, when women were buying, they were buying less and using up a lot of their stashes," she said. "Now, they're buying bigger pieces and more of them."