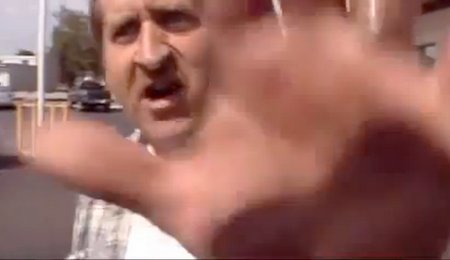 A Kelso union longshoreman was arrested Monday on suspicion of four felony charges in connection with last Thursday's vandalism of the EGT grain terminal at the Port of Longview, Cowlitz County Sheriff Mark Nelson announced Tuesday.
A Longview woman also was arrested and released Monday on suspicion of misdemeanor charges as part of longshore union effort to block an incoming train outside the terminal last Wednesday, Nelson said.
More arrests are expected in the next few days, Nelson said. The two people arrested Monday are members of Longview-based Local 21 of the longshore union, according to Dan Coffman, the local president.
Ronald Patrick Stavas, 45, of Kelso was arrested Monday night on suspicion of first-degree burglary, second-degree assault, intimidating a witness and sabotage, according to the sheriff's office. His bail was set at $50,000.
Stavas was identified as one of the hundreds of people who stormed the EGT terminal about 4:30 a.m. Sept. 8 and damaged a security shack, assaulted guards and spilled corn product from a mile-long train parked inside the terminal, according to the sheriff's office.
"The things that make this unusual, of course, is the large number of people, and the extent of the criminal activity. I want to emphasize that this not anti-union, pro-EGT. This is not about an entity. This about people that are committing criminal acts," Nelson said.
Stavas was identified by a witness at the terminal who later saw a video of him confronting a television news crew outside the longshore union hall on 14th Avenue in Longview, according to Nelson. In the video, which has gone viral online, a man is seen swearing profusely and threatening a Portland news crew in the parking lot of the union hall.
Also arrested Monday was Shelly Ann Porter, 39, of Longview on suspicion of trespassing Wednesday evening. Porter was allegedly one of about 400 longshore union protesters and supporters who blocked a mile-long grain train on port property for about four hours. Nineteen other people were arrested that evening, and the 107-car Burlington Northern Santa Fe grain train eventually was able to pass into the terminal.
EGT and BNSF workers have been repairing the train over the weekend, and it should be ready to leave the terminal this week, BNSF spokesman Gus Melonas said.
Coffman said union members are frustrated at what they perceive as provocation by local police, specifically when law enforcment officers handcuffed and hauled away ILWU President Bob McEllrath during the Wednesday evening protest before letting him go.
Also, union members are upset that police are targeting local union members for trespassing, when hundreds were standing on the tracks, Coffman said.
The Thursday morning raid was a "wildcat" action by union members without authorization of leadership, and they were angry about police actions the previous night, he said.
"When they took our president to the ground, they lit a spark. It's a wildfire now," Coffman said.
Nelson said police did not know who McEllrath was when they detained him, and he was only let go when other protesters rushed the officers.
Other union supporters came to the ILWU's defense Tuesday, questioning why Vancouver police were able to handle a rally last Wednesday morning without making arrests.
Rick Von Rock, a former union representative at Longview Fibre Paper & Packaging and former Kelso city councilman, told Cowlitz County commissioners Tuesday that he's concerned about the severity of the police response to the protests.
"We've protested in this community in the past. We've blocked things. But we weren't charged like this," Von Rock said at the commission's weekly meeting in Kelso, adding that he does not condone vandalism committed against EGT.
Commissioners cautioned that law enforcement were outnumbered and trying to control a volatile crowd.
"We can't second-guess our deputies when they're overrun by angry protesters," Commissioner George Raiter said, adding that police had been "very restrained."
The ILWU believes EGT's lease with the Port of Longview entitles its members to work at the $200 million terminal. EGT officials say they have the right to hire its own workforce, and they hired union contractor General Construction Co. of Federal Way to staff the terminal with union operating engineers.
A federal judge will hear arguments Thursday that the union violated a restraining order by blocking the train. The National Labor Relations Board is also holding a hearing next month to determine whether the ILWU has violated the National Labor Relations Act by interfering with EGT's contract with the Union of International Operating Engineers Local 701 out of Oregon.
Reporter Barbara Laboe contributed to this report.