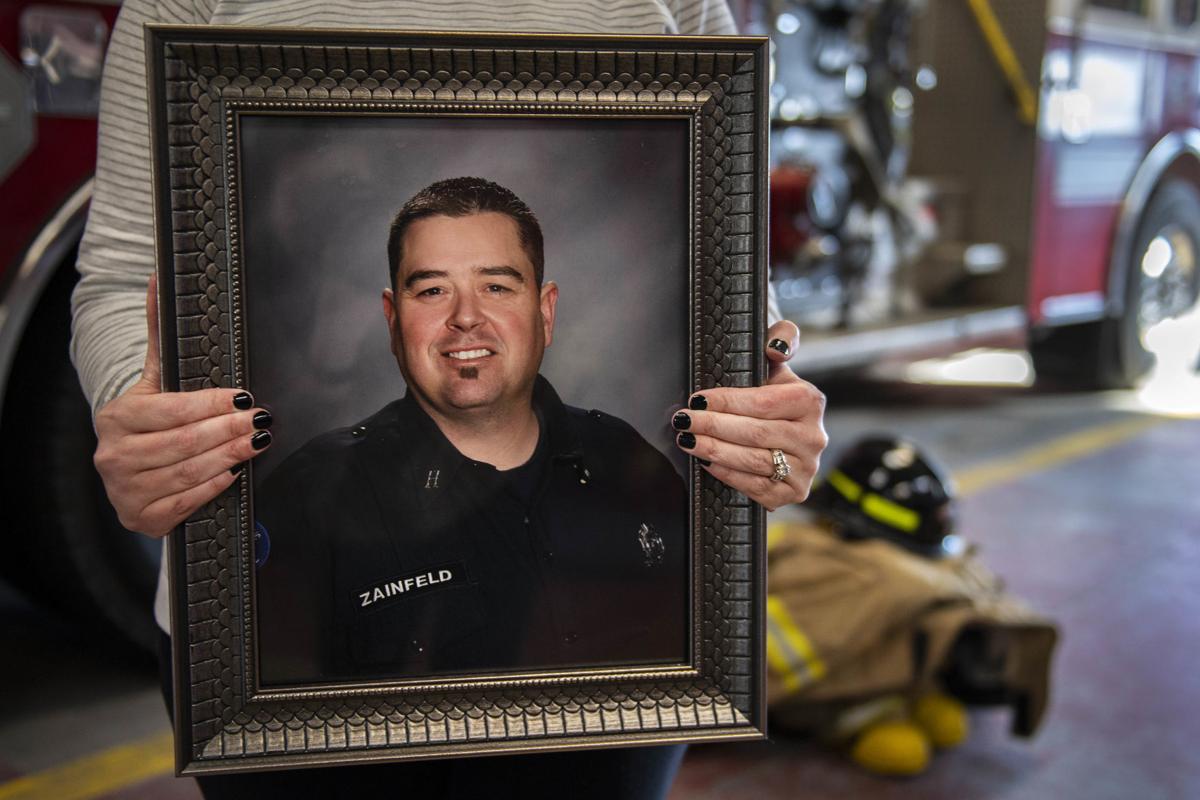 Editor's note: This story will be followed Wednesday by an article featuring efforts by local agencies and community members to keep first responders and their families healthy. We hoped to include it in Tuesday's paper, but due to the rush of coronavirus news, there is not enough room to run the followup story then.
When Mickel Zainfeld arrived at his interview to enroll in Tacoma Community College's paramedic school in 1998, he was more than an hour late.
He had a good excuse: Zainfeld, then an intern and volunteer at Cowlitz 2 Fire & Rescue, had come across a car accident on the drive up from Kelso. He stopped and helped until the scene was cleared.
So when Zainfeld, then 20, finally showed up with blood on his suit, the interviewers "weren't real happy," his widow Kelly Zainfeld said. But after he explained the delay, the rest of the interview "obviously worked out well."
It's one of several memories that Kelly Zainfeld and Cowlitz 2 Chief Dave LaFave shared in a recent interview about Zainfeld, a Cowlitz 2 battalion chief whose Sept. 19 suicide was ruled a stress-related, line-of-duty death. He was 41.
Her husband was diagnosed with post-traumatic stress disorder. It was a "part of his body that was damaged," an injury he ultimately couldn't overcome, his wife said.
Zainfeld said she didn't consent to be interviewed simply to praise her late husband. She also wanted to trace the origins of his troubles and talk about helping firefighters, police, and other first responders and their families cope with the mental and emotional strain of their jobs.
"I'm here because I want to make a difference," Zainfeld said. "My pain is enough. It doesn't need to happen to another fire department, another son, another husband. Awareness isn't enough. We have to protect them and teach them healthy outlets and organizations to get involved in."
For Zainfeld and LaFave, that means connecting families and firefighters with help and confronting the culture that keeps first responders seeking it. First responders need to "be honest" when they have a bad shift, and their families need to be open to how they deal with those bad days, she said.
"If the guys were just more comfortable saying, 'I'm not alright. I need a break, or I need time with you,' — Whatever it is they feel like they need, I think that's the big thing. The open communication about what's going on."
Zainfeld, who grew up in Kelso, spent his teenage and young adult years volunteering and exploring careers across law enforcement and firefighting. "It wasn't a surprise" when he wanted to join Cowlitz 2, LaFave said. Zainfeld joined as a cadet in 1994 and was fully hired in 2000.
But Zainfeld's helpful nature meant he could take on too much of others' problems, LaFave said. Firefighters eventually must detach themselves from the horrors they see, but when Zainfeld drove away, "He often couldn't stop worrying about the victims."
Zainfeld had worried about her husband before when he was fighting wildfires where he was hard to reach. But there was a noticeable decline in his mental health after the 2014 Oso landslide in Snohomish County, which killed 43 people and required help from responders from all over the region.
"Oso was a really hard one for him," Zainfeld said. "He went to Oso … and he did not come back the same person. ... He could tell you where (the victims) were, their names. He just internalized that and how those families must have felt."
It took weeks to recover bodies from the earth, and it was something her husband "couldn't fix," Zainfeld said.
"I think that idea, the body recovery, was too much, that there was no hope. When you go to a house fire, there's hope that you can get to the people in time and save them, but he went over there knowing that they weren't saving anyone."
Her husband "sometimes" talked about his experiences, but those were challenging conversations, Zainfeld said. Like other spouses of firefighters, she tried to balance prying out his feelings and giving him his privacy.
But "Mickel did a good job with hiding things," Zainfeld said.
It was around February or March 2019 when his mental health began to severely decline. He suffered from flashbacks and nightmares and voluntarily went on sick leave. Yet, even during her husband's last days, when Zainfeld was scared for him and confided those fears to LaFave, she didn't have "one inkling" that he would take his life.
"I did not think suicide," she said. "That hadn't been a conversation I'd had with Mickel. There was no indication. He never said those things."
She was concerned, however, that her husband's mental healthcare treatment wasn't working. She was pushing for him to seek in-patient treatment, where he could focus on recovering and not be concerned with the job or caring for the family.
But they were snagged by roadblocks to getting Zainfeld help that would be covered by his insurance. They had "great" healthcare through Cowlitz 2, but it was challenging to find specialists to treat first responder and military post traumatic stress disorder.
It took six weeks just to get a referral to see a psychiatrist — plus another six- to-eight-week wait before Zainfeld could actually get in to see that psychiatrist and receive a PTSD diagnosis. Those delays meant he was denied a Labor & Industries insurance claim the first time he tried.
"This is not typical trauma. This is an injury that is very complex, and those people are hard to find," Zainfeld said. "... You're asking someone in depression, in denial, to do all this paperwork and make all these phone calls. I remember Mickel telling me 'I'm tired of telling my story.' ... I think he saw three counselors, four including the psychiatrist, by the time we were done, and you're re-hashing everything (to them). You have PTSD, so every time you rehash it brings up all those memories."
Zainfeld's family will collect insurance benefits from his death under a 2018 state law that affirms PTSD as an occupational disease for first responders. However, that coverage still relied on Zainfeld's diagnosis of PTSD from a psychiatrist. It's why Kelly Zainfeld stresses that families should not delay in seeking a diagnosis if they have concerns.
It was hard for Zainfeld to even justify the diagnosis for himself, LaFave said.
"Mike felt that something like PTSD was something that soldiers, and Marines, and Navy seals, and people who are in battle and combat have a reason (to develop)," the chief said. "It was hard for him to make himself well because he was thinking he was letting people down."
That sense of shame about mental illness, and the related obligation to "not quit the team," must no longer be a part of the culture for first responders, LaFave said.
"That's one thing if it's the baseball or the football team," LaFave said. "It's another thing if it's an environment that just isn't helpful to people …Your desire to do the work may not be healthy. It's the very thing that keeps causing the injury. You may be mad that I'm not letting you do your job, but I can live with that."
Zainfeld and LaFave both said the Cowlitz 2 station on Vine Street in Kelso is a comforting place, where others understand and share their pain, stress, and joy.
But it can't be the only place, they agreed. And first responders have to be more than the suits they put on.
Her husband "loved being outside with his boys, flying drones, throwing the football or baseball, fishing or crabbing," Zainfeld said. "These people, these aren't just firemen. These are husbands, spouses, sons, brothers, sisters. I think that gets lost because being a fireman is so honorable. But they're people, and when they see bad things over and over again, we expect them to be this tough hero, but they have the same heart and same mind as every other person. That gets damaged. You can't see that much bad and be okay … even the guys that have the right outlets still suffer."
Zainfeld said her own family and her "fire family" have been "enormously supportive." Coping is still not easy, but she's committed to her cause and her family.
"It's a challenge to get up. It's a challenge for my boys to go to school. Even our dog was sad," she said. "For me, I could stay in bed all day, but I literally hear him saying 'Kelly, get your ass out of bed. You can't stay there all day.' "