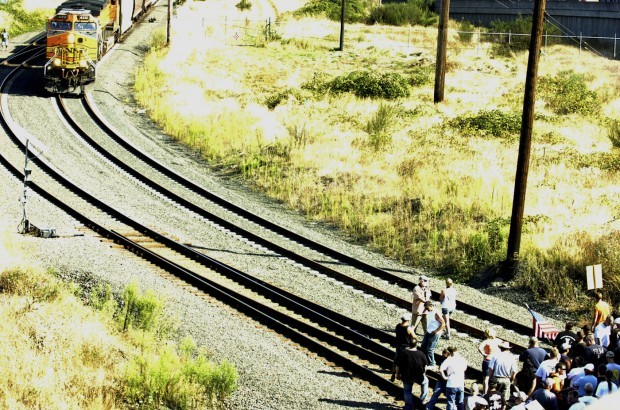 About 400 union longshoremen blocked a train for about four hours outside the new EGT grain terminal at the Port of Longview, but the train passed through Wednesday evening after the protesters were confronted by about 50 officers in riot gear.
Nineteen union protesters were arrested and cited for second-degree trespassing, a misdemeanor. Three were arrested when a scuffle broke out with police, and 16 more were arrested when they refused to leave the tracks when the train started up again, Cowlitz County Sheriff Mark Nelson said. Deputies say they are also investigating alleged vandalism to the train after it stopped. The names of the arrested were not immediately available Wednesday night.
"It was a very, very ugly situation," Nelson said, adding that he fears the conflict could escalate.
Police said a throng of protesters pushed against them, forcing them to beat them away with clubs and pepper spray. Union officials say they worried police were going to arrest Robert McEllrath, president of the International Longshore and Warehouse Union, for trespassing, so they moved to protect him. McEllrath was not arrested.
The Burlington Northern Santa Fe train was stopped near the old Long-Bell log pond about 3:30 p.m., about 200 feet from the crowd. After about an hour, the 107-car train backed up a few hundred feet — bringing a premature roar from the crowd — and remained parked near Pacific Fibre on Fibre Way.
The train was operated by union engineers, BNSF spokesman Gus Melonas said.
After warning protesters twice to clear the tracks, police formed their own line, donning riot helmets and brandishing rifles with rubber bullets. Protesters urged them to stop, and one man yelled, "We stood with you!" at the union police officers.
After a three-hour standoff, union leaders urged members to relent — for now.
"You can get Maced and tear-gassed and clubbed (today)" or wait for longshore support from all over the West Coast when the next train tries to enter the EGT terminal, McEllrath told protesters after he met with police. "If we leave here, it doesn't mean that we gave up and quit. It means we're coming back," added McEllrath, who is based in the union's home office in San Francisco.
After McEllrath's announcement, the majority of protesters left, but at 6 p.m. 16 of them sat on the tracks until the train started moving toward the grain terminal at  7 p.m. Police arrested all of them.
Dan Coffman, president of the ILWU's Longview-based Local 21, said at least two union members were hit with pepper spray in the face and another was clubbed. No one was taken to the hospital, but they were treated by other ILWU members with medical expertise, he said.
"It's totally unbelievable that our police force in our county is protecting a multi-national corporation. They're the thugs, and our guys acted to protect our president," Coffman said.
ILWU members traveled from Portland, Vancouver and other cities to take part in the protest. Nelson said he doesn't expect tensions to lessen.
"If the pattern holds true, I'm going to say it's going to get worse," he said. "We haven't had these kinds of issues with our local people."
Union dock workers also held up the train in downtown Vancouver for a few hours Wednesday morning.
Wednesday's confrontations were the most serious in the ongoing labor dispute since seven longshore picketers were arrested outside the terminal July 25. Another was arrested Aug. 29.
The mile-long train from Minnesota was carrying thousands of tons of corn, EGT's first grain shipment that will head to market. The $200 million terminal has been in the testing phase.
Union efforts to block grain deliveries are in apparent violation of a federal court order issued last week, according to Rich Ahearn, director of the National Labor Relations Board's Seattle office.
About 50 officers from the Cowlitz County Sheriff's office, Longview and Kelso police and the Washington State Patrol showed up after the number of union protesters swelled as word of the train's arrival spread.
The ILWU contends that EGT is obligated to hire its members to run the new terminal under the company's lease with the Port of Longview. Talks between the union and EGT broke off in January, and EGT this summer hired union workers from the International Operating Engineers local 701, based in Gladstone, Ore., to operate the terminal.
 "This is the latest in a very long line of actions that longshore men are taking to stand up to a foreign company that's trying to get a foothold in Washington and undermine the grain industry," ILWU spokeswoman Jennifer Sargent said during the morning protest in Vancouver.
Portland-based EGT is owned by a domestic/international partnership consisting of St. Louis-based Bunge North America, Japan-based Itochu Corp. and Korean shipper Pan Ocean STX.
Last week, a federal judge ordered a temporary restraining order against ILWU Local 21 in Longview and Local 4 in Vancouver barring illegal picketing against EGT. Union members have harassed and threatened EGT workers numerous times during the dispute, according to the NLRB.
The Vancouver protesters were monitored by several Burlington Northern Santa Fe police vehicles, including a police dog.
Larry Clarke, EGT's CEO, said he hopes future problems can be resolved peacefully.
"We have made an investment in Cowlitz County that we believe will bring long term benefits to the community and we are committed to providing family-wage union jobs and delivering those benefits as soon as possible," Clarke said in a written statement.
---
The dispute between the Longview-based International Longshore and Warehouse Union Local 21 and EGT Development has been simmering for more than a year but really boiled over this summer. The union contends a contract with the Port of Longview and long-standing union jurisdiction give longshoremen the right to work at EGT's new $200 million grain export terminal. EGT disagrees, saying it needs its own people running the state-of-the-art controls at the terminal. Here's a brief history of dispute for 2011.
May 20 - More than 150 union workers stage an informational picket at the 15th Avenue and Oregon Way intersection in Longview, urging EGT to hire ILWU workers.
June 3 - More than 1,000 regional union longshoremen rally outside EGT's Portland headquarters.
July 11 - In one of the boldest labor demonstrations in recent memory, 100 union protestors are arrested after tearing down a chain link gate and protesting inside the EGT grain terminal property.
July 14 - Hundreds of union protestors block railroad tracks to keep a train from delivering grain to the terminal. Burlington Northern Santa Fe stops all rail shipments to EGT, citing safety concerns.
July 16 - EGT announces it will hire union workers - but not the longshoremen.
July 19 - An Oregon branch of union operating engineers says it will accept EGT grain terminal jobs. The International Union of Operating Engineers Local 701 is based in Gladstone, Ore.
July 22 - EGT closes terminal due to more than 100 union picketers blocking access. One protestor arrested.
July 25 - Seven union workers arrested and another injured at grain terminal picket line. First felony arrest for one protestor allegedly threatening to kill someone driving onto EGT property. Police say union was "substantially more aggressive." Work at the grain terminal resumed after police escorted about 15 to 20 EGT employees past picket lines.
Aug. 29 - The federal National Labor Relations Board files an unfair labor practices complaint against lLWU, alleging "aggressive" picketing.
Sept. 1 - Federal judge issues a 10-day temporary restraining order against the longshoremen's union, barring it from "unlawful ... picket line violence," including blocking access to the terminal.
Sept. 7 - Longshore protestors block grain train bound for EGT terminal, stopping it for several hours in Vancouver and then again in Longview before relenting and letting it pass.
Sept. 8 - A federal judge in Tacoma is scheduled to rule on whether or not to make the restraining order permanent.
Be the first to know
Get local news delivered to your inbox!