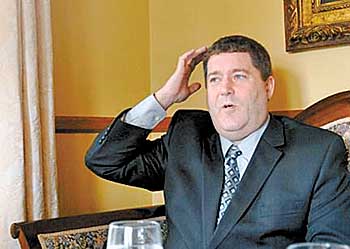 Along a dimly lit stretch of Highway 103 in Long Beach, veteran State Patrol Trooper Scott Johnson stood with clipboard in hand as he inventoried a vehicle for impound.
After working more than nine hours on the late shift, Johnson felt ready to knock off at 1 a.m., just 20 minutes away. Processing the minivan was his last task for the night. The nearby storefronts sat dark in both directions, the highway clear.
Another trooper had arrested the driver of the minivan shortly after midnight on Feb. 13 for allegedly driving under the influence. Johnson let the other trooper take the woman in for booking while he took care of her vehicle.
As Johnson filled out the paperwork, an upset man wandered out of the darkness, muttered a few questions and angrily ignored the trooper's offer for assistance. Despite his concerns, Johnson watched the man walk down the sidewalk and out of sight. He turned back to his clipboard.
"I've filled out that form many hundreds, if not thousands, of times," he said. "It was time to go home. I was holding the clipboard and I noticed there was a woman's wallet in the vehicle."
As the 47-year-old trooper and father of four leaned over the vehicle to inspect the contents of the wallet, he felt a push from behind and the hard barrel of a gun against the back of his head. No sound. No warning.
"It was just boom, boom, right together, but I didn't hear a gunshot," he said, now three months later. "I just knew that I had this terribly loud ring in my head. I was sure I had seconds, at most, to live."
Johnson, quiet and mild-mannered, eased stiffly into his seat Thursday morning at the Shelburne Inn in Long Beach, just down the street from where the shooting occurred. His interview with The Daily World was the first time he has spoken publicly about the night he was shot. He wore a suit and an uneasy disposition. His attorney Jeffrey Campiche, a former Pacific County Prosecutor now practicing in Seattle, leaned forward to speak.
"Scott is a real hero and he demonstrated it in the field long before this incident," Campiche said.
Running his fingers through his hair, Johnson explained how the first bullet plowed into the base of his skull, shattering against the bone, burying a fragment in a large nerve and "spraying" shrapnel out in a web along the top of his head under the skin.
"I have spray and scarring over my entire head into my eye sockets and into my nasal cavity," he said, tracing his fingers from back to front across his scalp. "Outside the skull, there's probably hundreds of lines of where it scarred. ... The shock of the bullet, it just caused the scarring and trauma over the entire top of the head."
Investigators believe the shooter used a small caliber handgun, such as a .22. Johnson explains with a mystified gratitude that the second shot missed his head, leaving only a burn from the muzzle blast.
A 46-year-old Seaview man, Martin A. Jones, was arrested on suspicion of attempted first-degree murder about two days after the shooting. The local contractor, who moved to the area from the Tri-Cities with his wife and son, remains in the Pacific County Jail on $5 million bail as he awaits trial. He has entered a plea of not guilty.
Jones' attorney David Allen of Seattle, declined to comment for this story. Citing concerns that media coverage may have biased potential jurors, Allen said he intends to ask that the trial be moved out of Pacific County.
Trooper Johnson has now spent weeks in physical therapy, learning to cope with intense pain throughout his head and constant fatigue. Many people believe he received only a minor grazing wound from the bullet while others think he suffered extreme brain damage. The truth lies in between.
"I was hurting pretty bad when I got here, but I'm feeling better now," Johnson said Thursday. "I'm somewhat slow and stiff in my movements. I get tired easily. ... Sometimes I do have some sudden pain. Sometimes if I move my head wrong or make the wrong facial expression, it hurts pretty bad."
Johnson said his recovery is slower than he would like, but the State Patrol and friends have helped take him to doctor appointments and therapy. His trip to the hotel was his first time driving himself since the shooting. He feels thankful he is not in a wheelchair or dead.
"It will just take some time," he said.
Johnson, a South Bend native, first started patrolling around in police cars at the age of 14 in a ride-along program with the Raymond Police Department. His parents would drive him to the station regularly to get a taste of law enforcement.
"It was just something I became really interested in," he said.
Gerald Ashley, who was police chief in South Bend for 36 years, said he had to get special permission from the state Attorney General's Office for a 17-year-old Johnson to be a reserve officer. He became the youngest officer in the state.
"I remember he couldn't even carry a firearm until we got a special exemption from the Attorney General's Office," Ashley said.
Johnson later served a year with the Pacific County Sheriff's Office before joining the State Patrol in 1984 at the age of 21.
Single with four children, ages 18 to mid-20s, Johnson also started his own excavation company near his home in northern Pacific County, operating backhoes and bulldozers throughout the area.
"Not only has that supported me, but it's something that I've always loved to do," he said. His 23-year-old son Derek now manages the company in his absence.
As a trooper, Johnson took on many duties. He performed security for three governors and President Bill Clinton. He also worked sideline security at University of Washington football games.
"I just love doing it," he said of law enforcement. "I love helping people and it's the perfect job to do that. It can be very rewarding at times."
In 1995, he received the State Patrol Award of Excellence for pulling an unconscious man out of a burning apartment building in South Bend.
"I'm embarrassed to tell these stories, but it worked out," he said.
"You pulled a man from a burning building," Campiche interjected.
"You would have, too," he answered.
Johnson said one of the most difficult things to cope with has been the role reversal from investigator to victim since the shooting. He feels left out and awkward without his uniform.
"That's why my (State Patrol) ID card is still in my pocket so I can prove I'm still one of them," he said.
"It's hard for me to sit and stare out the window," he added. "I don't want to be on the disability list. I think I've got a lot of time (left) to do my job."
Johnson still has a hard time talking about the dark moment he faced death, the ringing in his ears. He never really heard the bullet that smashed into his skull. He felt an arm reach around him and the tap of the barrel at the base of his skull followed by the intense blow of the shot.
"It was just like I was hit with a crowbar as hard as you could possibly be hit," he said, struggling a little with the words. "I remember being thrown forward and losing my hearing. I had a terribly loud ring in my head, just incredibly loud and I knew I'd been shot. I was certain that that's what it was."
"It was basically an execution shot," he added later. "You don't shoot somebody in the back of the head without intending to kill them."
Johnson said he first spotted the man who shot him on the side of the highway, heading straight to tow truck driver George Hill. The man left in a huff and when Johnson asked if he could help, the man offered an angry, "No."
"I focused on him. He appeared agitated or upset," Johnson said. "At this time of night, there's nobody else out. ... He stormed off down the sidewalk. Because of his demeanor I was concerned."
Johnson said Hill told him the man asked about the minivan and was told it was being impounded. They watched the man disappear down the sidewalk into the darkness.
Johnson would later identify the man as Martin Jones. The minivan belonged to his wife, Susan M. Jones. She was the driver arrested by the other trooper shortly before the shooting.
Johnson and Hill had returned to processing the minivan when Johnson was shot. Hill told investigators he chased after the shooter, but stopped when the man fired another shot. A stunned Johnson felt blood running from his head.
"I was trying to get my bearings," he said. "All these things going through my mind you know, that I'm not going see my kids and stuff. It's funny what goes through your mind, but you're still processing, you've got to protect yourself."
The battery in Johnson's radio had recently died, so he could not call help. He struggled to stay conscious when he heard Hill shout that the shooter was coming back.
"I think that's what snapped me back in," he said. "I focused better and I tried to see where he's at. ... I think he was returning to kill me."
Johnson said he took cover, pulled his .40 caliber sidearm and fired twice at the man he recognized from before. Without knowing whether either round had struck, he watched the shooter jog away down the street.
Hill called the State Patrol dispatch and put the phone to Johnson's ear. Long Beach officers found him awake, lying in the highway and rushed him to Ocean Park Hospital about two miles away.
"I've never seen a speedometer so far to the right," he said with a light chuckle.
Medical crews loaded Johnson into an ambulance headed to Oregon Health & Science University Hospital in Portland, accompanied by dozens of patrol cruisers along the early morning highways.
"Every mile that we went another patrol car got in line to escort the ambulance to the hospital," Johnson said. "They blocked every intersection on the way."
State Patrol Chief John Batiste met medical crews when Johnson arrived at the hospital as law enforcement officers and family from all over rallied around his bedside.
"I got into my car and I just immediately headed to Portland and when the ambulance pulled up with him, I was there to pull the door open for it and escort him into the emergency room," Batiste said. "It was a great moment for me to see and actually talk to him to see that he was alive and it was very positive moment."
Johnson is thankful to the other officers, hospital staff and community for their support. Many people rushed to his aid during those difficult days and helped his children get to Portland. Police guarded his door around the clock.
"I've never in my life had so many people trying to check on me," he said. "Tons of people were showing up. I know they had to open up a big room downstairs there were so many people. ... (But) I was very concerned that the person was on the loose."
In Pacific County, investigators launched a massive manhunt in search of the shooter. Officers flooded the streets of Long Beach, asking the public for help. After two days, Jones was arrested as the alleged shooter.
Jones, a recent transplant from Kennewick, once owned a bail bond business, according to news reports. He has no criminal record and his family has attended many of his hearings in Pacific County Superior Court in South Bend.
He has denied the attempted murder charge for Johnson's shooting and an assault charge for allegedly shooting at the tow truck driver. Campiche, on behalf of Johnson, has also filed a lawsuit against Jones for civil damages.
Jones' criminal trial is scheduled for Oct. 18.
"I was very relieved when they told me that he was in custody," Johnson said. "I had no question in my mind it was him. I got a good look at him."
When Johnson returned to Pacific County, he was greeted as a hero by lines of residents along the road with signs and salutes. Campiche, Johnson's attorney, said the trooper has until August to determine whether he can return to work. If not, he will be listed as disabled.
"It's too soon to determine whether he can safely and effectively return to law enforcement," he said. "It's a great sadness and anxiety for him."
Campiche said Johnson not only faces losing his badge, but part of his identity after a lifetime of law enforcement.
"Some police officers look at it as a job and they call it the job. And some police officers are policemen," he said. "The loss of that is a big part of the wounds that Scott has experienced because it was a very big part of his life."
The State Patrol honored Johnson with a Medal of Courage on Tuesday with an elaborate ceremony in Shelton attended by Gov. Gregoire, Batiste and other dignitaries.
"I had never been to one of the award ceremonies before," Johnson said. "They had the Honor Guard there in front of me, swords held high, and the chief and the governor. It was very overwhelming."
Johnson said he hopes to return to the State Patrol, but for the meantime he is focused on his recovery and determined to carry out his duty in the trial against Jones. As the ringing dulls from his ears, he plans to make the most of the precious moments after those gunshots.
"I've had a lot of people praying for me and I'm a lucky person," he said. "There's always a little good that comes out of something bad and hopefully it's made me a better person and I'll be able to pay it forward to someone. There's a reason. That's all I can say. It's not explainable to me how I'm standing here ... but I'm glad I am."