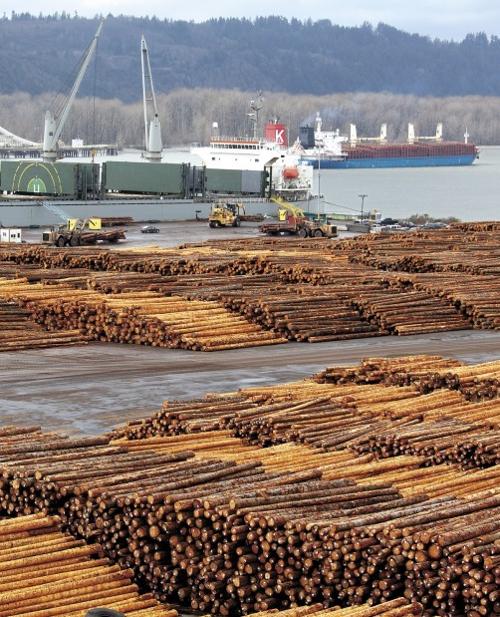 The disaster in Japan is causing temporary delays in Weyerhaeuser Co. exports, but sales might grow in the long run as the nation recovers from its worst-ever earthquake, a company official said Tuesday.
Since the 9.0 magnitude earthquake and tsunami struck Japan's northern coast March 11, vessels from Westwood Shipping, Weyerhaeuser's shipping line, have encountered delays delivering pulp and newsprint products to damaged Japanese ports, said Anthony Chavez, a company spokesman.
"Our customers on the ground are having logistical problems. So we're anticipating a short-term disruption," Chavez said.
At the Longview newsprint manufacturer Norpac, which is owned jointly by Weyerhaeuser and Japanese company Nippon Paper Products, newsprint orders have increased since the earthquake because of reduced supply in Japan, Chavez said. The earthquake damaged a newsprint mill in Japan, he said.
Weyerhaeuser, one of the area's largest trade partners with Japan, has 25 employees in Tokyo, and all are safe, Chavez said. The company donated $500,000 to the American Red Cross for relief efforts, he said.
So far, log exports to Japan — a $232 million business last year — have seen few disruptions, and Chavez said he thinks Japanese demand could rise in coming months. Industry analysts say Japan will likely look to the West Coast when the country starts rebuilding damaged homes and businesses.
The effort "could provide the catalyst needed to substantially jump-start cyclically depressed housing starts, resulting in a sharp and sustained rise in demand for building materials such as logs, lumber, and structural panels," Peter Ruschmeier, an analyst at Barclays Capital, told The Wall Street Journal this week.
Longview Fibre Paper and Packaging, which exports high volumes of packaging paper used in the construction industry, does little business in Japan and won't be affected by the earthquake, company spokeswoman Sarah Taydas said Tuesday. Longview Fibre mostly exports paper used to make cement bags to developing countries in Asia, she said.
Be the first to know
Get local news delivered to your inbox!