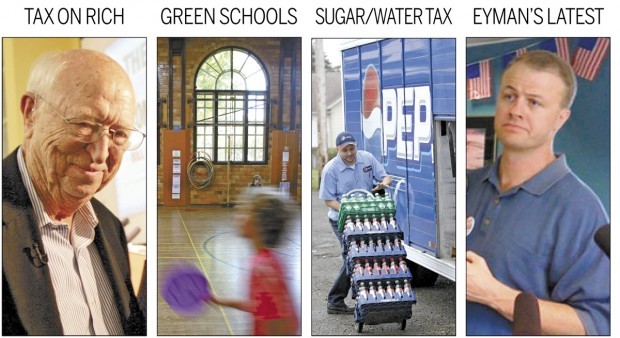 I-1053 Supermajority for tax increases
What it says: "Restate existing statutory requirements that legislative actions raising taxes must be approved by two-thirds legislative majorities or receive voter approval, and that new or increased fees require majority legislative approval."
What it does: Makes it harder for state lawmakers to raise taxes by requiring a two-thirds majority supermajority instead of a simple majority in both chambers. Voters approved a similar measure in 2007, I-960, but gave lawmakers the option to suspend the measure within two years.
Who's for it: Business groups, oil companies and banks.
Who's against it: Labor unions, hospitals and health care advocates in Washington.
I-1082 Privatize workers' compensation insurance
What it says: "Authorize employers to purchase private industrial insurance beginning July 1, 2012; direct the legislature to enact conforming legislation by March 1, 2012; and eliminate the worker-paid share of medical-benefit premiums."
What it does: Gives business owners the option to buy private insurance against workers being injured or killed on the job. Currently, businesses and workers must pay into the state's Worker Compensation Fund or prove they are financially solvent enough to self-insure.
Who's for it: The Building Industry Association of Washington, insurance companies and business lobbies. Liberty Mutual Group, a Delaware-based insurance company, has dumped about $700,000 in the race.
Who's against it: State Insurance Commissioner Mike Kreidler, state Auditor Brian Sonntag, both Democrats, labor unions and trial lawyers. Two campaigns, Stop Insurance Industry Takeover and No on 1082, had raised more than $4 million as of the last reporting deadline.
I-1098 High-earners' income tax
What it says: "Tax 'adjusted gross income' above $200,000 (individuals) and $400,000 (joint-filers), reduce state property tax levies, reduce certain business and occupation taxes, and direct any increased revenues to education and health."
What it does: Taxes the wealthy. Married high-earners would pay a 5 percent tax on all income above $400,000. For couples making more than $1 million annually, the rate would on earnings above $1 million would jump to 9 percent and include a $30,000 flat tax. The initiative would generate more than $11 billion over five years, earmarked for a K-12 education trust fund and college aid for low-income students.
Who's for it: Bill Gates Sr., father of Microsoft founder Bill Gates, and a coalition of public employee unions. Gates put $600,000 of his own money into the campaign.
Who's against it: The CEOs of Microsoft Corp. and Amazon Inc., Steve Ballmer and Jeff Bezos, the Washington Farm Bureau, the Association of Washington Businesses and other business lobbying groups.
I-1100 - Privatizes liquor sales and distribution
What it says: "Close state liquor stores; authorize sale, distribution and importation of spirits by private parties; and repeal certain requirements that govern the business operations of beer and wine distributors and producers."
What it does: Removes liquor sales and distribution from state control. The initiative would close the 300 state-owned liquor stores and allow 3,300 private retailers statewide to apply for licenses to sell hard liquor. It would keep the state's 10 percent liquor tax in place but eliminate the retail markup, which is above 50 percent. I-1100 also changes the regulations of beer and wine sales with the intent being to help microbreweries and small wineries better compete with large-scale manufacturers.
Who's for it: Costco, other big grocers and the Washington Restaurant Association. Proponents say privatization would bring competition to the market and lead to lower prices.
Who's against it: Law enforcement, church groups, labor union, advocates against substance abuse and large-scale beer producers. The committee formed to fight both 1100 and 1105, Protect Our Communities, had raised $8.5 million as of mid-September. Beer industry lobbyists had also pumped in about $7.2 million in the campaign to protect their shelf space in stores from hard liquor.
I-1105 - Privatizes state liquor sales only
What it says: "Close all state liquor stores and license private parties to sell or distribute spirits. It would revise laws concerning regulation, taxation and government revenues from distribution and sale of spirits."
What it does: Cuts the state out of liquor sales but requires retailers to buy spirits from licensed distributors. I-1105 eliminates the state's liquor tax and markup and directs the Legislature to develop a new liquor tax.
Who's for it: Southern Wine and Spirits of Miami, Florida, the largest liquor distributor in the U.S., and Young's Market of Los Angeles spent more than $2.7 million together to bring I-1105 to the ballot.
Who's against it: The same groups opposing I-1100.
Engrossed Substitute House Joint Resolution 4220- Toughens bail standards in criminal cases
What it says: "Authorize courts to deny bail for offenses punishable by the possibility of life in prison, on clear and convincing evidence of a propensity for violence that would likely endanger persons."
What it does: Amends the state constitution to toughen bail standards for people accused of violent crimes. Both chambers of the Legislature approved the measure by a wide margin.
Who's for it: The bill was introduced into the Legislature after four Lakewood police officers were shot in a Tacoma coffee shop. The gunman, who had a history of violent crime, had been relased on bail days before the shooting after he had been arrested on eight felony charges, including rape. A coalition of public safety advocates sponsored the resolution.
Who's against it: Robert C. Boruchowitz, a constitutional law professor at Seattle University, says the resolution gives judges the power to detain innocent people without recourse.
I-1107 - Eliminates taxes on sweets and soda pop
What it says: "End sales tax on candy; end temporary sales tax on some bottled water; end temporary excise taxes on carbonated beverages; and reduce tax rates for certain food processors."
What it does: Eliminates a three-year, $300 million tax package approved this year by state Democrats to offset a budget shortfall. The tax revenue generated from sales of some candy, soda and processed food would go into the state's general fund.
Who's for it: The American Beverage Association, the soda industry's Washington, D.C.-based lobbying arm, has spent about $16.5 million to fight the tax package and bring I-1107 to the ballot.
Who's against it: A coalition of state employee unions and public health groups. They say the tax package is necessary to offset cuts to the state budget and it targets foods and beverages with little nutritional value.
Referendum 52 - Bonds for energy-efficient schools
What it says: "Authorize bonds to finance construction and repair projects increasing energy efficiency in public schools and higher education buildings, and continue the sales tax on bottled water otherwise expiring in 2013."
What it does: Approves House Bill 2561, which sets aside $505 million in state bonds for constructing and/or refitting school buildings to be more energy efficient.
Who's for it: Former Secretary of State Ralph Munro, the Washington Education Association, public health educators, clean energy advocates and labor unions, who've raised about $828,000. They say the measure would eliminate exposure of school children to asbestos, create thousands of construction jobs and potentially save taxpayers millions of dollars in energy costs.
Who's against it: State Sen. Joe Zarelli, R-Ridgefield, Rep. Judy Warnick, R-Moses Lake, and Sen. Rodney Tom, D-Bellevue, say a higher debt load means the state will have a harder time paying for core services and that the referendum won't create enough jobs to justify the cost.
Senate Joint Resolution 8225 - Increase debt limit for public projects
What it says: "Require the state to reduce the interest accounted for in calculating the constitutional debt limit, by the amount of federal payments scheduled to be received to offset that interest."
What it does: Amends the state constitution to allows state to borrow more money for public projects. The Legislature passed the measure this year.
Who's for it: State Treasurer Jim McIntire and key Democratic state Senate budget writers say the measure is needed to take advantage of a new federal program that offers lower interest rates for government bonds.
Who's against it: Two Republican lawmakers, Rep. Mike Hope of Lake Stevens and Rep. Jim McCune of
Graham, say the resolution risks overextending the state while the budget is in a projected $3 billion hole.
Source: The Washington Secretary of State's Office and the state Public Disclosure Commission.