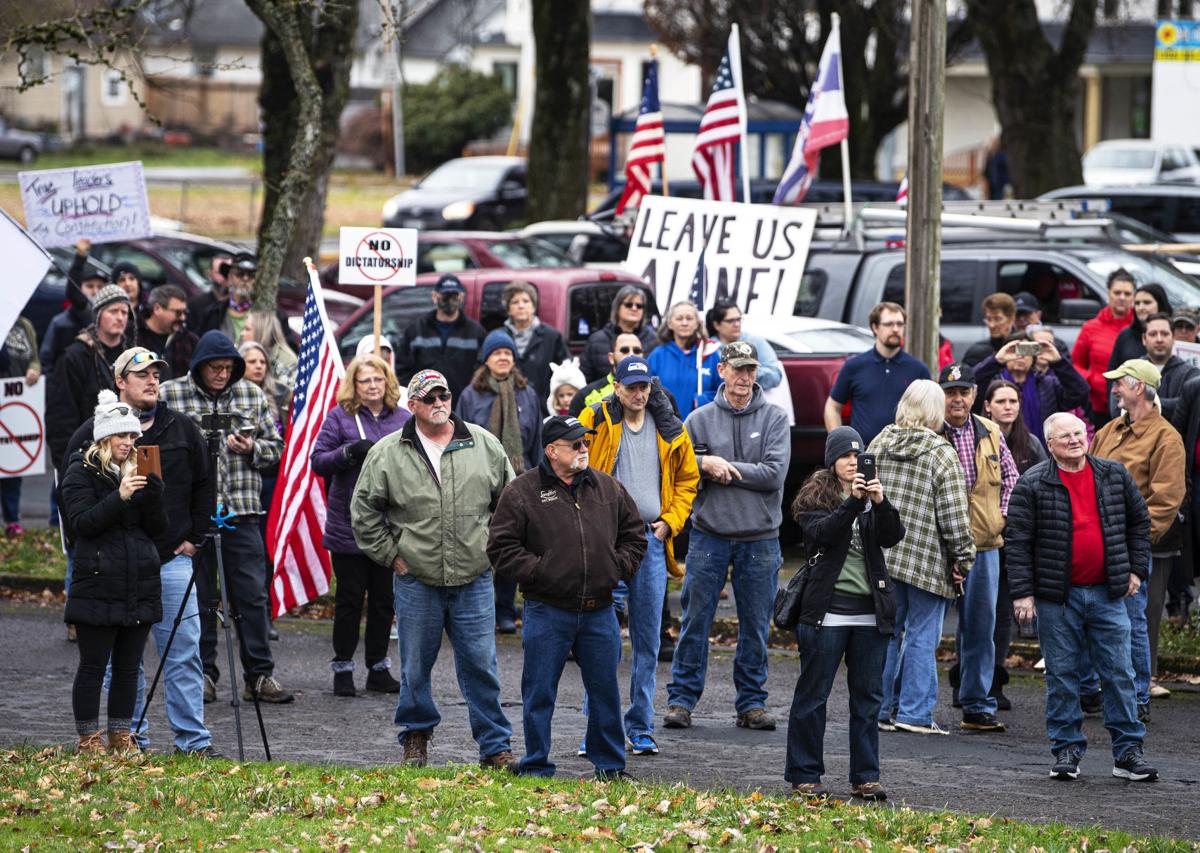 A Cowlitz County Superior Court judge Thursday rescheduled a hearing on a temporary restraining order filed against Stuffy's II Restaurant to give the restaurant time to get a lawyer.
The ruling followed an hour-long "Stand with Stuffy's" rally at the Hall of Justice in Kelso in which local elected officials and restaurant employees called statewide public health orders unconstitutional and a slippery slope to losing their rights.
The rally and hearing occurred one day after violent protests in Olympia and Washington D.C., and a local police report about potentially threatening online comments about the Cowlitz County judge that signed the original restaurant restraining order.
The state Attorney General's Office on Jan. 5 served Duling Enterprises LLC, the company that owns and operates Stuffy's II, with a temporary restraining order to stop serving indoor meals. The restaurant has been open for indoor dining since Dec. 6, despite Gov. Jay Inslee's public health order prohibiting such services.
Stuffy's also received notice of $126,000 in fines, which the state Department of Labor and Industries issued for a "willful serious violation" of workplace safety regulations.
Skai Hogue, the granddaughter of Stuffys' owners, told TDN Monday that the restaurant had little time to prepare for the court appearance, which was scheduled just three days after the business received the restraining order. On behalf of co-owners Bud and Glenda Duling and as a governor of the LLC, Hogue requested that the hearing be continued at a later date.
Cowlitz County Superior Court Judge Gary Bashor on Thursday accepted that request.
"Ms. Duling (the LLC's registered agent) has obviously, at some point, received a copy of the order. I don't know when that was. But it was certainly not prior to Monday, so I don't think it's right to be argued today," Bashor said.
Bashor also noted that the law requires limited liability corporations to appear in court through an attorney. Hogue, who is not a licensed lawyer, could not act as Stuffy's representation, he said.
The hearing will continue at 8:45 a.m. Jan. 21, during which time both sides will make their case. According to court documents, the state intends to ask the judge to legally order Stuffy's to stop violating the state public health orders, while the business plans to argue to drop the restraining order because there were inconsistencies and errors in how it was served. For example, one of the documents was unsigned, unstamped and listed the restaurant as "Spiffy's" not "Stuffy's," according to a statement from Hogue.
L&I fined Stuffy's about $18,000 each day the restaurant was open for indoor dining between Dec. 22 and Dec. 28. That's nearly double the $9,000 fine suggested in earlier reports by TDN. The lesser fines apply to "willful general" violations and not "willful serious" violations, L&I spokesperson Dina Lorraine explained.
Stuffy's will continue to rack up fines as long as they are open for indoor dining while the governor's order is in place.
Brenda Duling, Stuffy's co-owner, said she does not believe the restaurant has done anything illegal by staying open, and she plans to "stand up for our rights" in court.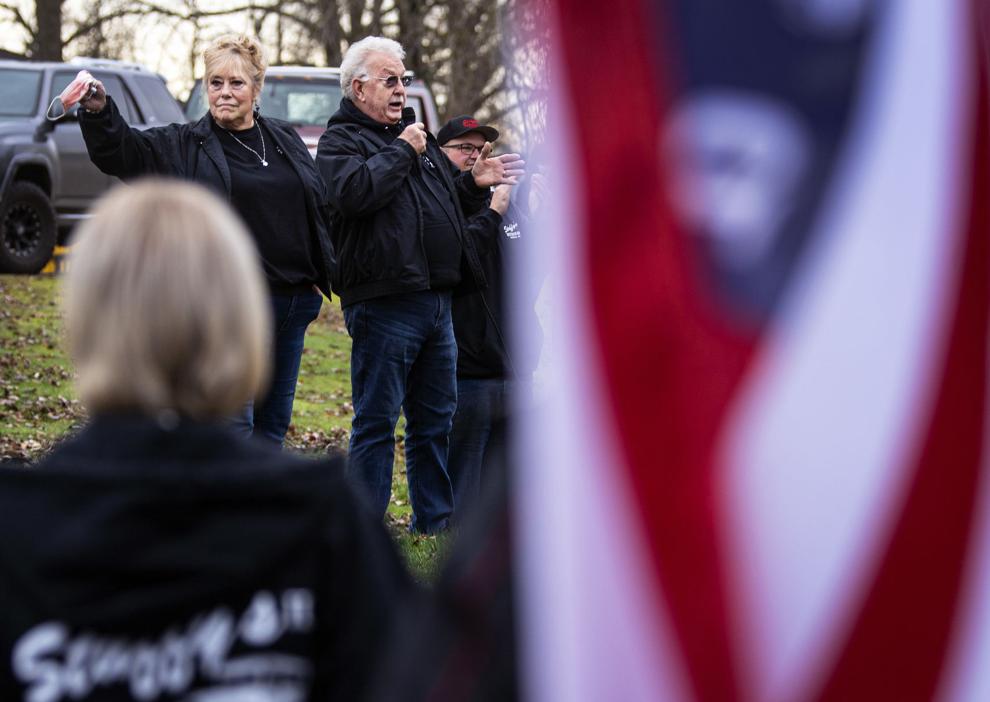 Stuffy's will remain open in the meantime, she said. Customers began streaming in to eat around 3 p.m. Thursday, shortly after the hearing concluded.
"They can charge me $500,000 or whatever they think they have to charge me," Duling said. "I'm 70 years old. I might get a few payments in, but who knows. But we are just going to stay open. I don't feel like we are hurting anyone."
She said most of the customers in her restaurants thank her for being open for indoor dining, and the community support has been "amazing."
A crowd of nearly 200 people gathered in the Hall of Justice parking lot Thursday for a "Stand for Stuffy's" support rally ahead of the court hearing. Most of the attendees remained on-site to watch a live stream of the hearing.
"This (state order) is hurting the livlihood of local businesess," Longview resident Billie Clevenger told TDN while holding a sign with a supportive message for Stuffy's. Several vehicles honked as they passed to show their agreement. "It's sad how many businesses have gone out of business."
Clevenger's brother, Michael, has worked at Stuffy's for almost 21 years. He currently serves as a cook for the restaurant, and he spoke publicly on behalf of the business during the rally.
"Bud and Glenda have been there for me for anything," Clevenger said. He struggled when his father died Clevenger said. But Bud Duling reminded him that a job holds your life together, and Clevenger was able to keep his daily work on track.
The state's orders are now threatening to take jobs away from him and dozens of other restaurant workers by closing their employers, he said.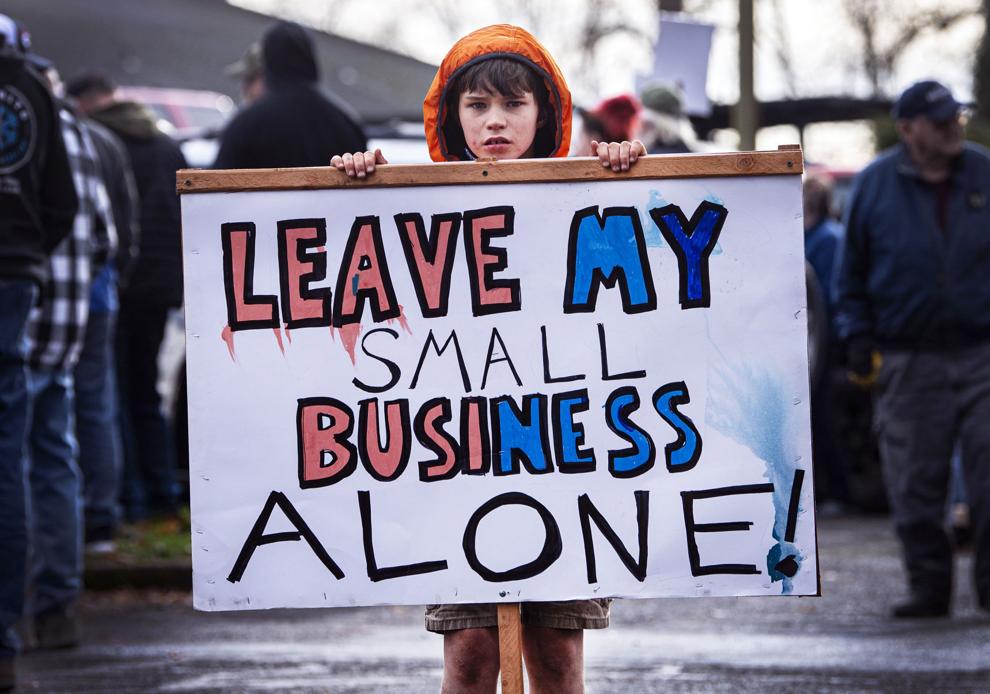 In the wake of pro-Donald Trump protests in Olympia and Washington D.C., as well as the violent attempt to take over the U.S. Capitol building Monday, the Stuffy's rally remained peaceful. No counter protesters arrived to demonstrate against the restaurant's supporters. Cowlitz County Sheriff's Brad Thurman mingled with some of the attendees while sticking mostly to the outskirts of the crowd.
Rally speakers — which included state Rep. Jim Walsh, Cowlitz County Commissioner Arne Mortensen and Lewis County-based Spiffy's restaurant general manager Rob Grant —urged the crowd to stand up for their rights through civil disobedience and peaceful protests and not violent actions.
"Peaceful will win the day. ... We don't need to kill each other off. That leads to a bad result," Mortensen said.
Some speakers directly referenced the incident in D.C., parrotting some ideas circulated on far-right forums.
"The problem is antifa can tear up cities," said Grant, whose restaurant faces a similar court battle for operating indoor dining. "I think they busted into the (U.S.) Senate last night, and basically Trump supporters are being blamed for it." DC authorities have offered no evidence that Wednesday's mob included anything other than thousands of Trump supporters,
Fewer than a dozen attendees at Thursday's Kelso rally wore face masks. Several people in the crowd brought American flags or donned Trump 2020 campaign apparel.
"I'm pissed off. That's what brought me out here," said one Cowlitz County resident who declined to give her name. "I'm afraid for the republic for which this stands," she said as she pulled taut the American flag she was holding.
She said she's spent most of the pandemic "hunkered down in my bunker," and she keeps at least five face masks in her car, so she can wear them while out shopping for groceries. But she also believes people should be able to choose what they think is safest and best for their health.
The governor should not be allowed to determine that for people, she said.
"I've felt for months that the people of America are the frog in the pot, and the heat is turning up little by little. ... I think we should be smart enough to take care of ourselves."
In another updated related to Stuffy's, Cowlitz County News, a community Facebook group with a public page, posted Wednesday that Cowlitz County Superior Court Judge Thad Scudder had signed off on the temporary restraining order against the restaurant. The post accumulated 151 comments and 99 shares.
Three hours after the post was made, an "anonymous third party" called Longview police to report a series of increasingly angry comments about Scudder on the post, said Captain Branden McNew.
"The concern was deep in the comments, a person posted a picture of a noose. No words, no nothing. Just a picture of a noose," McNew said. "With the tone of the comments and then the noose popping up, the anonymous third-party thought it might be a threat."
A Longview police sergeant notified Scudder of the post, and said the judge was "not overly concerned. He wasn't worried about it," McNew said.
Police flagged the comment as "inappropriate" on Facebook but did not conduct any further investigation, McNew said. The photo has since been deleted.
"There were no verbal threats, just the picture," McNew said. "And there were no written threats associated with it, so because of all of that, the judge wasn't concerned."