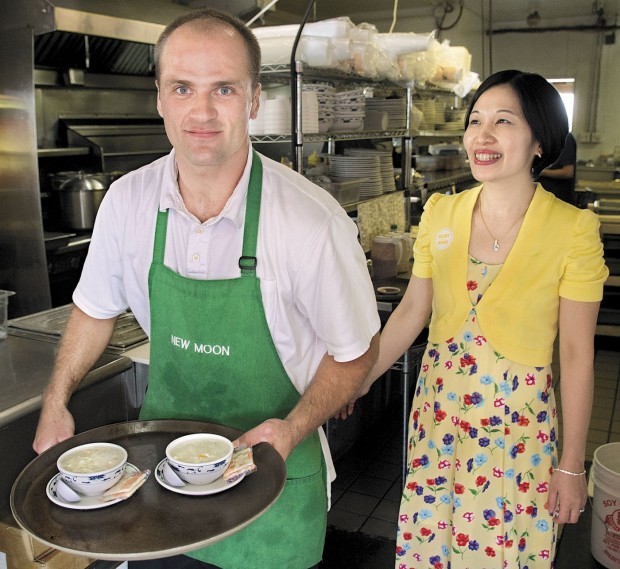 Nineteen criminal offenders have Annie Chen to thank for their newfound footholds in the working world.
Chen has owned New Moon Chinese restaurant in Longview for 10 years and employed all of those 19 people through Goodwill's Offender Re-entry Program. Tuesday, Goodwill honored her willingness to help recovering offenders, naming Chen its 2010 Community Partner of the Year.
Prior to taking part in the program, Chen said she hung a "Help Wanted" sign in her window when she needed to replace an employee. Her introduction to Goodwill came by chance, when one of the clients in the offender re-entry program showed up at New Moon looking for work.
"I found out ... Goodwill will refer people to me, and I can hire them," said Chen, 40.
The bubbly woman, who moved to the United States 15 years ago from Canton, China, said she found the Goodwill workers to be "good helpers."
"They are willing to work, and they really work hard, too. That's the best part I like," she said.
Jerry Hastings, job developer with the Goodwill program, said that inmates serving prison sentences become eligible for admission when they are sent to the Work Release Center in the last six months of their sentences. Participants also include offenders drawn from local and state prisons and even walk-ins who have a criminal background and are having problems finding work because of it, Hastings said.
The positions are usually minimum wage, he said.
"I have a few who are $10, $12, $14 an hour. It depends on the employer," he said.
Program participants take classes to hone their skills.
"They learn how to go about finding a job," Hastings said. "How to dress. We work on resumes with them, help them fill out applications, and refer them to employers who will hire them."
Chen, he said, "is one we've always counted on. I always said that if I could clone her, I would."
Hastings said he's always been impressed with the way Chen dealt with her employees.
"She treats them like family. She treats them like people," he said. "She teaches them life school and talks to them like the Dutch uncle sometimes."
Hastings also praised Chen for allowing many employees she's recruited from Goodwill to keep their jobs at New Moon after they're no longer part of the re-entry program. Many employers, he said, drop re-entry employees once they're out of the program.
"I had one employee with the program, he stayed here for more than two years," Chen said. "Some are not from this area, so they don't stay."
Randy Blair of Toledo, 32, who works for Chen and will leave work release next month after serving a five-year sentence for possession of methamphetamine, said he plans to stay. He said he likes Chen and her husband, Ken, who run the restaurant together.
"They've treated me good. I didn't know anything about kitchen work," he said. "She saw something in me. She wanted to give me a chance."
He has worked at New Moon for four months, serving customers, busing tables and performing prep cook duties six days a week. Once he's released, he plans to also attend school at Lower Columbia College.
Hastings said that Blair's goals fit the aim of the program.
"The job provides (offenders) with stability, helps them get out of the prison mentality and back into real life," he said.
He credits Chen for helping to keep the program participants toeing the line. None of the employees she has hired through the program have reoffended while employed at New Moon, he said.
"Not everybody who goes to work stays out of trouble, but we can count on all of them who come here," Hastings said. "They stay out of trouble, they stay here, and they get out."
Chen said she chooses to look at the person, rather than their past. She said her dream job has always been to be a counselor. As a restaurateur, she's glad to have found an outlet for her desire to guide people.
"I love people," she said. "Lots of them have made a mistake in their lives, but they are not bad people. Lots of them have really good hearts."
Be the first to know
Get local news delivered to your inbox!