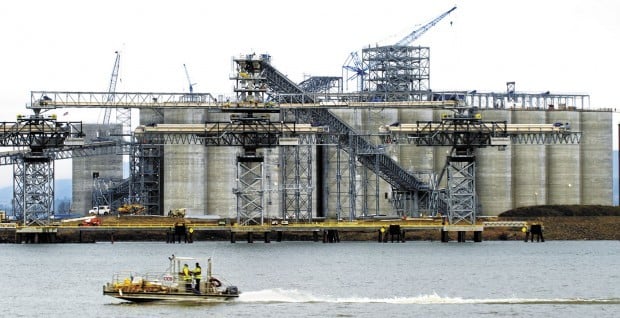 In a move that "stunned" the local longshore leadership, EGT Development announced Sunday it will hire a union contractor to staff 25 to 35 jobs at its $200 million grain terminal at the Port of Longview.
Federal Way-based General Construction Co., a subsidiary of Kiewit Infrastructure West Co., will start working at the terminal this week, Larry Clarke, EGT's chief executive officer, said Sunday.
The remainder of the 50 jobs at the terminal will be administrative and support positions, he said. The terminal is scheduled to open this summer or early fall.
"We're willing to hire union labor, and we got what we think is a good agreement with General Construction. Local, family-wage jobs is a really good news story," Clarke said.
He added that General Construction hires workers from the International Union of Operating Engineers, but he did not know which local.
General Construction has worked as a union contractor in the Longview area for more than a half century, according to a statement Sunday from company spokesman Gregg Woodward.
"General is proud of its long-standing excellent relations with the operating engineers union and other unions," Woodward wrote. "It looks forward to continuing its work in Longview as a union contractor."
Representatives from Local 612, based in Tacoma, could not be reached Sunday to comment on whether union operators would be willing to work while EGT remains at loggerheads with Longview-based International Longshore and Warehouse Union Local 21.
EGT's attempt to wedge another union into the conflict was a big surprise after a week of union protests aimed at trying to force the company to negotiate a contract with the ILWU.
Union officials argue that their agreement with the Port of Longview states that all longshore jobs on port property must be done by Local 21 members.
"I'm stunned that they've contacted another union," Dan Coffman, president of ILWU 21, said Sunday. He said he had no details about General Construction, and he forwarded all questions to the union's San Francisco-based headquarters.
In January, EGT sued the Port of Longview in federal court, arguing that the company was not bound by the port's agreement to use Local 21 labor for all longshore work at the 38-acre leased site. The company's attorneys say ILWU labor would increase its costs by about $1 million annually. A trial is scheduled for next year.
This month, Port of Longview attorneys asked a judge to order EGT to honor the working agreement with the ILWU and hire Local 21 labor.
Clarke said he doesn't think hiring General Construction will end the lawsuit, but he declined to comment on specifics.
Frank Randolph, the Port of Longview attorney, said that the two sides still need to determine in court whether EGT is obligated to hire Local 21 labor.
"Whatever they do doesn't change their obligation. That's what we're trying to get resolved," he said.
Portland-based EGT is owned by St. Louis Bunge North America, Japan-based Itochu Corp. and Korean shipper Pan Ocean STX. Its principal owner, Bunge, earned $2.5 billion in profits in 2010.