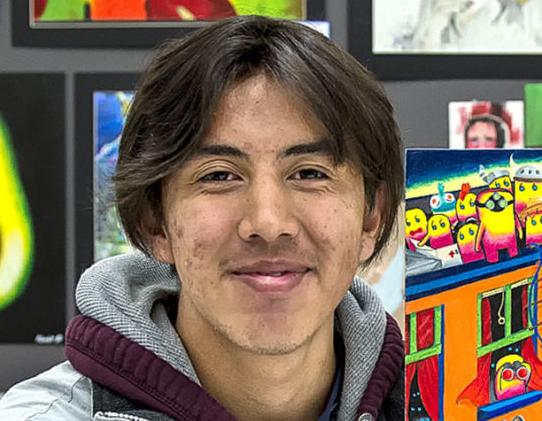 Using pastels, colored pencils and a broken cassette tape, R.A. Long High School junior Kessa McKissack spent a little over a month drawing actress Katherine Langford in her role as Hannah Baker in the Netflix series "13 Reasons Why."
McKissack chose to draw Baker for a very personal reason: Her sister committed suicide last June, just a few months after the 2017 series, in which a girl takes her life after a series of demoralizing circumstances.
"She had watched this show and it is more or less what pushed her to the edge," McKissack said.
She also said she doesn't blame the show for what happened. "I think it brings attention to a really important topic," she added.
So does her art piece, which will be one of hundreds of high school works on display at the Celebration of the Arts show Monday through Thursday (May 7-10) at the Cowlitz County Event Center, 1900 Seventh Ave., Longview.
The show is an exhibition of artwork by Kelso and Longview middle and high school students. It's been a decades-long tradition, first at the McClelland Arts Center and now at the event center, according to Kelso High School art teacher T.J. Frey.
"It's a chance for their family and friends to come and see how hard they work throughout the year and what they created," Frey said Friday.
"It also really promotes and celebrates the art programs in schools."
R.A. Long High School art teacher Jayleen Baker added that many students in her advanced art class are self-driven. A lucky few also had their work displayed at Educational Service District 112's regional show. Kelso students also submitted work and some took home awards.
Senior Luis Gurrola is one of those Kelso students. His colored pencil drawing, titled "Remember What Made Us," won him a spot at the state show and a $2,000 scholarship offer from Central Washington University. It will be on display at Celebration of the Arts next week. (Watch a video interview with Gurrola and fellow Kelso High student artist Rachael Johnson on tdn.com.)
Every inch of Gurrola's piece is colorful, from a red boombox to the multicolored mix tapes scattered throughout the drawing. Cassette tapes are the theme, as Garrola wanted to focus on something that "used to be relevant, but (that) no one uses anymore."
Art isn't just a hobby for Gurrola, but a possible career. He said Friday he wants to be an artist and that he'll attend Northwest College of Art and Design in Tacoma next year.
Gurrola's love of art comes from his father, who had many art books lying around the house when Gurrola was growing up.
You have free articles remaining.
"I lived on a farm and didn't have TV to distract me," he said. Before he could read, he would spend time looking at the images in the art books.
"I saw one that was a tiger done with colored pencil and thought I could do it the same way. It seemed easy. So I started sketching it," Gurrola said.
After that, he was hooked. "It's just the way I express myself," Gurrola said.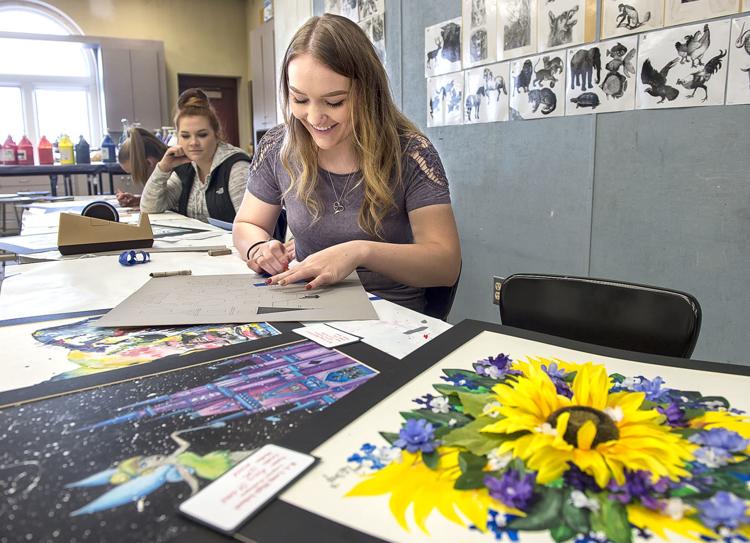 Many other students said that art was a hobby they've had since childhood. R.A. Long senior Avery St. Onge said, "Art's always going to be a side thing. It's not what I'm majoring in in college, but I'm always going to be doing art."
Even though art is a "side thing" for St. Onge, she already has teachers commissioning pieces from her. Her English teacher is a big fan of Star Wars and asked her to turn an Ikea lamp into the Death Star. It's just one of her pieces that will be displayed at next week's show.
The show will also feature artwork by local middle schoolers. At Monticello Middle School, art is just starting to make a comeback. For three years, the school didn't have an art program, teacher Kate Wesolowich said Thursday.
Wesolowich came to the district last year when the program was reinstated and since then has been designing the curriculum from the ground up. Students learn skills to execute their artistic visions, but they also learn how to relax and have fun at school.
"A lot of kids come from homes where they have nothing," Wesolowich said. "I've been told that there are kids who come here just for this class, just to have art."
Monticello eighth grader Crystol Hutson has a piece in the show inspired by Vincent Van Gogh's "Starry Night." Though the background features Van Gogh's signature swirls of color, the foreground has a person with a TV for a head.
"I came up with the idea because I thought social media tends to distort somebody," Hutson said. She also said she likes to draw emotions; this painting is supposed to represent insecurity.
For Hutson, art is expressive. "It shows what you think or how you feel when you can't really say it out loud."
Celebration of the Arts' opening reception runs from 6-8 p.m. Monday. The artwork also will be on display from 8 a.m. to 8 p.m. Tuesday and Wednesday and from 8 a.m. to 2 p.m. Thursday at the event center.