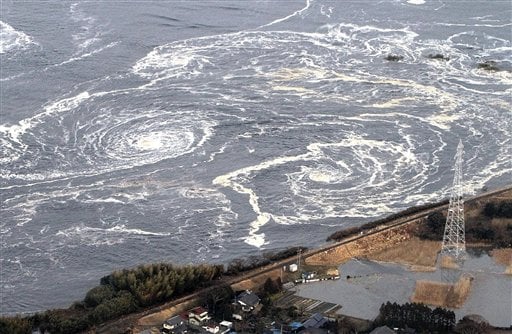 Seaview beachcomber Matt Mulvey is eager for debris from the Japanese tsunami to wash up on the Long Beach Peninsula.
He hopes to find real glass fishing floats and buoys among the sea-trash swept into the Pacific Ocean after the massive March 11 earthquake off the coast of Japan and which now is floating slowly, inexorably toward North America.
"I'm not worried about radioactivity. We've got more radioactivity coming out of Hanford than we're gonna get from Japan," Mulvey said Tuesday, referring to radiation leaks the earthquake caused at Japan's Fukushima nuclear plant.
However, scientists are cautioning beachcombers that they might get more than they bargained for when the debris starts washing ashore. The approaching debris likely will contain hazardous materials and objects. Radiation is not considered among the hazards, but it is possible the flotsam that washes ashore could include skeletal human remains.
The first big wave of debris is not expected for another year, but officials are holding a series of public safety meetings on tsunami debris next week in three Pacific County locations. In addition to warning about hazards, officials also are asking the public to be respectful of what they find on the beaches and be on the alert for information that can help Japanese families track down missing relatives.
For beachcombers, the sea debris "is like a big garage sale that has fallen in and washed 5,000 miles across the ocean," says Dierdre Duewel, a representative of the Long Beach Visitors Bureau who has fielded questions from curious callers. "People want to know, 'What's going to be in there?' "
The tsunami waves carried an estimated 20 to 25 million tons of timber, fishing equipment, houses, appliances, cars, boats and other debris out to sea. Scientists are trying to determine when, how much, and what type of garbage is likely to wash up on West Coast beaches.
While relatively little is known about the nature of the garbage that may eventually arrive, most believe if and when the debris comes ashore, the quantity likely will be drastically reduced, although no one knows by how much.
"The ocean is a high energy, dynamic environment, and it breaks down houses to pieces," explains Nir Barnea, the West Coast coordinator for the National Oceanic and Atmospheric Administration's Marine Debris program.
As the debris makes the long journey between Japan and the United states, most heavy pieces of debris will sink, and the forces of time, wind, currents and sun exposure will break larger items apart. For this reason, it is unlikely that massive items such as automobiles and boats will come ashore.
Emergency officials say the any large, or sharp debris that crosses the Pacific could make wading in the surf hazardous. Dangerous chemicals also may wash ashore. Anyone who sees something suspicious wash ashore will be urged to call 9-1-1.
Radiation from the Fukushima nuclear plant is not expected to be a problem because the radioactive leak occurred days after the tsunami debris was already at sea, and the radiation spread to a much smaller area.
Lightweight objects that protrude from the water, such as sneakers and buoys, are pushed along by wind currents and can travel at rates up to three times faster than heavier objects, says oceanographer Curtis Ebbesmeyer, who has made a science out of beachcombing.
Ebbesmeyer believes these items might start showing up any day now. He said reports of black rubber air bladders found recently at several Pacific Northwest beaches are likely the first wave of tsunami trash to arrive.
He said he also wouldn't be surprised if some human skeletal remains make it across the sea in sneakers, which float.
"It's not unusual to find sneakers with bones in them," he said.
Shelly Pollock, who coordinates the Grassroots Garbage Gang beach cleanup planned for later this month, worries about how to help her volunteers avoid potentially hazardous materials, or other unpleasant situations.
"Mr. Ebbesmeyer talked about severed feet. I hate to think that's what my volunteers would find. As much as beach clean up is a dirty job, it's also about making people feel good."
Beachcombers who find remnants of Japanese communities on our shores may be able to help Japanese families piece together the last moments of their loved ones' lives. Ebbesmeyer encourages treasure seekers to treat any debris they encounter with respect and to watch for serial numbers or addresses, which could help Japanese authorities provide families with information about missing relatives.
David Marsh, owner of Marsh's Museum in Long Beach, said he's considered starting a Japanese flotsam display at his famous museum, which already features "Jake the Alligator Man." He believes that contacting authorities with identifying information might be one way for Washington residents to help Japanese communities find a sense of peace.
"I'm sure there's a lot of sentimental value floating around out there. ... Maybe it's good to get in touch with families who lost things. It would be kind of touching to let them know their possessions made it all the way to Washington."