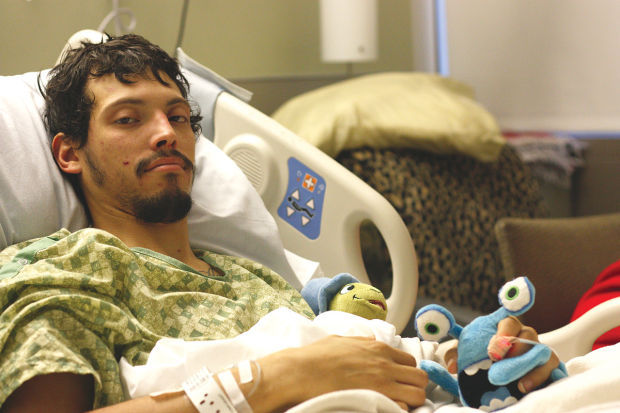 VANCOUVER — Frank Arce Jr. says someone was watching out for him the evening of Jan. 23, when a typical night on the job at Swanson Bark & Wood Products nearly claimed his life.
"There were a lot of angels out there that night," said Arce, 23, who was pulled through the "porcupine," a machine used to break up clumps of bark dust headed for a screener.
Arce broke seven ribs, a toe, his ankle and his pelvis in the fall, and he suffered an open fracture to his knee, numerous cuts and a collapsed lung. He's now recuperating at PeaceHealth Southwest Medical Center in Vancouver, where he has undergone multiple surgeries since the accident.
"Basically I was praying for the best and preparing for the worst," said Arce, a Longview resident. "In a situation like that, that's honestly all you could do."
Arce had worked at Swanson for nearly a year, first as a temporary hire and later as a full-time employee. Jan. 23 had been "another typical day" on swing shift. He returned from a break at about 10:30 p.m. to find a hopper feeding material into the porcupine jammed with a log.
Arce said workers shut down and locked out the equipment before he stepped onto the hopper to clear the jam. He was comfortable that safety procedures had been followed.
"Apparently the piece (of machinery) I was standing next to was on a different circuit," Arce said. Somehow, power kept flowing and the equipment turned on, pulling Arce from his perch on the hopper into the porcupine below.
"It honestly happened so fast that I didn't have any time to think," Arce said.
The accident is under investigation by the State Department of Labor & Industries.
The porcupine consists of six to seven-inch-long tines (they're curved, not pointed or sharp) that spin on shaft to break apart and fluff-up bark. Arce said the equipment left gashes in his hard hat. The slim-built worker thinks the journey through the machinery might have killed a larger person.
Arce landed on a conveyor belt about six feet below where he had been standing. Coworkers shut down the machinery when they heard him scream. They applied compresses and kept Arce calm and conscious while he waited for paramedics.
"They kept their cool enough to keep me calm," Arce said. "Everything happened so fast. It's hard to put it in words. They handled it in the best way they possibly could, which I'm eternally grateful for."
Keeping him calm help keep his heart rate down and slowed his blood loss, he said.
Paramedics took Arce to St. John Medical, where he was stabilized and sent to PeaceHealth Southwest Medical Center in Vancouver. Arce said doctors expect he'll remain hospitalized for at least three weeks, but Arce is bracing for a "lengthy " recovery process.
"It's a long road ahead of him," his mother, Brenda Arce, said in her son's hospital room Tuesday. He could face some permanent nerve damage.
"But he's stubborn," giving her hope his recovery will be complete.
Arce credits his hard hat and the levelheaded response of his coworkers with saving his life.
"Swanson is a good company," Arce said, noting that it provides optional first aid training for its employees. "There's a lot of good people working there."
Arce hopes his accident will serve as an example to others. A family friend already approached Arce about helping with safety training for British Petroleum workers.
"If my situation saves one person, then it will be more a blessing than a curse."
Justin Pittman covers Longview and Kelso school districts, Lower Columbia College and Columbia County (Oregon) for The Daily News. Reach him at 360-575-2523 or jpittman@tdn.com