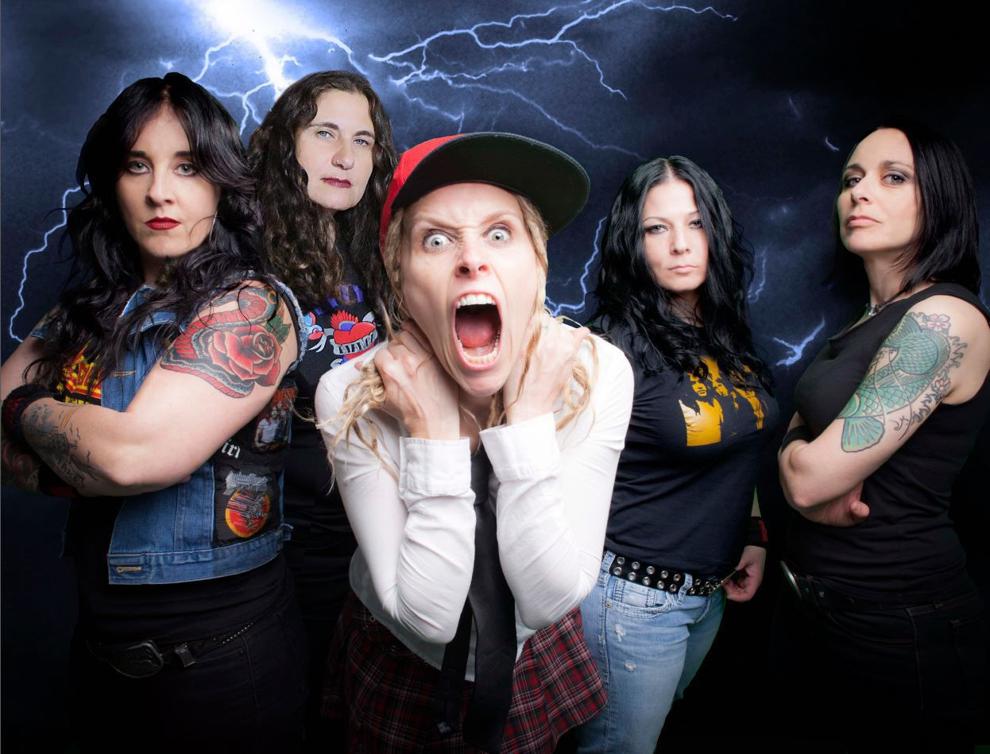 People about to rock in Cowlitz County will be saluted by the all-female AC/DC tribute band Hell's Belles Saturday night (Jan. 13) at the Columbia Theatre for the Performing Arts.
The group doesn't just play AC/DC's classic hits. They dress up and perform in character as the legendary Australian hard rock band, according to lead guitarist Adrian Conner, who performs as the iconic Angus Young.
The Seattle band, formed in 2000 by former members Amy Stolzenbach and Om Johari, has performed all around the United States, Canada, Singapore and Japan.
The band's other members include bassist Mandy Reed, drummer Judy Cocuzza, lead singer Amber Saxon (who performs as both of AC/DC's singers, Brian Johnson and the late Bon Scott), and two women who rotate playing Malcolm Young's rhythm guitar role (Longview will see Lisa Brisbois).
The unusual thing about Conner's love for AC/DC is she didn't even hear the band's music until a high school assembly when she was 14 or 15 years old, due to her "sheltered musical life."
"I immediately liked it," she said of the band's music. "I didn't know classic rock existed — (my friends) used to call them 'butt-rockers' — so I kind of gravitated towards that crew."
Later in life, Conner joined Hell's Belles despite not knowing it was a full-blown tribute act, not just a band that covered AC/DC.
"I was just trying out for a band, I didn't know I was going to dress up," she joked.
According to Conner, Hell's Belles was a huge hit almost immediately in Seattle, where people loved the then-novel concept of women covering testosterone-fueled classic rock.
"There was a huge response," she said. "People were freaking out. Now a days, it's kind of a passé idea, but at the time it was big."
What makes AC/DC's hard-rock grooves appealing to Conner? She said their tunes' simplicity and clever songwriting has kept them relevant through the years.
"It's very accessible and clever," Conner said of AC/DC's music. "It's some of the best rock-n-roll ever written. It's constantly being used in movies and commercials. It never goes away."
The guitarist's personal favorite track is "Shoot to Thrill," a standout from the Australian band's legendary 1980 album Back in Black.
Although she spends most of her time — about 70 to 75 shows per year — playing songs penned by AC/DC, Conner said she has lofty goals for her own songwriting.
"To write even just one song that was as popular as one of (AC/DC's) songs; that would be a dream come true, to be that universal," she said. "People of (all) ages to get something out of it, to be moved by it."
Hell's Belles performed at festivals and opened for other classic rock acts such as Whitesnake, Conner said. In fact, the group has met AC/DC multiple times and came close to touring with the classic rock icons.
"(AC/DC) were touring, and our band met them at the Tacoma Dome," she said. "They wanted Hell's Belles to pen for them in Europe, but because of passport issues, (we) couldn't follow up on it. It's kind of a big bummer."
However, Conner said AC/DC has shown nothing but love for their American female tribute, especially Brian Johnson.
"When we met them the second time around, Brian said, 'Oh, there's my Hell's Belles!' and we gave him a hug," she said. "He's really gregarious and fun, and when he makes the whole room feel comfortable. He's very inviting, there's no awkward silences in the room."
The band has never played in Longview before (although Conner joked that she's driven by it many times on I-5), and she said audience members should expect a high-energy, fierce love letter to AC/DC.
"There's a lot of sweat and a lot of running and a lot of 'YAOWW,' " she said. "We're excited, we love playing AC/DC for people."