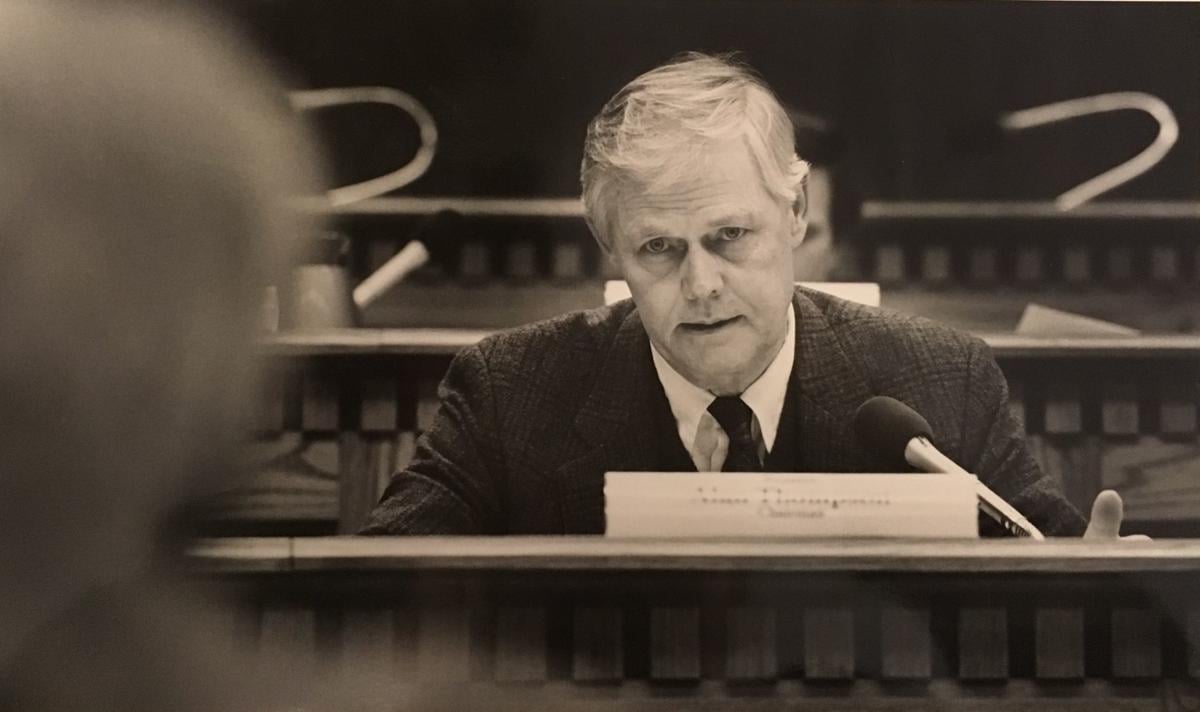 Alan Thompson, longtime local legislator, newspaper publisher and "true gentleman," died at his home in Olympia on Sunday at the age of 92.
Thompson represented parts of Cowlitz County in the Legislature for 22 years, eventually resigning to become clerk of the House. For many years, he was a major, but understated, figure in both the House and then in the Senate, noted also for his gentility, unflappable demeanor and his bow ties.
He helped direct millions of dollars in state money into the local area, especially to Lower Columbia College, where the library is named after him.
Thompson and his late wife, Barbara, published local newspapers in Castle Rock and Winlock during the 1970s and 1980s.
Rowland Thompson, one of the former legislator's four sons, said his father had a great weekend attending a grandson's birthday party Friday and a hamburger cookout on Saturday evening, "and Sunday morning he was gone. He had a mystery on his chest. He read every night, and his nightlight was still on."
He said he is sad at his father's passing but glad he was alert and independent until the end. In recent years, he had dinner on a rotating, four-night shift with his sons Sam, James and Jonathan in addition to Rowland.
Thompson was born on May 17, 1927, in Geneva, Iowa. He served in the Navy during World War II and was a track athlete at the University of Nebraska, according to archival The Daily News stories.
He graduated from the University of California at Berkeley and became Congresswoman Julia Butler Hansen's administrative assistant in 1960. Hansen was a Cathlamet Democrat who was one of the most powerful women in Congress at the time.
He was first elected to the state House of Representatives in 1964 to represent Cowlitz County. And in 1976 he was elected by fellow Democrats to be House majority leader, although some said he was "too nice" for the job, according to TDN stories. He was seen as quietly effective, and he championed the environment and community colleges.
He was later appointed to the Senate in 1982 when Sen. Don Talley of Kelso died. But he left the Senate in 1986 to become the clerk of the House.
Thompson's frequent catchphrase was "the best politics is good policy."
A Democrat, he was likely more liberal than his district, Rowland Thompson said, but he was also known for working in a bipartisan way. One of is closest friends was the late Yakima area Republican Irv Newhouse, who served in the Legislature 34 years.
"He was a gentleman of the old school (and) he knew how to move the levers of legislation as much as anyone," said TDN City Editor Andre Stepankowsky, who covered Thompson's career in the 1980s. "He tried to give everyone a fair shake. That type of politics is refreshing, especially compared to those of today."
Thompson helped get millions of dollars for the local area, and he was a major supporter of community colleges, Rowland Thompson said. He also secured state funding to support Mount St. Helens-related dredging work, support for the Puget Island ferry and create County Line Park at the Cowlitz-Wahkiakum County line. He also supported local unions, his son said.
"He was very thoughtful. He wasn't one, as we see these days, to be ranting and raving about things. He was calm and very thoughtful when he spoke," said state Sen. Dean Takko, a Longview Democrat. "He's just the antithesis of what we see today. There was no grandstanding."
Thompson came from a "different era" of politics, Takko added. "It was a different kind of a politician back then. I miss the guys and I miss the way they handled themselves. Things are a lot different today than it was in those days."
Sandy Catt, former Longview School District spokesperson, worked for the Thompsons as managing editor of The Castle Rock Advocate from 1980 to 1984. Thompson was supportive and generous, she said, and had a "fabulous" sense of humor.
"I will remember him as a highly intelligent, highly witty public servant whom I had the honor to know and work for," Catt said.
For years after she worked for him, Catt said she would receive clever, thoughtful Christmas cards from Thompson. She saw him less than a year ago, she said, and Thompson was alert and asked about her family.
Cheryll Borgaard, who also worked at the Castle Rock newspaper, said the Thompsons understood the Castle Rock community.
"That was very important to him: to be connected to the community. And how you treated people, how you conducted your business," Borgaard said. "They were great people to work for."
John Kauffman, who has been friends with Thompson's family for about a decade, said he was a gentleman in "every way."
"He was well-read. He was very polite, kind and a real family man. He spent a lot of time with the family in his last days," Kauffman said. "He could carry on a conversation with anyone about anything. And he was really smart. To me, that's what a gentleman is: Someone you look at and say 'That's an impressive person.' "
Services are pending, but will likely take place later in the summer.
Get local news delivered to your inbox!
Subscribe to our Daily Headlines newsletter.