Almost four years ago, Amanda Juarez was pregnant and living in a vehicle with her fiance when she decided to call 211 and found the help she needed.
An operator for the state resource hotline guided the U.S. Navy veteran to the local Veteran Integration Program — a service that provided immediate housing for Juarez and her family and one she said she never heard of before.
CASTLE ROCK — A nonprofit that connects veterans to local resources hired its first two staff members this fall thanks to a federal grant to e…
This year, Juarez will spend Veterans Day inside a rented home with her family, while the program's recent roughly $1 million grant could help additional veterans find the shelter they need.
"There are a lot of organizations out there people aren't aware of, if you're in that situation and you're a veteran," she said. "There's hope that you can get through it."
Rough times
Around 2017, the former boatswain's mate found herself without a job and a home, spending her minor funds to rent a vehicle to use as shelter.
Within two days of contacting the Veteran Integration Program, Juarez said she moved into their temporary housing in Longview, where she built her savings, learned best practices when renting homes and fought a rare form of melanoma.
The Kelso Garden Club will unveil a Blue Star By-Way memorial at an event in Tam O'Shanter Park on Veterans' Day, the first armed forces tribu…
Eventually, Juarez said she used a Department of Housing and Urban Development voucher to rent a house for her family. Without the Veteran Integration Program's help, Juarez said her gap in rental history and lack of rental references would have prevented her from finding a home.
Housing help
According to Housing Opportunities of Southwest Washington Chief Executive Officer Jennifer Westerman, the organization sets aside a portion of housing vouchers for homeless veterans each year.
The Veteran Integration Program is a separate arm of the housing authority that is funded through the U.S. Veterans Affairs to cover expenses like temporary housing and case managers for homeless veterans in Cowlitz, Lewis, Wahkiakum and Pacific counties.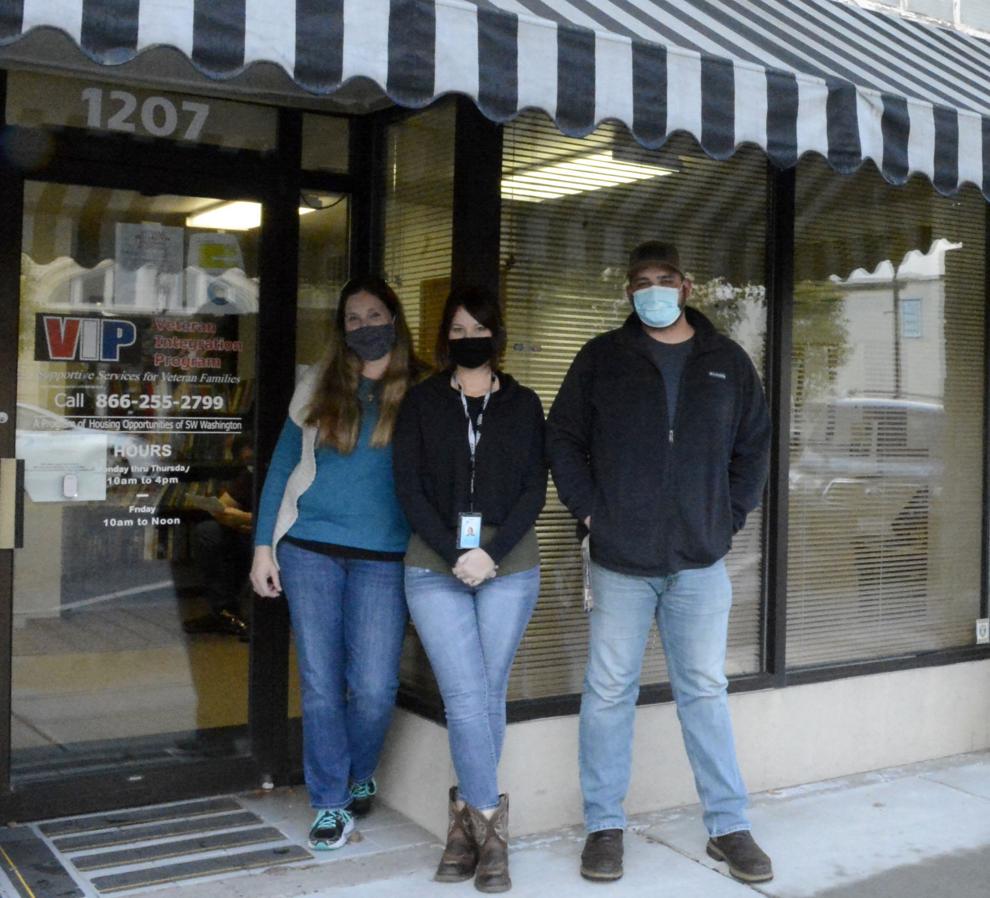 Single veterans or those with families can share living spaces in a local three-bedroom home or apartment complex, said Program Manager Rachelle Sanders, while working toward goals like obtaining identification cards or health insurance so they can move out on their own. Those who qualify for housing vouchers can receive them through the housing authority as well.
In November, Housing Opportunities announced the organization received roughly $1 million in VA grants to cover services like a full-time case manager and remodeling and expanding veterans' housing. Westerman said the award was more than previous years due to additional struggles during the pandemic.
Fewer veterans can join the program today, compared to previous years because of socially distanced housing requirements to protect veterans from COVID-19, Sanders said. Some funds have been used to house veterans in hotels, in addition to the organization's temporary housing, she added.
Students in the leadership group at Huntington Middle School are writing thank you cards, painting rocks and making a display of local names on the school's front window this year in advance of Veteran's Day Thursday. 
Despite the limits, the program still works. Of the 52 veterans who joined the Veteran Integration Program over the last year, Sanders said 30 have found permanent housing.
Other help
The Veteran Integration Program doesn't work alone. Westerman said the organization relies on others, like the all-volunteer staff at the Cowlitz County Veterans Service Center and Disabled American Veterans offices in Longview to provide additional support.
HEVIN, a Castle Rock nonprofit that stands for Helping Every Veteran In Need, also chips in donations. Juarez said HEVIN helped her receive donated furniture and appliances for her new home and Christmas presents for her children over the last two years. When she needed a new vehicle, Juarez said HEVIN Co-founder Rhonda Black drove her to local dealerships and placed a down payment on a van.
Juarez said HEVIN members still check in to see how the family is doing on their new path.
"They worked so hard to make sure I had a vehicle," Juarez said. "Rhonda said 'we love you. We want your life to be better.' "