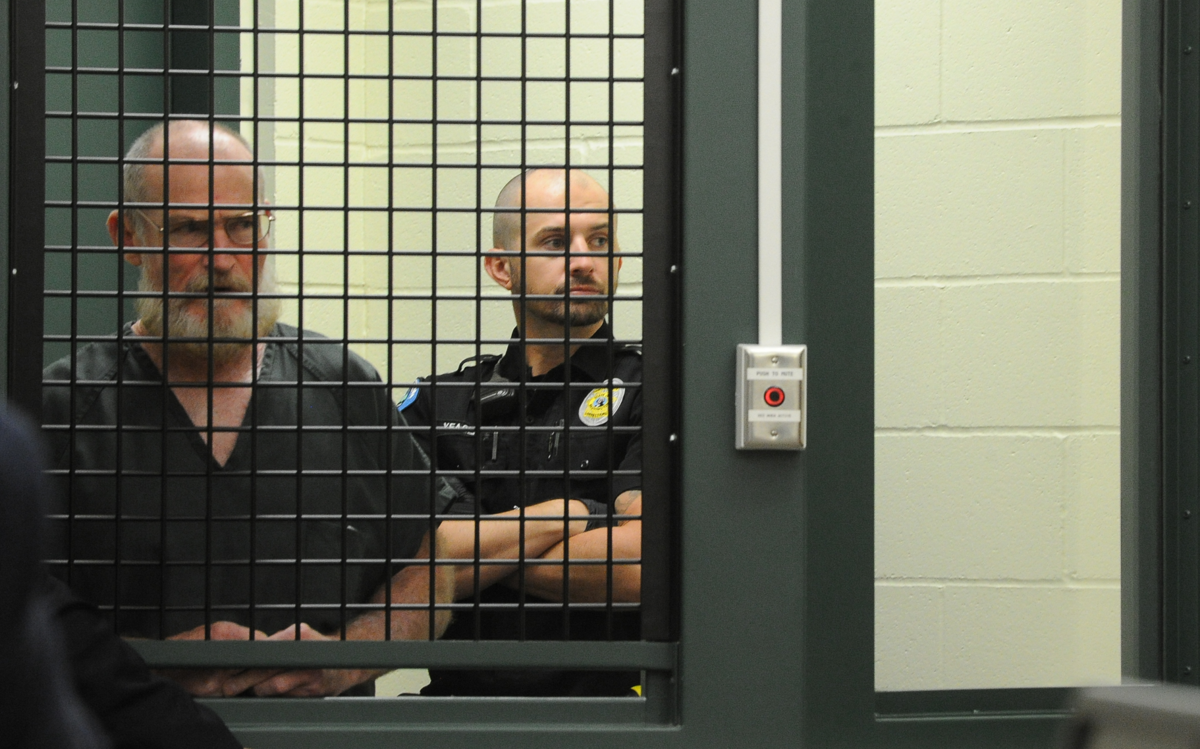 After waiting more than three decades to confess to murdering another man at a Longview hotel and another year for the wheels of justice to turn, Glenn Eric Adams won't be going to prison after all.
Prosecutors in July dropped both charges of first-degree murder and first-degree robbery against Adams, 59, and instead asked Cowlitz County Superior Court Judge Stephen Warning to commit him to the State Department of Social and Health Services.
Warning on July 25 signed that order, sending Adams to Western State Hospital for an indeterminate amount of time.
"Mr. Adams obviously is severely mentally ill," Warning said in a phone interview Wednesday. "I think there's never been any question about that."
Prosecutors maintain that there is probable cause to believe Adams committed the murder-robbery, according to court documents. And Adams himself pleaded with county officials for a year to quickly find him guilty.
But Adams, who according to court records has told healthcare workers that he is the victim of a secret government mind control and torture program, still wasn't mentally capable of standing trial, a June DSHS report found.
Warning said the outcome in Adams' case is an example of the system working: "Despite the severity of the crime, he is never going to be in a position to stand trial for any kind of criminal (charges), absent something very, very surprising."
Investigating the case
Adams was 27 at the time he claims to have robbed and killed Russell Lyle Haines on March 13, 1986, after arguing with his then-girlfriend about not having any money. Adams knew Haines, 53, regularly carried large amounts of cash, according to his confession. While robbing Haines of $400, he strangled him to death in order to cover up the robbery. (Haines' daughter declined to comment on the case when reached by phone Wednesday.)
Adams showed up unannounced in July last year at the Cowlitz County Hall of Justice to confess to the murder and "right the wrong" he had done.
He had been trying to confess for more than a year, but his efforts were hampered by his own mental health problems and alcohol use.
His first confession attempt came in July 2017, when he went to a Santa Barbara, Calif., fire department to turn himself in for Haines' murder. Adams, however, was intoxicated and didn't have his story put together enough for an officer to detain him, said Longview Police Corporal Tim Watson, who was assigned the investigation.
Watson dug through hand- and typewritten physical records and photographs from the murder and spoke to previous cops who responded to the case, including current Longview Police Chief Jim Duscha, but found no indication Adams was ever a suspect in the case prior to his confession.
Police kept the murder weapon — a shirt — but did not preserve it for DNA analysis. Officers found male DNA on it but could not identify who that DNA belonged to, Watson said. (Adams later gave a DNA sample that did not match the DNA found on the shirt.)
In September of that year, Watson and Detective Sgt. Chris Blanchard interviewed Adams after he was arrested near Klamath Falls, Ore. He gave more details, but there still wasn't enough evidence to arrest him.
Adams told the officers that he wanted to tell his story to his brother, who would then relay it to police in order to receive tens of thousands of dollars in reward money by turning Adams in. Meanwhile, Adams said he would go to a bar and get drunk.
There wasn't any kind of reward money of that magnitude, Watson said, and Adams' plan wouldn't work anyway since he'd just divulged it to police.
In a third attempt, Adams met Watson and another detective in Tacoma and was desperate to tell them the story. He was clearly intoxicated, Watson said, so police couldn't arrest him based on those statements.
"You don't want to start a court process prematurely and then just lose the case," Watson said. "It was frustrating to let a guy go once, twice, three times before finally making that arrest."
It was Adams' 2018 confession in Kelso that cinched his arrest, Watson said. He was sober and gave minute details of the crime that only the killer could have known.
"But for his confessions and statements, there's not much linking him to the case," Watson said.
Mental health concerns
The decision to institutionalize Adams came after nearly a year of attempts to make him fit to stand trial.
Adams completed two 90-day attempts at restoring his competency at Western State hospital, the only adult psychiatric hospital in Western Washington. Both attempts concluded with Adams still unable to stand trial.
A third round of treatment at Western State would have required a "substantial likelihood" of success, Cowlitz County Prosecutor Ryan Jurvakainen said Wednesday. And a DSHS doctor testified in July that the chance of that third treatment working on Adams was minimal.
According to a report from Adams' most recent restoration attempt, dated June 27, he appeared to meet criteria for diagnoses of Delusional Disorder as well as alcohol and methamphetamine use disorders. (In an earlier report, he revealed a long history of heavy alcohol abuse and repeated use of methamphetamine.)
In other DSHS reports, Adams expressed paranoia that he was being tortured by a secret government program that would only end if he pleaded guilty and asked for a death sentence. Adams said the government program was initiated by former U.S. Attorney General Janet Reno and used energy beams to control the thoughts of its subjects.
The latest report ultimately found that Adams did not have a rational understanding of his case. It also found he had a low-to-moderate risk for re-offending and dangerous behavior, owing to "his lack of insight and the likelihood he would discontinue medication if returned to the community."
Now, Warning said, the state's goal will be to make Adams less of a danger to the community. Adams could spend the rest of his life institutionalized or be released if he's made well.
Because his charges were dismissed without prejudice, if Adams is ever released back into the community, the Cowlitz County Prosecutor's Office could refile criminal charges against him.
Watson said he's glad Adams finally decided to turn himself in.
But he added: "My wish is that we weren't here, that (the incident) never happened."